Aluminum vs Wood Bats
This Is A Modern Day Controversy
Since The Introduction Of Metal Bats
Baseball Bats, Are Inanimate But
...Each Bat Has A Personal Feel...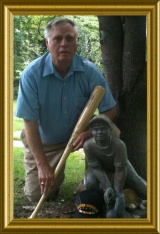 Aluminum vs Wood Bats has stirred baseball and the game like no other piece of baseball gear or some rules change since the game was introduced by the founding Knickerbockers Base Ball Club and Alexander "Alick" Joy Cartwright in 1845.
The History of baseball-bats (The birth of a controversy) wood-bats as opposed to the metallic aluminum-bats thus we now have the tug of war as to which bat is being used thus a controversy brewing.

Now that the use of the aluminum vs wood bats with aluminum so widely used it has developed into a power war by bat companies, who can out engineer the other, to provide the ultimate power hitting weapon?

Aluminum & Composite metal-bats and aluminum vs wood bats for Baseball. Aluminum & Composite metal-bats again is the aluminum vs wood bats for Softball.

The market for aluminum bats and all other type of baseball equipment and use of different materials expanded in the twentieth century throughout America.

The aluminum-bats exploded onto the American marketplace filling the hands of all softball playing leagues and the hard swinging pony tail fillies of the softball world.

The ladies playing softball had never really been attuned to the sharp crack of a well hit ball using the wood-baseball-bats as much as the boys. The girls loved the ping of the aluminum-bats and have grown so lovingly accustomed to the bigger sweet spot of the metal-bats.

Wooden bats remained prone to breakage and splintering as the very nature of wood from which the bat was made. The "sweet spot" on wooden bats, the spot on the barrel of the bat where one wanted to strike the ball was a more precise location on a wooden bat.

There is however a couple of young men Matt and Tony diligently producing hard Maple baseball bats at Annex Bat which are proving the wood bat is back.

Using the wood baseball-bat one will need a little bit better eye-hand coordination to kiss that ball on the sweet spot of a wooden bat than when using the aluminum-bat.

It was in this era that a former baseball player turned inventor in Dayton, Ohio, William Shroyer, developed his ideas regarding a long lasting, economical and perhaps indestructible bat, the metal-bat.

Contained within this very idea the controversy of Aluminum vs Wood bats was born and now that metal bats are commonly used the controversy has grown exponentially.

By way of patent number 1,499,128, as filed with the United States Patent and Trademark Office in June, 1924, Shroyer filed detailed diagrams and a description of the proposed metal bat design.

Shroyer described the purpose of his design as one that would provide the lightness, springiness, and resiliency of the current wood construction.

Shroyer wanted to avoid the wood splitting and splintering that commonly occurred with wood. Shroyer also set out in his patent diagrams a threaded aperture in the head of the bat, a device that provided a place for the insertion of additional weight in the bat barrel if desired by a batsman.

It is evident from the patent office records that Shroyer had directed considerable care to his invention. It is equally ironic that Shroyer never commercially marketed his all-metal bat, and there is little evidence to suggest that he was ever able to manufacture a model beyond that of a prototype.

The Shroyer metal bat patent is significant and changed forever the Baseball Bat World in the history of baseball as well as sports science.

Time periods of history are often spoken of as being prior to or Post Civil War or Post World War II or the Modern Era and now we are in the age probably of our post Space Age we have the coming out age of new materials such as the Aluminum vs Wood Baseball Bats.

Baseball-bats (wood-bats only) in the early days of baseball came in all shapes and sizes. In the 1850's baseball was an extremely young sport and batters made their own bats and experimented with wood-bats of all varieties (long, short, round, flat, heavy).

Baseball players learned that wood-bats with rounded barrels seemed to work the best for power hitting.

Because baseball-bats of all shapes and sizes were being used, a rule was made in 1859 that baseball-bats could be no larger than 2.5 inches in diameter, although they could be of any length-the maximum of 2.75 diameter is allowed today.

Starting in 1869, another rule was added that stated the baseball-bat could be no longer than 42 inches in length - this is the same maximum length allowed today.

Playing of the game in those early days there was no rule regarding the shape of the bat. In fact, some players sometimes used wood-bats with flat surfaces when bunting.
Beginning of the Louisville Slugger
1884 brought about the most famous name in wood baseball-bats today - The Louisville Slugger. A baseball game in Louisville, a 17 year old John Hillerich watched Louisville player Pete Browning become frustrated after breaking his favorite bat.
Hillerich, a woodworker with his father, approached Browning after the game and offered to make him a new baseball bat. They went together to the woodworking shop, selected a piece of white ash and Browning supervised as John Hillerich made his new wood-bat from white ash.
The next day something happened, Browning went three for three with this new wood-bat made of white ash, word spread about the new bat, and the Hillerich family was in the baseball-bat business!
Demand grew (although baseball=bats was not the focus of their business ), with added demand they soon began placing their recognizable Louisville Slugger trademark on each of these Hillerich made wood-bats.
More Developments
In the 1890's, the rules committee stated that bats could no longer be sawed off (made flat) at the end, they must be round, and the maximum diameter was increased to 2.75 inches.
Shortly after 1900, Honus Wagner, one of the great players of all time, became the first player to be paid to have his autograph embedded onto the Louisville Slugger bats.
Although bats have continued to develop over the years, wood baseball-bats today look similar to the bats of 100 years ago. The biggest differences, however are that the wood-bats of today are much lighter and most have thinner handles.
The Rise of aluminum-bats (the metal-bat was introduced in 1924 but was not really introduced till later and that is when the controversy begin)
In 1924 a patent was issued to William Shroyer for the first baseball metal-bats. Has he ever caused a stir and threw a real mix into our game of baseball with this pinging of metal-bats.
Now begins the inevitable controversy choose your bat of choice aluminum vs wood bat. The separation of choice with a divide between professional baseball (wood-bats only) bats while college, high school, and little league play using metal-bats highlights and brings a focus to this aluminum vs wood bats issue.
Despite this early patent, metal-bats were not seen in the game of baseball until 1970, when Worth Sports Company introduced the games first aluminum baseball bat.
Now in 1970 we had the genesis of the aluminum vs wood bats which continues even stronger as an issue of use today,
Soon after, Worth Bat Company produced the first one-piece aluminum-bat and the Worth bat was soon to be the first Little League aluminum-bat.
Easton arrived onto the aluminum-bat scene in the late 1970's with a stronger grade of aluminum that is credited with significantly increasing the popularity of aluminum baseball bats.
Despite the popularity of the metal-bats with the baseball players nationwide, Major League Baseball (competitive and safety reasons) has never allowed anything other than wood-bats to be used.
In 1993 Worth and Easton both introduced Titanium bats, and in 1995 Easton and Louisville Slugger introduced the strongest, lightest grade of aluminum-bats to date.
Now we see the proliferation of metal-bats with significant different characteristics involving the elasticity of materials. The physics and chemical composition of materials ingrained in this scientific "elasticity of materials" facts makes the aluminum vs wood bats controversy more complicated..
Flexible or elastic materials of aluminum-bats which allows the batted ball to leave the bat at a hopped up tremendous speed versus the more rigid wood bat. The baseball world now must get familiar with a new phrase "BESR" or Ball Exit Speed Ratio. This BESR is the genesis of the aluminum vs wood bats situation.
The aluminum vs wood bats which includes this BESR action is available and addressed in full in one of my separate pages.
Here is one of the prime and foremost reasons there is a rising controversy concerning aluminum vs wood bats.
Decision Expected on Northern Califonia High School Use of Aluminum Bats
KENTFIELD, Calif. (CBS-5/KCBS) - The officials in charge of high school sports throughout Northern California are expected to decide emminently whether to ban aluminum bats for upcoming baseball playoffs.
The debate over the use of the bats comes on the heels of a serious accident involving a pitcher last month in Marin County.
Incredibly, 16-year old Gunnar Sandberg is back from the brink. Just weeks after the Marin Catholic pitcher was hit by a line drive from a metal bat, he is out of a medically induced coma and in physical therapy.
As family and friends held vigils and prayed, surgeons cut away a chunk of Gunnar's skull to allow his brain to swell, without doing it damage. No one knew how things would turn out.
In a recent posting on Caring Bridge, a Web site that shows updates on patients' conditions for family members and loved ones, Sandberg's sister Kalli said her brother "is improving more and more every day."
In her post, Kalli Sandberg said her brother is continuing to gain back the weight he lost and is walking on his own with supervision. He still has to wear a helmet whenever he gets out of bed, but is expected to come home from the hospital May 3.
Once he is released, he will continue to have outpatient therapy. He will also be working with people who will help improve his memory and help him catch up on his schoolwork, his sister said.
She said his family is hoping he will be ready to start his senior year this fall.
KCBS' Bob Melrose reports
Improvements to baseball bats continue even today as developments such as double walled bats and scandium-aluminum bats arrive in sporting goods stores.
There is no doubt that today's high-end, scientifically designed aluminum-bats are a far distant relative to the heavy, hickory bats used by players nearly 150 years ago!
Old school will always be in the mix causing the aluminum vs wood bats to be front and center of opposing the metal bats.
It all boils down to something called the sweet spot. The sweet spot is the area on the barrel that will allow the ball to jump off at its maximum velocity. Both aluminum and wood-bats have this sweet spot. The sweet spot on the aluminum bat is much larger and more forgiving than that of the smaller sweet spot on the wood-bats.
Smart coaching will use wood-bats for practice so as to teach the young developing players the value and importance of bat control and the effects of the baseball hitting "the sweet spot" of the bat.
Players growing up using Aluminum only bats have not gained the sweet spot value mentality. Later years when going into professional baseball using wood-bats exclusively puts them at a significant hitting ability disadvantage.
This players transition from using aluminum-bats to the required wood-bats at the professional level is cause for many supposedly All-Star hitting baseball players failing at the professional level.
Failure for hitting in pro baseball can be contributed in main to this thing we have come to know and recognize as the "Sweet Spot" of baseball bats.
Go back to visit and reinforce your understanding of baseball bats and the need to find one which is "just right."
Return to the Top of the page for Aluminum vs Wood Bats
Nice selection of bats in that it is aluminum vs wood bats at these shops browse around and see what you want but know your playing league requirements before you make the purchase.
Batter Up----Let's Play Ball....

You probably at some time have had the itch to have your own Web Site? Take the time to check it out Site Build It
You might would like to start your own one or the other say, "Tea Kettle vs Tea Pot?" Well, it's Aluminum vs Wood Bats.
Site Sell and Site Build It is made available for all of you even in the proper language.
International in scope and language.
French; , Chinese; , German; , Dutch; , Italian; , Spanish;
Young boy pictured below is very proud of his bat you can tell by the smile on his face. Put a smile on your sons face click on the picture and shop for a bat for your son.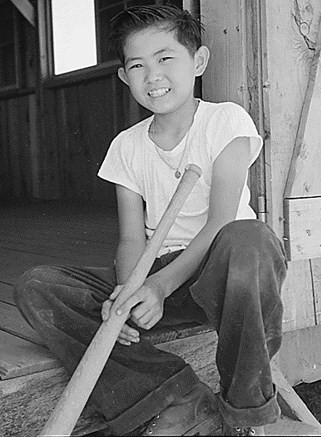 Bats In The Bellfry Shop Buy Now Save Money!