Baseball Bat Care
Taking Care Of Your Bat Is A Personal Thing
Shame And Double Shame On You
If You Ever Throw Your Bat Into The Dirt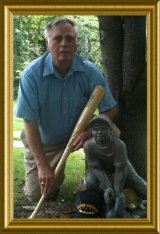 Baseball Bat Care is a personal kind of thing thing because your bat should be a very special piece of your personal property as a young baseball player.
Would you believe it if you were told, "If you take proper measures in caring of your baseball bat care it would should and could repay you by helping you be a better hitter?"
Sort of like being in the military once you are issued your rifle the drill sergeant will tell you flat out, "This is your Rifle treat it like a friend for if you take care of it --it will take care of you."
A little special attention to your bat will keep that sweet spot smooth and clean so you can continue swinging for the fences. The sweet spot is the fat part of the bat barrel where you want the ball and the bat to meet.
Every bat seems to almost have a life of its own. The relationship of a hitter with his bat is something only realized by the hitter alone. Hitting a baseball solid and square at or in the sweet spot of a bat has a feel which only the hitter alone knows.
The choices of a bat which is "just right" now in our todays modern era of baseball could be a controversy of Aluminum vs Wood.
The pride you show in providing baseball bat protection for your favorite bat will have a tendency to make you a better hitter in that you have a penchant for caring and paying attention to details which matter.
Baseball bats care is nothing beyond plain common sense. The highest performance action for any piece of baseball equipment is to keep it clean and in the case of your bat make sure the barrel of your bat stays smooth and slick.
By golly you now are armed with the real truth of the matter about your baseball bat care. Make every effort at your disposal to ensure your bat barrel is always CLEAN AND SMOOTH. Here are some Do Not Notes:
Do not store your bat in extreme hot or cold temperature areas, such as in a car trunk or garage.
Do not clean or knock the dirt from your spikes or cleats with the barrel of your bat.

If at the plate hitting and you feel compelled to knock dirt from your spikes. Do not use the barrel end of the bat flip your bat catch it at the barrel end and then tap the handle end of your bat against the sides of your spikes.
Do not allow burrs or nicks to remain on the barrel of your bat. Smooth the barrel down often with something unobtrusive which will not further the damage of the bat surface.

Learning about baseball we were taught, in high school baseball, to use an old glass Coca Cola bottle to smooth and polish the barrels of our then wood bats.
Do not and I mean "Do Not" ever throw your bat onto the ground and into the dirt. It shows your poor sportsmanship and it will nick and booger up the barrel of your bat.

Earlier on this page you were told if you took care of your bat someday it may repay the kindness. Here is how the bat repays you for your care:

A baseball is round and your baseball bat barrel is round. Stay with me on this one.

If the barrel of the bat has a small nick or burr and you fail to hit the incoming ball squarely, bat and ball making solid contact, and the ball touches at that burr or nick point the ball will tend to pop up into the air. However, if your bat did not have that nick or burr the ball would have a tendency to slip over or under and continue to the rear of the plate flying on the line instead of popping up into the air.

Now you know if you do diligent baseball bat care then at just the right time your bat takes care of you. Remember what was mentioned about the soldier and his rifle.

Owning and having a premium quality maple wood baseball bat and expecially a Maple Wood bat from Annex Baseball is enough incitive for your Baseball Bat Care

Or you might want to go back to your beginning topic on Baseball Bats as you leave baseball bat care click here Baseball Bats

Nice selection of bats at the favorite bat company of baseballfarming is Annex Baseball Bats browse around and see what you want.

Batter Up----Let's Play Ball....

Go to your Baseballfarming Site Map to find and locate most any of your needed baseball information.

---
---
Go Shopping Buy Just The Right One