BASEBALL PARKS
Visit Our Ball Parks Around The Major League Cities
Baseball Parks there are quite a few historic major league baseball sites both city and team around the MLB circuit which are a must to see and visit. Baseball fields and parks so legendary and so historic that even if you don't know whats a run or a hit, you'll know these stadiums by name: Wrigley Field, Fenway Park, Yankee Stadium.
Shall we circle the cities start our baseball parks sojourn with a hearty and jubilant war eagle journey smack dab into the middle of our heartland?
True the founding birthplace of our Nation grabbed a foothold up East New England way struggled survived and then began to grow and expand. One great helping hand in the growth of our young country called America there was within our sporting bloodline a competitive drive known as Baseball.
From the rocky hard country of the shores of the Atlantic we took Horace Greeley sound advice, Go West Young Man Go West."
"The Gateway To The West", St. Louis, Missouri provided us a beautiful city as a starting point for this quest like our Nations gathering point expanding westward. As we visit the many baseball parks around our Nation steeped in history what better place?
The particular characteristics, defining features, or memorable moments associated with our ball parks often has a remarkably profound effect on the game of baseball, and upon the entire fortunes of some cities.
To be totally correct baseball parks would not be needed without our baseball rules and baseball playing within the context of professional organized baseball rules and our baseball farm system of Baseballfarming.
If you have never been there then you owe it to yourself and the young ones to visit the "Show Me State" and make St. Louis part of your history too.
So much of our Nations history had its birth and many significant events such as the World's Fair happened here in St.Louie. The home of Budweiser King of the Beers and the famed Clydesdale Horses pulling their famous beer wagon.
Visiting cities and baseball parks while getting an opportunity to enjoy the game at a baseball stadium with one of your favorite baseball teams in a beautiful ball park is the ultimate way to spend a lazy but enjoyable summer day or evening.
Miss it never! for it will be your chance of a lifetime to fill your knowledge bucket of what Baseball America is about, miss it would be your bad.
Major League Baseball helped our country in it's greatness its growing up process and our baseball parks are like a bright beacon the "Shining City Sitting On A Hill" if it were being described by President Reagan..
The spectacle of watching the St. Louis "Gas House Gang" Cardinals play in their new ball park was missed by Lewis and Clark as they set out on their fortunate journey to forge new frontiers for our young Nation.
Lucky you, this can be yours...opening day ceremony when the Cardinals will play their first game in the now year 2008 brand new constructed world class MLB ball park.
Your Grandparents may have enjoyed the first rendition of "The St. Loius Blues." You can go one up on them to be an on site fan to enjoy "The Cardinals" in their new bird house.
It was not always the Red of the Cardinals you found at the St. Louis baseball ballpark. 1882-1892 Sportsmans Park (I) sported the Brown Stockings and then the Perfectos.
1893-1920 Robison Field hosted the Brown Stockings and also the Perfectos.
1902-1966 Sportsman's Park (old Busch Stadium) was the baseball home field of two different baseball teams the St.Louis Browns and then our fabulous "Gas House Gang" the St.Louis Cardinals.
We can speak of the "St.Louie Blues" the "Browns" and the "Cardinals" and still be in St.Louis. We might even reminisce a little and talk about the famous long ago Worlds Fair of yester year or the Exposition and tell them all to meet me in St. Louie-Louie.
Like new baseball equipment, up-to-date baseball rules and we have even seen the evolution of new baseball bats so why not enjoy our new ball parks?
In the very early days when our country begin to grow into a nation all points West begin in St. Louis. If your wagon wasn't outfitted when you reached St.Louis you were still in luck.
Westward bound adventurers found a friend and a helping merchant eager to outfit support all the brave souls in their quest for greener pastures out West.
As these first settlers from the east as from around Boston or Philadelphia or New York went west they had to travel through the beautiful Ohio valley. Now into to-days modern travel its easy to reach Cincinnati, Ohio and Riverfront Stadium the baseball park or the baseball field of the Cincinnati Reds Riverfront Stadium (Cinergy Field),Cincinnati, Ohio.
Riverfront Stadium(Cinergy Field)
Horace Greeley found an eager and adventurous crowd in this young country when he proclaimed, " Go West Young Man, Go West".
When you are ready pack up and head out you will be joined by many who would heartily recommend St. Louis as a starting point for visiting all of America's baseball parks.
Have a real ball with your friends tooling around the country on the bright shiny Harley's with your Golf Clubs ready to enjoy the Links and even our National Parks across the country.
The U.S.Mint decided to add a little spice to our travel game by minting quarters depicted our many National Parks located across the country. Now your visiting of baseball parks there is a strong incentive to view many of our wonderful now preserved National Parks.
Harley Davidson's GoGoCaddy - Go Go Caddy the unique and inventive accessory for your roaring machine "master of the road The Harley Davidson."
Go Go Caddy will carry your golfing clubs in style and believe it or not if you slip a Louisville Slugger in there you can be a big hit.
St. Louis being the starting point, of our nation's building, with the early frontiersmen going west, to form our great country.
This city a site of historical importance and while there, go out to the new baseball stadium to see if you find anyone dressed in red and supporting the Cardinals.
While in the Birmingham area I'll see you at the beautiful Regions Park in Hoover. The Birmingham Barons, an affiliate of the Chicago White Sox playing here in the Southern League, claims Regions Park at Hoover for their home baseball park.
Go West or Come East. Make it to St. Louis. If you are still restless go North to Chicago or East to New York or if you get turned in a wrong direction, like Doug, and end up in California, Not to worry, Take off your pack and enjoy the Padres, Angels, or the Giants?
Let's travel this country and enjoy the game of baseball at all the MLB ball parks.
Spring practice is underway soon, It's "Take Me Out To The ball park buy me some peanuts and cracker jacks, I don't care if I ever or never get back."
Come on down South and enjoy our hospitality while you enjoy home made ice cream, fried chicken, watermelon and Southern League Baseball during your visit to our beautiful baseball parks in our cities. You'll be glad you did.
IT'S ROOT-ROOT-ROOT FOR THE HOME TEAM FROM THE BEAUTIFUL BASEBALL PARK!
America the beautiful from sea to shining sea is blessed with many great and storied baseball parks.
Make it a point to let your young ones visit and enjoy them early in their lives.
There is a fascinating history lesson involved in each and all of our major and minor league baseball parks.
While all baseball parks have their unique characteristics, they all have one item in common, this unique diamond shaped play of the infield.
To be totally up-to-date on the diagram and layout including the dimensions of the diamond of the baseball infields:
The Ultimate Baseball Field Renovation Guide...with ball field dimensions and more.
There you have it all the resources to make your ball field the best!
Late forties and early to mid fifties many cities around the country like Birmingham, Alabama took pride in providing ball fields as beautiful landscaped open field ball diamonds such as the original site of the UAB Blazer Baseball Field.
Baseball ballpark ground rules are needed to accommodate each game at every unique ball park due to its differing conditions of the playing field and specific layout and design of the baseball stadium. OUR MAJOR LEAGUE BASEBALL PARKS SCATTERED ACROSS THE NATION DID NOT HAPPEN BY ACCIDENT. THEY WERE BUILT BY BASEBALL FANS AND CLUB OWNERS OF OUR "GRAND GAME OF BASEBALL."
Team name- Stadium name- Year Opened- Capacity
Los Angeles Dodgers- Dodger Stadium- 1962- 56,000
New York Yankees- Yankee Stadium- 2009- 52,325
Colorado Rockies- Coors Field- 1995- 50,445
Atlanta Braves- Turner Field- 1996- 50,097
Toronto Blue Jays- Rogers Centre- 1989- 49,539
Texas Rangers-Rangers Ballpark in Arlington-1994- 49,200
Arizona Diamondbacks- Chase Field- 1998- 49,033
Baltimore Orioles-Oriole Park Camden Yards- 1992- 48,876
Seattle Mariners- Safeco Field- 1999- 47,116
St. Louis Cardinals- Busch Stadium- 2006- 46,861
Los Angeles Angels of Anaheim- Angel Stadium- 1966- 45,050
Philadelphia Phillies- Citizens Bank Park- 2004- 43,647
Cleveland Indians- Progressive Field- 1994- 43,515
San Diego Padres- Petco Park- 2004- 42,445
Cincinnati Reds- Riverfront Stadium- 2007- 42,059
Milwaukee Brewers- Miller Park- 2001- 41,900
Washington Nationals- Nationals Park- 2008- 41,888
New York Mets- Citi Field- 2009- 41,800
Detroit Tigers- Comerica Park- 2000- 41,782
San Francisco Giants- AT&T Park- 2000- 41,503
Chicago Cubs- Wrigley Field- 1914- 41,160
Houston Astros- Minute Maid Park- 2000- 40,950
Chicago White Sox- U.S. Cellular Field- 1991- 40,615
Minnesota Twins- Target Field- 2010- 39,504
Kansas City Royals- Kauffman Stadium- 1973- 39,000
Miami Marlins- Marlins Park- 2012- 37,000
Pittsburgh Pirates- PNC Park- 2001- 38,496
Boston Red Sox- Fenway Park- 1912- 37,402
Tampa Bay Rays- Tropicana Field- 1990- 36,973
Oakland Athletics- Oakland-Alameda County Coliseum- 1966- 35,067


Yankee Stadium
It is from the "House that Ruth Built" to the new Steinbrenner Yankee Stadium II New York Yankees Yankee Stadium and New York, New York.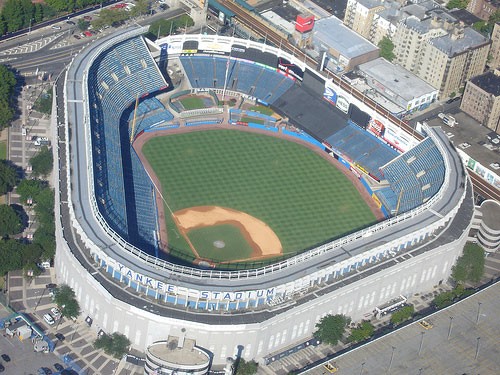 No place in this young nation of ours has more history than Boston the home of the Fenway Park and The Green Monster Fenway Park and the Red Sox in Boston, Massachusetts.
Can you not hear the hustlers crying "GET YOUR PROGRAMS AND SOUVENIRS HERE!" or the coke salesman "GET YOUR ICE COLD COLAS HERE"?
Wrigley Field, Chicago
Since the Red Sox finally won the World Series in 2004, and then again in 2007, the Cubs are officially the most cursed team in Major League Baseball. Built in 1914, the park is surrounded by Chicago's Wrigley neighborhood and fits its surroundings beautifully. The park features high rises and bleachers built right onto the roof.
"The vantage point stretches for miles and miles." The City of Chicago is home to another franchise as well: The White Sox play at the less spectacular U.S. Cellular Field, formerly named Comiskey Park after its original builder.
Chicago, as the third biggest city in the country, has a lot to offer. Many of the biggest names in comedy get their start at the Second City Chicago Theater.
Check out the unique sounds of Chicago Blues at Blue Chicago, Buddy Guy's Legends, and Chicago's oldest blues club, Kingston Mines.
A dazzling bird's eye view of the city, go to the Sears Tower Skydeck. The Museum of Science & Industry, The Children's Museum, and the spectacular Shedd Aquarium. Think museums are too stuffy and want to stay outdoors? Visit Millennium Park, which features live concerts and art, including the gigantic Cloud Gate sculpture. Stroll Navy Pier, full of great shops and restaurants, and take a ride on the Ferris wheel.
While visiting the Navy Pier you can hop on a sightseeing or dining cruise on Lake Michigan. But remember to always have a ball at the ballpark in "The Windy City."
Get your baseball cap and let's go. See you out at the ole baseball ballpark. Come with me now down south to the Atlanta Braves, Turner Field and Atlanta, Georgia.
During 2008 the Washington Nationals bade farewell to R.F.K. (D.C.Stadium) and took up playing in their brand new home Washington Nationals Nationals Park and Washington D.C.
Nationals Park Folks when in the deep South I mean way down South In Dixie you will enjoy the real southern hospitality and baseball at the Southern League baseball parks.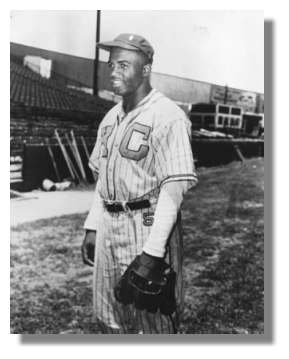 JACKIE ROBINSON NO.42 THE ONLY NUMBER EVER RETIRED FROM ALL MAJOR LEAGUE BASEBALL TEAMS
American League Baseball Parks
East Division
Camden Yards Baltimore Orioles
Fenway Park Boston Red Sox
Rogers Centre Toronto Blue Jays
Tropicana Field Tampa Bay Rays
Yankee Stadium New York Yankees

Central Division
Comerica Park Detroit Tigers
Kauffman Stadium Kansas City Royals
Progressive Field Cleveland Indians
Target Field Minnesota Twins
U.S. Cellular Field Chicago White Sox

West Division
Angel Stadium Los Angeles Angels
Oakland Coliseum Oakland A's
Rangers Ballpark in Arlington Texas Rangers
Safeco Field Seattle Mariners

National League Baseball Ballparks

East Division
Citi Field New York Mets
Citizens Bank Park Philadelphia Phillies
Nationals Park Washington Nationals
Sun Life Stadium
Marlins Park Miami Marlins
Turner Field Atlanta Braves

Central Division
Busch Stadium St. Louis Cardinals
Great American Ball Park Cincinnati Reds
Miller Park Milwaukee Brewers
Minute Maid Park Houston Astros
PNC Park Pittsburgh Pirates
Wrigley Field Chicago Cubs

West Division
AT&T Park San Francisco Giants
Chase Field Arizona Diamond Backs
Coors Field Colorado Rockies
Dodger Stadium Los Angeles Dodgers
Petco Park San Diego Padres

Rules for baseball are many but one of the basic baseball rules should be the rule of "See you at the ball park."

See you out at the baseball park. Is one of the good rules of baseball.

The on site souvenirs available will be keep sakes for your children will treasure and enjoy all their life and maybe pass them on to their own.

Going back to the top of this page notice, there are ballparks identified, and with a little click more of the detail for that City/Baseball team/and the ball park is available.

Return to Top of Page Baseball Parks.

Batter Up----Let's Play Ball....