Rangers Ballpark In Arlington
Richard Greene and "Greene's Hill" ?
Home Of The American League Texas Rangers
Since April 1994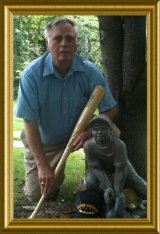 Rangers Ballpark In Arlington is the ballpark in Arlington, Texas, located between Dallas and Fort Worth, Texas and opened its gates for play in 1994
It was known until May 7, 2004, as The Ballpark in Arlington when Ameriquest bought the naming rights to the ballpark and renamed it Ameriquest Field in Arlington.
On March 19, 2007, the Texas Rangers severed their relationship with Ameriquest and announced that the stadium would be named Rangers Ballpark in Arlington.
The story of how and why the Texas Rangers even exists is rather a fractured complex set of circunstances. One will have to recount the on again off again life of the Washington Senators and how they have been batted around by Major League Baeball.
There was once upon a time a team by the name of the Washington Senators which by happenstance was one of the original American League teams when major league baseball allowed the American League to suit up and challenge the National League.
The Washington Senators lost their franchise selling out to Minnesota and became the Minnesota Twins. The hue and cry was non ceasing and incessant and Washington was given an expansion franchise and again was allowed to have a new team of Washington Senators.
I told you it got a little complex but here is the long and the short of it. Anyway you twist it or however the cookie crumbles the Washington Senators throughout their history had to live with this frame of reference. For most of their existence, the new Senators like the senators of old were the definition of futility, losing an average of 90 games a season. The team's struggles led to a twist on a joke about the old Senators--"Washington: first in war, first in peace and still last in the American League."
The boys in Texas and Arlington sandwiched between the Metro Complex of Dallas and Fort Worth with pockets full of oil money courted the Washington Senators to forsake the D.C. area and come on down to Texas.
Minnesota got the first Senators team and Texas got the second Senators team and would you believe Washington now has its third team the Washington Nationals.
But our story is about the Rangers ball park which is in Texas Arlington,Texas.
Rangers Ballpark in Arlington:
Ballpark:

Rangers Ballpark in Arlington (2006–present) Ameriquest Field in Arlington (2004–2006) The Ballpark in Arlington (1994–2004)

Former names:

The Ballpark in Arlington (1994–2004) Ameriquest Field in Arlington (2004–2007)

Location:

1000 Ballpark Way Arlington, Texas 76011

Broke ground: April 2, 1992
Opened: April 1, 1994
Owner Arlington Sports Facilities Development Authority
Operator Rangers Baseball Express
Surface

Infield: Y2 Zoysiagrass Outfield: Tifway 419 Bermudagrass

Construction cost

$191 million ($299 million in 2012 dollars[1])

Architect

David M. Schwarz Architectural Services, Inc. HKS, Inc. (architect of record)

Structural engineer Walter P Moore/Datum
Services engineer

Dunn Consulting Engineers

General Contractor Manhattan Construction Company
Capacity 48,194
Record attendance 52,419

Field dimensions:

Left Field Line - 332 feet Left Center - 390 feet Deep Left Center - 404 feet Center Field - 400 feet Deep Right Center - 407 feet Right Center - 377 feet Right Field Line - 325 feet Backstop - 60 feet

Tenant: Texas Rangers (MLB) (1994-present)
Texas whenever possible hates to be outdone on anything.
If Boston at Fenway Park can have their "Green Monster" in left field then by golly the Rangers Ballpark in Arlington can have thier "Greene Hill" smack dab in straight away centerfield.
Come on down to Texas and and cast a look at the big "T" printed into the lush green grass on the gentle slope of Greene's Hill.
There just may be something magical about what is happening out in the West as those Rangers playing there in Rangers Ballpark in Arlington have journeyed both 2010 and 2011 into the World Series who knows maybe 2012 is the charm. Check out the Baseballfarming information of other ball parks as you leave Rangers Ballpark in Arlington.
Batter Up ---- Let's Play Ball ....