Dodger Stadium
A Landmark Carved From A Mountain Top
Holds 56,000 Dodger Fans In Blue
Since 1962
Brooklyns Flatbush To The City Of Angels
To The Blue Pacific Went Dem Bums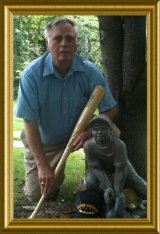 Dodger Stadium from sea to shining sea from the New York Islands to the City of Angels Los Angeles, California. Dem Bums from the haunts of Flat bush cut a trail West hoping to escape the shadows of those cross town all out neighborhood Pennant fights with the NY Giants. We should not even mention those mix it up around town Series blood lettings with them Damn Yankees.
The Stadium, also sometimes called Chavez Ravine, is the Dodgers home in Los Angeles.
The Los Angeles Angels now known as the Los Angeles Angels of Anaheim also used the stadium from 1962 to 1965 till they acclaimed their very own digs at Anaheim.
While and when The Angels used the stadium they referred to it as the Chavez Ravine.
Located adjacent to Downtown Los Angeles, Dodger Stadium has been the home ballpark of Major League Baseball's Los Angeles Dodgers team since 1962. Dodger Stadium was constructed from 1959 to 1962 at a cost of $23 million, financed by private sources.
Dem Bums of Flatbush the beloved Brooklyn Dodgers took their banners of Blue and White and planted them firmly on the Left Coast of the Country beckoning come west all which will.
Dodger Stadium is currently the third oldest ballpark in Major League Baseball (behind Fenway Park in Boston and Wrigley Field in Chicago) and is the largest ballpark by seating capacity
The stadium hosted the 1988 World Series. It also hosted the semifinals and finals of the 2009 World Baseball Classic as well as exhibition baseball during the 1984 Summer Olympics. The 2012 season marks the fiftieth anniversary of the stadium.
In the mid-1950s, Brooklyn Dodger team president Walter O'Malley had tried to build a domed stadium in the New York City borough of Brooklyn, but was unable to reach an agreement with city officials land acquisition, and eventually reached a deal with the city of Los Angeles in California.
Dodger Stadium was the first Major League Baseball stadium since the initial construction of the original Yankee Stadium to be built using 100% private financing, and the last until AT&T Park opened in 2000. Ground was broken for Dodger Stadium on September 17, 1959. The top of a local hill was removed and the soil was used to fill in the actual Chavez Ravine, to provide a level surface for a parking lot and the stadium. A total of eight million cubic yards of earth were moved in the process of building the stadium. 21,000 precast concrete units, some weighing as much as thirty-two tons, were fabricated onsite and lowered into place with a specially-built crane to form the stadium's structural framework. The stadium was originally designed to be expandable to 85,000 seats, simply by expanding the upper decks over the outfield pavilions. However, the Dodgers have never pursued such a project.
As of 2012, Dodger Stadium is one of eleven major league parks without a corporate-sponsored name; the others are: Marlins Park, Turner Field, Yankee Stadium, Fenway Park, Wrigley Field, Rangers Ballpark in Arlington, Oriole Park at Camden Yards, Kauffman Stadium, Angel Stadium of Anaheim, and Nationals Park. (Kauffman, Turner, and Wrigley were named for individuals rather than their corporations; the Angels and Rangers previously had corporate sponsorships. Two of Dodger Stadium's most distinctive features are the wavy roof atop each outfield pavilion and the top of a ten-story elevator shaft bearing the Dodger logo rising directly behind home plate at the top of the uppermost seating level.
A unique terraced-earthworks parking lot was built behind the main stands, allowing ticketholders to park at roughly the level of their seats, minimizing use of ramps once inside. The stadium was also designed to be earthquake-resistant, an important consideration in California, and it has withstood several serious earthquakes
Built in the Los Angeles community of Chavez Ravine in Sulfur Canyon, the stadium overlooks downtown Los Angeles and provides views of the city to the south, the green tree-lined hills of Elysian Park to the north and east, and the San Gabriel Mountains beyond the outfield pavilions.
The Dodgers devote significant resources to the park's maintenance. For example, it is repainted every year, and a full-time crew of gardeners maintain the site. No plans are in the works to replace it. Renovations were made in 1999 and again in 2004. Pitchers such as Sandy Koufax, Don Drysdale, Don Sutton, Fernando Valenzuela, and Orel Hershiser became superstars after arriving in Los Angeles.
The pitcher's edge is also evident in the fact that 10 no-hitters have been thrown in the stadium, including two perfect games (by the Dodgers' Sandy Koufax in 1965, and by Dennis Martínez of the former Montreal Expos in 1991).
Bo Belinsky threw the first ever no-hitter in Dodger Stadium on May 5, 1962 while pitching for the Los Angeles Angels (that club referred to the park as "Chavez Ravine".)
The park's significant advantage was eroded somewhat in 1969, in general because MLB rules were changed after the "Year of the Pitcher" to lower the maximum height of the pitcher's mound, and more specifically because the Dodgers moved the diamond about 10 feet (3 m) towards center field.
No hitters in Dodger Stadium--Chavez Ravine
(*-Perfect game)
Date Pitcher Team Opponent
May 5, 1962 Bo Belinsky Angels Orioles
June 30, 1962 Sandy Koufax Dodgers Mets
May 11, 1963 Sandy Koufax Dodgers Giants
Sept. 9, 1965* Sandy Koufax Dodgers Cubs
July 20, 1970 Bill Singer Dodgers Phillies
June 29, 1990 Fernando Valenzuela Dodgers Cardinals
July 28, 1991* Dennis Martinez Expos Dodgers
Aug. 17, 1992 Kevin Gross Dodgers Giants
April 8, 1994 Kent Mercker Braves Dodgers
July 14, 1995 Ramon Martinez Dodgers Marlins
In addition to those of Don Drysdale, Sandy Koufax, and Don Sutton, the retired numbers of Pee Wee Reese, Jackie Robinson, Duke Snider, Tommy Lasorda, Walter Alston, Roy Campanella and Jim Gilliam are mounted below the pavilion roofs behind the outfield fence. Stadium Data and Field Dimensions
Tenants: Los Angeles Dodgers (NL 1962-present); Los Angeles Angels (AL 1962-65)
Groundbreaking: September 17, 1959
1st National League Game: April 10, 1962 (Cin 6, LA 3)
1st American League Game: April 17, 1962 (KC 5, LA 3)
Last American League Game: September 22,1965 (LA 2, Bos 0)
Surface: Grass
Architect: Captain Emil Praeger U.S.N.
Builder: Vinell Construction Company
Cost: $23 million
Owner: Los Angeles Dodgers
Seating capacity: 56,000
Playing Field Dimensions:
(note changes of 1969)
Foul lines: 330 ft.
Power Alleys: 385 ft. (1962); 375 ft. (1969)
Center field: 410 ft. (1962); 395 ft. (1969)
Height of Fences: Foul poles to bullpens: 3'6'' (1962); 4' (1995) Bullpen to bullpen: 10' (1962); 8' (1973) Check out the Baseballfarming information of other ball parks as you leave Dodger Stadium.
Batter Up ---- Let's Play Ball ....