Baseball Times
Baseball Times Parallels World Events
And Reflects The Changing Times
World Events Like Baseball,
Changes With Time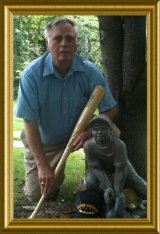 Baseball Times is a pre-cursor of changes which occur on the grand stage of world events. If it is happening in the world it is mirrored in the action we see unfolding within our game of baseball.
The World we live in has an insatiable quest to keep track and know all that is happening everyday and in every way just like the hunger of loyal baseball fans daily to keep up with our Major League Baseball Season Standings and Team Scores as they occur.
Take a moment and let your thoughts gather the ramifications we witness taking place within the game of baseball and quite slowly start a comparison of world wide events as they come forth and keep track of all the baseball news.
Have we not seen our game of baseball be called to the carpet for action by our players to partake and utilize artificial get ahead enhancing muscle and body inducements?
Has the world of our business leaders not in concert with such times used many schemes with bogus and hidden mechanisms to gain the advantage to out perform its competitors?
Does not the game of Baseball portrayed a seemingly endless sky is the limit of salaries beyond all comparative reasoning. Does not Baseball Times mirror Business Corporate Executives feel compelled to out strip reason with the take from the coffers of the monetary gains achieved from the hard work of the simple wage earner or baseball fans as dovoted followers?
Come payday and we will find pay is not something earned it is something given for the make believe world of not only The Baseball Times but has to do with The Changing Times.
About MLB Salaries In These Baseball Times
USA TODAY's baseball salaries database contains year-by-year listings of salaries for Major League Baseball players on opening day rosters and disabled lists, 1988 through the current season.
Figures, compiled by USA TODAY, are based on documents obtained from the MLB Players Association, club officials and filed with Major League Baseball's central office.
Major League Baseball Salaries 2011 MLB Salaries by Team
-----------------TEAM TOTAL PAYROLL-- AVG SALARY
New York Yankees $ 202,689,028-- $ 6,756,300
Philadelphia Phillies $ 172,976,379-- $ 5,765,879
Boston Red Sox $ 161,762,475-- $ 5,991,202
Los Angeles Angels $ 138,543,166-- $ 4,469,134
Chicago White Sox $ 127,789,000-- $ 4,732,925
Chicago Cubs $ 125,047,329-- $ 5,001,893
New York Mets $ 118,847,309-- $ 4,401,752
San Francisco Giants $ 118,198,333-- $ 4,377,716
Minnesota Twins $ 112,737,000-- $ 4,509,480
Detroit Tigers $ 105,700,231-- $ 3,914,823
St. Louis Cardinals $ 105,433,572-- $ 3,904,947
Los Angeles Dodgers $ 104,188,999-- $ 3,472,966
Texas Rangers $ 92,299,264-- $ 3,182,733
Colorado Rockies $ 88,148,071-- $ 3,390,310
Atlanta Braves $ 87,002,692-- $ 3,346,257
Seattle Mariners $ 86,524,600-- $ 2,884,153
Milwaukee Brewers $ 85,497,333-- $ 2,849,911
Baltimore Orioles $ 85,304,038-- $ 3,280,924
Cincinnati Reds $ 75,947,134-- $ 2,531,571
Houston Astros $ 70,694,000-- $ 2,437,724
Oakland Athletics $ 66,536,500-- $ 2,376,303
Washington Nationals $ 63,856,928-- $ 2,201,963
Toronto Blue Jays $ 62,567,800-- $ 2,018,316
Florida Marlins $ 56,944,000-- $ 2,190,153
Arizona Diamondbacks $ 53,639,833-- $ 1,986,660
Cleveland Indians $ 49,190,566-- $ 1,639,685
San Diego Padres $ 45,869,140-- $ 1,479,649
Pittsburgh Pirates $ 45,047,000-- $ 1,553,344
Tampa Bay Rays $ 41,053,571-- $ 1,578,983
Kansas City Royals $ 36,126,000-- $ 1,338,000
Baseballfarming is part of the baseball times premise that a young kid enjoying the game of baseball will grow mature and develop baseball playing skills and one day will be picked to play for pay.
This is almost Biblical in its concept for Baseball has since its inception had a time to sow (play and learn) and a time to reap (picked to play professionally).
Pictured above is the parallel of Baseball and the Business World we could add the third leg to this stool of the Times bringing forth the Politics of the times.
The three legged stool has proven to be an unstable item to stand on. You could observe all the activity surrounding Baseball, Business and Politics currently with these three legs all making our foot stool of The Changing Times an unstable platform.
Should our changes needed find a leader such as our game of Baseball and add the fourth leg Reason making our Sign Of The Times and The Changing Times showing its way and lead the Baseball Times in these Troubled Times?
Return to the Top of the page Baseball Times
Batter Up----Let's Play Ball....
You know you would like to have your own website Solo Build It would be a swell partner for you in this endeavor.
Dare To Build Your Own Website Go Shopping Online Here From Baseballfarming After All Your Family Deserves The Best.