Baseball Trivia
Baseball Playing Rules Have A Purpose
Trivia Filled Baseball Facts And Rules
Of The Game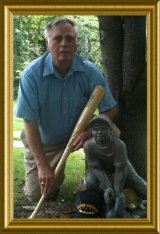 Baseball Trivia is some more of the fun part of the game of baseball as die hard fans for example we see, we hear, and we know most of the rules much aboutf the game lore and facts but some are so mundane and obscure we get caught in the trap of not knowing so it makes us wonder?
Where and when was the first night baseball game played?
On May 24,1935, the first night game in major league history was played at Cincinnati's Crosley Field.
Here is one example: Riddle me this--about 2/3 way down toward first from home plate is another white chalk line to the foul line side of the foul line. Why and what is the purpose of this white line?
Know your baseball playing rules and learn all the baseball game rules and most particularly baseball playground rules and you will be assured to enjoy baseball so much more.
All you baseball fans and sports buffs might know full well what the line is for or you might want to know more of the baseball trivia to keep from being a little baffled also.
Get set Ready and Go here is the explanation of that chalk line in foul territory going down the fist base line.
Let's say a hitter hits a dribbler hit something some what like akin to and almost like a bunt that is going down the first base line but staying in fair territory.
The first baseman charges the ball and cleanly fields the ball and the runner naturally coming down the line to make it to first base and become safe. The fielding first baseman is caught with but one choice he must try to field the ball and quickly reach the runner and tag him out.
By nature the runner will try to avoid being tagged and will veer well wide and outside of the first base foul line. If the runner veers further than that second or other white chalk line to avoid the tag He will be automatically called out by the umpire.
Now you know the purpose of that white chalk line in foul territory going down the first base line.
Here on the baseball trivia page we can continue this learning about baseball by adding some interesting baseball knowledge for all to enjoy. If you are curious and do not know the answer you can sneak a peek at the bottom of the page.
1)By MLB rules how many new baseballs must be on hand to start a Major League Baseball Game?
2)Who did the Yankees share a ball park home with before the Bronx Bombers built Yankee Stadium?

3)What team in 1924 won its first and only World Series championship?
4)What is the maximum circumference allowed for a catchers mitt?
5)Is there a rule pertaining to the color of a pitchers glove?
6)Who is reported to have been the first $100,000 player?
7)Baseball lore tells that Babe Ruth in 1932 "called a shot" during a game by hitting a home run. Where was the game?

Return to the Top of Baseball Trivia Rules and Facts .

Batter Up----Let's Play Ball....

---

Baseball Trivia answers:

1. As prescribed by the League President and One Dozen in reserve, 2.Giants/Polo Grounds, 3.Washington Senators, 4.38", 5.Yes-- white or gray colors are prohibited, 6.Hank Greenberg 1947, 7.Game 3 of the World Series against the Cubs at Wrigley Field,

Major League Baseball Official Rules When you reach this page scroll down to near the bottom left of the page and click on "Official Rules."

Have you ever had the itch to know all baseball rules trivia or maybe to have your own Web Site? Solo Build It

Shop With Friendly Baseballfarming Merchants And Save The Family Some Money.




---

---