Birmingham Alabama Baseball
Baseball And Sunshine Birmingham, Alabama
When It's Summertime In Dixie It's
Birmingham Alabama Baseball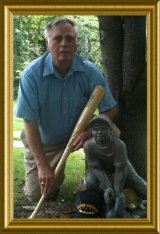 Birmingham Alabama Baseball born out on the dusty sandlots and baseball diamonds in the Magic City of Birmingham glowing red with Iron and Steel furnaces came the southern style of baseball playing. The baseball mecca of playing of baseball as proclaimed in Alabama and all over the Southland.
Colleges and Universities (Birmingham, Alabama Baseball Area):
Birmingham Southern College Baseball
Birmingham-Southern Head Baseball Coach Jan Weisberg announced that Blake Walley of Jefferson State Community College has completed his initial enrollment requirements and committed to play baseball for the Panthers in 2009.
Lawson State Community College Baseball
Two Outstanding Players at Lawson State, Ben Cecil and Douglas Pate have signed scholarships to play next season at Huntingdon College.
Miles College Baseball
Founded in 1905 in Fairfield, AL The Golden Bears play at Historic Rickwood Field. They are a member of the Southern Intercollegiate Athletic Conference, NCAA Division IIthe real home of Birmingham Alabama Baseball.
Samford University Baseball The Samford University baseball program has released its 2009 schedule. The 2009 season will be Samford's first as a member of the Southern Conference, the eighth-rated Division I baseball conference in the country...
UAB Blazers Baseball
The UAB baseball program has compiled a challenging schedule for the 2009 season, featuring 34 chances for fans to see the Blazers at home. The 56-game schedule includes a 24-game Conference USA slate. UAB will play 12 league contests at Young Memorial Field in addition to 22 non-conference home games.
The University of Montevallo baseball team has announced their 2009 signee class. 14 student-athletes make up the class of 2009. Ten student-athletes are transferring to UM, while four student-athletes will be incoming freshmen for the 2009 season...
As you can now witness and enjoy Birmingham Alabama Baseball is the real thing.
The season of baseball is like the bluebird singing "Zippity do dah zippity yea" throughout the summer here at Birmingham Alabama Baseball ballparks.
From the early of the day until the sun threatens to set below the horizon of the evening young baseball players play their game on dusty diamonds,sandlots and magnificent ballparks across the city.
High School Baseball Teams, City Of Birmingham, Alabama where you find Birmingham Alabama Baseball City Schools:
A. H. Parker High School Birmingham Alabama Baseball 900 4th St N Birmingham, AL 35204-3799 Phone:205-231-2873
----During the school year of 1899 some Negro citizens of Birmingham called a historical mass meeting. The purpose of this meeting was to draw up a petition in which Negroes of this city would request the Board of Education to establish a tax supported school for Negroes.
George Washington Carver High School
George Washington Carver High School Birmingham Alabama Baseball 3900 24th St N Birmingham, AL 35207
Huffman High School-Magnet 950 Springville Rd Birmingham, AL 35215
Huffman High School-Magnet is a secondary school located in Birmingham Alabama Baseball. The school colors are orange and green. The school's athletic teams are known as the Vikings.
P. D. Jackson-Olin High School 1300 Avenue F Ensley adjacent to McAlpine Park.
P. D. Jackson-Olin High School, founded in 1952 as Western Olin High School, renamed after principal Pierre Denson Jackson. Affectionately known as J.O., it is the largest high school in the Birmingham City Schools System, serving over 1,700 students from the Ensley area and Birmingham Alabama Baseball.
Jackson-Olin's teams are called the Mustangs and the school colors are Kelly Green and Gold.
Ramsay High School 1800 13TH AVE S in Birmingham, Alabama. Birmingham Alabama Baseball smack in the middle of southside of Birmingham.
The school was dedicated on September 19, 1930. It was later named for Erskine Ramsay, a noted industrialist who was serving as president of the Birmingham Board of Education at the time.
The Southern Association of Colleges and Schools accredited Ramsay in 1932. An auditorium and athletic facilities were constructed in 1949.
Wenonah High School 2916 Wilson Rd Birmingham, Alabama
Wenonah High School (I) After Wenonah School was destroyed by fire in 1946, the Tennessee Coal & Iron (TCI) Company donated a large parcel of land consisting of approximately 16 acres (65,000 m2) to be used to construct a new elementary and high school. Construction began in late 1946.
In May 1948, the first senior class graduated from Wenonah High School.
Wenonah High School (II)
In 2005, construction was begun of Wenonah High School (II). The site of the new school is located northeast of Wenonah High School (I). Students, faculty and staff of Wenonah High School watched as their new school at 2800 Wilson Road was built next door to the old school. By August 2007 they started classes in the new $40,000,000.00 school.
Woodlawn High School 5620 1st Avenue N Birmingham, AL 35212 Phone: 205.231.8000
Woodlawn High School is a magnet high school serving about 600 students in the Woodlawn neighborhood of Birmingham, Alabama (USA) and is part of the Birmingham Alabama Baseball and the City Schools system.
Woodlawn High School was established in 1916 after Woodlawn was annexed into Birmingham. The present building on 1st Avenue North, designed by architect Harry B. Wheelock, was completed January 30, 1922 for an initial enrollment of 700.
Under legendary multi-sport coach John Blane, Woodlawn's basketball team won state championships in 1927, 1937, 1943, and 1957 while the track team won state titles in 1932, 1944, 1945 and 1946. He coached Woodlawn against Phillips High School in the first game ever held at Legion Field in 1927. Metropolitan Birmingham ,Alabama Cities Surrounding Metro Cities having their own City School Systems
Jess Lanier High School-Bessemer,Al Bessemer-Jess Lanier High School, 100 High School Drive Bessemer, AL 35022,
Farirfield High School-Fairfield,Al Fairfield-Fairfield High School 610 Valley Rd, Fairfield, AL, 35064-2232
Homewood High School-Homewood,Al Homewood-Homewood High School 1901 S. Lakeshore Dr. Homewood, AL 35209
Hoover High School-Hoover,Al Hoover-Hoover High School 1000 Buccaneer Drive, Hoover, Alabama 35244 (205) 439-1200
Spain Park High School-Hoover,Al Hoover-Spain Park High School 4700 Jaguar Dr. | Hoover, AL 35242 Phone: (205) 439-1400
Leeds-Leeds High School 8404 Greenwave Drive Leeds, AL 35094
Mountain Brook High School-Mountain Brook,Al Mountain Brook-Mountain Brook High School 3650 Bethune Drive Mountain Brook, AL 35223 Phone: (205) 414-3800
Tarrant-Tarrant High School 830 Jefferson Blvd. Tarrant, Alabama Telephone: 849-0172
Hewitt-Trussville High School Trussville,Al Hewitt-Trussville High School 6450 Husky Parkway Trussville, AL 35173 Phone: (205) 228-4000
Vestavia Hills-Vestavia Hills High SChool 2235 Lime Rock Road Vestavia Hills, Alabama 35216 Phone (205) 402-5250
High School Baseball Teams, County School System,Jefferson County, Alabama (Greater Birmingham Alabama Baseball ):
The Jefferson County School System located in the greater metropolitan area of Birmingham is Alabama's second largest school district. With 52 schools, 2,564 teachers, and 35,843 students, the system offers a multitude of academic, career technical, and extracurricular opportunities for students.
Clay-Chalkville High School 6623 Roe Chandler Rd. Pinson, AL 35126
Our mission is to educate for life-long learning with an uncompromising commitment to excellence.
Corner High School 10005 Corner School Road Route 2 Warrior, AL 35180
E.B.Erwin High School 532 23rd Avenue, N. W. Birmingham, AL 35215
Fultondale High School 1450 Carson Road North Birmingham, AL 35217

To develop individuals who grow academically and socially, to be life-long learners and contribute positively to an ever-changing world
Gardendale High School 800 Main Street Gardendale, AL 35071
Hueytown High School 131 Dabbs Avenue Hueytown, AL 35023
Honor
Hard Work
Success

Founded 1922

Our mission is to prepare students to be educated, responsible, and productive members of society.
McAdory High School 4800 McAdory School Rd McCalla, AL 35111

McAdory High School is a public high school in McCalla, Alabama, USA. It is operated by the Jefferson County Board of Education. The school is named for the McAdory family that owned the land on which the school was built.
Minor High School 2285 Minor Parkway Adamsville, AL 35005
Mortimer Jordan High School 8601 Old Highway 31 Rt. 2 Box 52 Morris, AL 35116
Oak Grove High School 9494 Oak Grove Parkway Bessemer, AL 35023
Pinson Valley High School 6895 Highway 75 Pinson, AL 35126
Pleasant Grove High School 805 7th Avenue Pleasant Grove, AL 35127
Shades Valley High School 6100 Old Leeds Road Irondale, AL 35210

Private and Parochial High School Birmingham Alabama Baseball Area.

The Altamont School 4801 Altamont Road | Birmingham, AL 35222

Altamont is a college preparatory school with a tradition of excellence – and a special atmosphere evoking pride and loyalty on the part of students, parents, faculty and staff. A member of the Alabama High School Athletic Association, Altamont competes with public and private schools throughout the state.

Briarwood Christian High School

Briarwood Christian High School From I-65 take Exit 246 (Highway 119, Oak Mountain exit). Exit and turn north onto Cahaba Valley Road (Highway 119). Travel about 7 miles and Briarwood Christian School is on the right.

Ben Bracewell celebrates with his senior teammates after signing with Mississippi State,(photo at the school website) J.T. Davis, Jonathan Logan, Debo Crew, Ben, Josh Fields, Evan Simmons, Austin Lankford, and Trey Nichols

John Carroll Catholic High School (Webpage is temporarily unavailable)

John Carroll Catholic High School 300 Lakeshore Parkway Birmingham, Alabama 35209

Founded 1946, Birmingham, Alabama Diocese of Birmingham

Surprisingly, John Carroll Catholic High School is named not for the First Bishop of Baltimore, the primal see in the U. S., but for a generous Catholic layman in Birmingham who helped realize a dream. From the time he was consecrated for the then Archdiocese of Mobile-Birmingham in 1927, Archbishop Thomas Toolen had wanted a Catholic high school for the city of Birmingham. There were no funds available to build a school, but in the 1940's a Mr. John Carroll, an influential and wealthy layman, began an organization called The Friends of Catholic Education so that there could be a Catholic high school for the city. Construction began in November, 1946 on Highland Avenue, and John Carroll High School opened its doors on September 8, 1947.

Return to the Top of Birmingham Alabama Baseball

Batter Up----Let's Play Ball....

Go Shopping For Quality Goods.