First Black Players
Definitive Dates Are Suspect
The First Anyone For Anything Is Debatable
Jackie Robinson #42 Changed Baseball Major Leagues Forever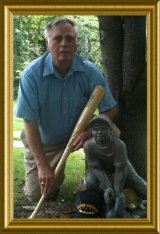 First Black Players will be impossible to identify because it raises the same question as...What came first, the chicken or the egg?
The Universe in which we live was ordained by a Supreme guiding Word with all which followed to be a perfect reproduction effort, each of its own kind.
Here is the real truth teller for all of baseball. The First Black Players were not paid handsomely and they sure suffered trials and humiliation but they never quit. They played the game because they truly loved baseball and The Game.
Who really were the first black players?
No egg without a chicken, no baseball team or game without our baseball players.
Players Black, White, Red, Yellow or maybe even Martian Green it matters not for we had the players and then we had a game.
The game we call baseball was a contest between teams chosen or picked by players pitting their skills of play against the opponents skill or sometimes the will to win.
The day of reckoning, or the day for recording of who played when is of no consequence in the grand scheme of the game of baseball. First we had players, what was the color? Then we had a game, who played?
If you can tell me who played in what game and when as the first black players ever to have played the game you are wiser than Solomon.
Baseball fans across the nation and around the globe have a keen interest and a growing thirst with a "want to know" all the baseball lingo, baseball terms and terminology about our game of baseball. It's amazing how popular just plain country boy baseball talk could generate such a want to know of the language used in baseball.
Wanting to know more about the first black players of baseball is as unquenchable for information as the baseball lingo.
Every single aspect of the game of baseball is part of this "want to know" mistique and one part of our baseball history equation surrounds the ever present early days of the game and the color barrier and the development of the Negro Leagues of baseball.
Where better to go than to the Negro Leagues Baseball Museum with as much as we have mustered to date about our history of baseball than Negro Leagues History?
This question of First Black Players is an impossible question to answer unless you are comparing the issue to What?
Have a go at your very own comparative issues join the folks where I found this superb super star of baseball when checking the blogging at Baseballs Black Heritage ?
#1. MARTIN DIHIGO (1922-1950)
When historians wrestle with the topic of the greatest player in the history of baseball, the names Ruth, Mays, Cobb, Wagner, and Aaron are usually the focus of the discussions. Yet, one name that never comes up in these arguments, is the very player who gets my vote as the greatest baseball player who ever lived, and his name is Martin Dihigo. With size, speed, and athleticism that could only be compared to players who would come along after 1970, Dihigo was at least two generations before his time. Born and raised in a sugar mill town in his native Cuba, Dihigo was 6'3 210 lbs., and played professionally in the Negro Leagues and in leagues throughout Latin America. Though largely used as a second baseman, Dihigo regularly played every position on the field, and he possessed all five baseball tools of greatness (hitting for average, hitting for power, running, throwing, and catching) in tremendous abundance. Aided by his blazing speed, Dihigo was a great defender wherever he played, but was most valuable in center field, particularly in the enormous ballparks throughout Latin America. He twice led the Negro Leagues in home runs, and was a lifetime .300 + hitter in 12 Negro League seasons.
Though he was one of the greatest everyday players of all time, he was equally dominant on the mound as one of the all-time great pitchers of both the Negro Leagues and the professional leagues of Latin America. Blessed with an overpowering fastball and an equally devastating curveball, Dihigo was second only to Satchel Paige in overall pitching ability, and on a number of occasions, outpitched Paige in head-to-head competition. In several seasons during his legendary career, Dihigo was simultaneously the league leader in batting average and home runs, while also being his league's winningest pitcher. From a historical perspective, the only player who can be genuinely compared to Dihigo is Babe Ruth, who excelled as a record-breaking pitcher and hitter, Two factors, however, set Dihigo apart from Ruth. One was the fact that Ruth's dominance on the mound occurred separately from his years as the game's greatest hitter. Dihigo was simultaneously great as a pitcher and an everyday player for the bulk of his career. Secondly, Ruth was an undisciplined player who had little in the way of speed or overall athletic ability. Dihigo, on the other hand, was incomparable to any other player of his time athletically. No other player, in either the Negro Leagues or the Major Leagues, could approach Dihigo in size, strength, speed, and overall athletic ability. Known throughout Latin America as "El Immortal" and "El Maestro", Dihigo is the only player in history to be elected into the national baseball Halls of Fame in five countries (Cuba, Mexico, Venezuela, the Dominican Republic, and the United States).
The entire World it seems has been mesemerized and enamored by the game of baseball. It was a sporting game which caught the fancy of our Young Nation and became known as Our National Pastime. The very act of becoming Our National Pastime was not borne out of playing Professional baseball.
The villages, milltowns and the steel making communities and coal mining spots across our expanding nation was the genesis of sandlot baseball well before it became an organized professional sport.
Can you tell me who played on these teams and tried to best their opponents by pitching or hitting the baseball?
The answer is simply no, you cannot, so the issue of the First Black Players becomes moot.
Now that is not to say that with the advent of organized professional baseball...we started recording the events and establishing rosters and from this we got caught into this classless differential of who plays where.
The resultant, like in the laws of physics, where for every action there is an equal and opposite reaction. Organized Baseball ownership determined initially that the game rosters would be filled with White only players.
That act is what the World has now come to want to use as as measuring point and know the answer of who was the First Black Players.
Without answering the question with specificity, here is some names you can use to satisfy a thought without tying it to having the specific fact of truth.
In 1907 a Black gentleman as a player and the manager of a Black team determined to organize a League for Black teams to play organized professional baseball.
Rube Foster, with a starting date of February 14, 1920 organized the First Black Professional Baseball League (Negro National League).
Now that date gets you in the ballpark of the First Black Baseball Teams. Keep in mind, well before that organization, there were many a Sandlot Baseball Game extolling the great play of Black players.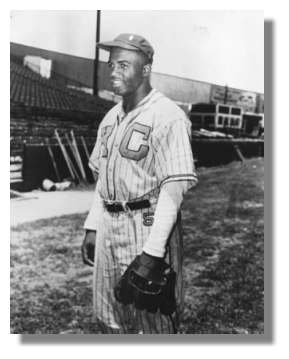 Branch Richey owner of the Brooklyn Dodgers brought Jackie Robinson into the play with the Major League Baseball as the First Black Player crossing the color lineup playing on here-to-fore White players only rosters.
By and large because Jackie Robinson became bigger than life itself the modern day era of baseball will in essence think in terms of the famous and endearing number 42 as the first black player.
Baseball pays tribute to pioneer Robinson
The No. 42 is retired by all 30 Major League teams, but every big league player is taking the field on April 15 with those digits on his back, in commemoration of Jackie Robinson Day.
April 15 was dedicated as Jackie Robinson Day in 2004, to honor the anniversary of Robinson breaking baseball's color barrier in 1947 with the Brooklyn Dodgers. His number has been retired league-wide since 1997, but starting in 2009, Major League Baseball has requested that all on-field personnel don that special jersey for one day.
JACKIE ROBINSON, played his first game for the Brooklyn Dodgers on April 15, 1947 and he became the first African American to play in a Major League Baseball game during the 20th Century. He was a four-sport athlete in college at UCLA, Robinson had also played in the Negro Leagues before Branch Richey the Dodgers General Manager signed him to a contract during the fall of 1945. Jackie spent the 1946 season with the Dodgers' minor league club in Montreal.
Jackie Robinson during his first year of Major League baseball won the Rookie of the Year Award-this was the first of many honors to be bestowed upon this great athlete. One of the most honorable recognitions of any baseball player ever in the game was the retirement from all of Major League Baseball his number 42. No other player of baseball holds such and honor.
The Jackie Robinson event is deemed by most in the World as being the First Black Baseball Player...How far wrong can we be in this line of reckoning?
Just the fact he was the first to suit up and play on the all white team in professional Major League Baseball only proves one thing and that is history was made of a change.
It does absolutely nothing to establish that he was one of the First Black Baseball Players.
Jan. 5, 1957: Jackie Robinson retires from baseball Jackie Robinson's legacy will endure forever for what he was able to accomplish on and off the field. But 54 years ago this week, Robinson decided that his career on the diamond was over. Breaking the color barrier in Major League Baseball just ten years prior, Robinson was able use his pure athleticism and skill from his days as a four-sport star at UCLA and electrifying player in the Negro leagues to make an immediate impact with the Brooklyn Dodgers. He became one of baseball's most dynamic players with his ability to steal the show on the basepaths. Stealing home an incredible 19 times throughout his career, Robinson was always a threat to the opposing team any time he reached base.
We could go back further than my reasoning but here are some name of the famous First Black Players: Josh Gibson, Leroy "Satchel" Paige, Buck O'Neil, Roy Campanello, Don Newcombe, Pumpsie Green, Bob Gibson, Willie Mays, Piper Davis.
It will take a newly established museum to be filled with volumes of legendary play of our First Black Players.
Leroy "Satchel" Paige is another prime candidate with his baseball pitching prowess reaching all around the world known for pitching like "The Babe" was known for hitting.
Feb. 9, 1971 -- Paige was nominated for the Baseball Hall of Fame, culminating in his June 10 election by the Hall's Special Committee on the Negro Leagues. In his first year in the major leagues in 1948, Paige went 6-1 with a 2.47 ERA, leading the Indians to the World Series that year. Paige also pitched for the Indians in 1949, then sat out the 1950 big league season before rejoining Veeck with the St. Louis Browns from 1951-53.
Folks this little snippet above of information about "Satchel" Paige is only a whisper of the volumes of stories pertaining to this greatest of pitchers.
The list could go on and on but now since the question has been raised you tell me who were the First Black Players?
---
Baseball fans around the world it is time to test you knowledge of the game and history making First Black Players to join each of the Major League Baseball teams.
For the die hard baseball fans of the Major League Team Cities I'm testing your true colors to name the First Black Players to join your team.
Slip me a note and he will gladly be added to the history roster.
Keep in mind some teams changed Cities and some even changed Logos but they all as a general rule had a birthplace but not all for some are johnny come lately with no legacy or pedigree to claim as their origin they just appeared by the law of baseball.
NATIONAL LEAGUE TEAM First Black Player:
----Team/Player/Year----
Philadelphia Phillies/Josh Kennals Apr 22, 1957
Miami Marlins/----**
Atlanta Braves/Samuel JethroeApr 18, 1950 (Boston)
New York Mets/----**
Washington Nationals/Carlos Paulo Sept 6, 1954 (Senators)
St. Louis Cardinals/Thomas Edison Alston
Pittsburgh Pirates/Curt Roberts Apr 13, 1954
Chicago Cubs/Ernie Banks Sept 17, 1953
Cincinnati Reds/Chuck Harmon & Nino Escalera Apr 17, 1957
Milwaukee Brewers/----**
Houston Astros/----**
San Francisco Giants/Monte Irvin July 8, 1947
Arizona Diamondbacks/----**
Colorado Rockies/----**
Los Angeles Dodgers/Jackie Robinson April 15, 1947 Opening Game of the season.
San Diego Padres/----**

footnote: ----** integrated when franchised.

AMERICAN LEAGUE TEAM First Black Player:

----Team/Player/Year----

Toronto Blue Jays/----**
New York Yankees/Elston Howard Apr 14, 1955
Tampa Bay Rays/----**
Boston Red Sox/Pumpsie GreenJul 21, 1958
Baltimore Orioles/Hank Thompson & Willard Brown/1947
Minnesota Twins/(See Washington Nationals/Senators)
Detroit Tigers/Ozziz Virgil Jun 6, 1958
Cleveland Indians/Larry DobyJul 5,1947
Kansas City Royals/(See Oakland Athletics & Philadelphia)
Chicago White Sox/Minnie Minoso May 1, 1951
Oakland Athletics/Bob Trice Sep 13, 1953 (Philadelphia)
Texas Rangers/----**
Seattle Mariners/----**
Los Angeles Angels/----**

footnote: ----** intergrated when franchised

Negro Leagues Baseball Museum Kansas City, Missouri has a house full of data and artifacts about our history of baseball come visit the home of our Negro Leagues Baseball Museum?

Folks Birmigham,Alabama home for the oldest standing active useable baseball ballpark in the Nation the fabled first lady of baseball parks Rickwood Field and once the proud home for the Birmingham Black Barons promises us another Museum in 2011.

Now that the Birmingham ,Alabama has determined it will abandon Rickwood field and put the Negro League Baseball Museum on a site to house the new to be built Birmingham Barons Baseball Diamond on the south side other changes might be forthcoming.

The first black players as thus recorded will be featured and have some standing of honor throughout the continuing game of baseball in the new museum.

Learning and reading about some of the famous and the near famous black baseball players adds to the museum visitation experience.

The best black baseball players, Satchel Paige, Josh Gibson and Oscar Charleston might readily come to mind. Chances are it would take you awhile to think of John Henry "Pop" Lloyd. You might never get there.

In that case the list would be sorely lacking. Better pick up "The Right Time: John Henry 'Pop' Lloyd and Black Baseball" by Wes Singletary.

Read this book because it allows you to visit and learn what and how the game is a winner mostly because of the men who forged it's legacy.

Return to the Top of the Page First Black Players

SOME FOOD FOR THOUGHT----ARE ALL LEADERS GOOD?

Batter Up----Let's Play Ball....

Go Shopping Shop Via Baseballfarming Website For Convenience And Savings.
---
---



There must be some truth to knowing that Barry Bonds using a Maple Bat beating and setting the Home Run record then it must be a good choice of quality baseball bat wood.
Barry moved the bar a little higher with his slugging while flailing little baseball with his hard Maple Bat. Annex Baseball makes an array of Premium Maple Bats so it is now simply up to YOU.