Titans Baseball And Holy Spirit Catholic Regional School
The Holy Spirit Catholic Regional School was established in Tuscaloosa, Alabama in 1863. Titans Baseball is now an integral part of the schools many faceted activities.
From virtually a one-room schoolhouse, over the years, Holy Spirit has developed into a nationally recognized college prep school.
In 1994 under the leadership of Mrs. Ana MacCrone and Fr. John Fallon, a group of parents formed a committee to research the possibility of establishing a Catholic high school.
After receiving the necessary approval, construction began in three phases, of a new building to house a middle school (Seventh and Eighth grades) and high school classes, a gym, library, computer lab and cafeteria.
In 1995, the new high school opened under the direction of Mr. Michael Burke with the first graduating class of Holy Spirit Catholic Regional High School celebrating its commencement in May of 1999.
And today Holy Spirit continues to thrive and "Soar in One Spirit".
---
Tuscaloosa, Alabama is chock a block full of scenes and places which have significant historical meaning not only for the City as well as the University of Alabama.
Any one visiting Tuscaloosa should without fail as a minimum gaze upon the following scenic and storied places. You might also like to know Tuscaloosa was at one time during the history of the state the Capitol of Alabama.
Must do not miss sights in Tuscaloosa:
Black Warrior River--Look to the East from Hugh Thomas Bridge
Bryant Denny Stadium
DCH Regional Medical Center
Denny Chimes
UA Quad - View the Quadrangle on UA Campus
UA Presidents Home

Return to the Top of the Page Titans Baseball

Batter Up ---- Let's Play Ball ....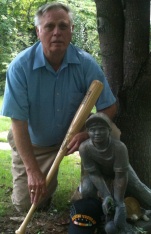 ---
---