All Stars 2010
81st Meeting July 13, 2010
American League vs National League
All Stars Game 2010
All Stars 2010 brings the favored best of the American League MLB team to do battle with the selected best of the National League MLB team into Anaheim Stadium for the 81st meeting on July 13, 2010.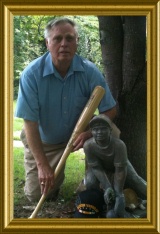 It has a historical perspective, dating back to 1933, when Arch Ward, a sports editor for the Chicago Tribune, pushed for the event at Comiskey Park to coincide with the celebration of Chicago's Century of Progress Exposition, as a means to help Americans deal with the Great Depression and to try to maintain and build interest in baseball.
It has been played every year since and has become a favorite of true followers of the game for it marks the mid point of the season. The All Stars 2010 or any season for it sets the stage for teams battling hard down the stretch run for the pennant.
The DH has been adopted for the All-Stars 2010, regardless of whether it is in an NL or AL park, which is fine because it provides fans a chance to see more at-bats from sluggers.
Every team has at least one player. And every player has a chance to affect an All Star Game.
National League wins All Stars 2010 score of 3 -1 Brian McCann reserve catcher Atlanta Braves drove in all three National League runs with a double. History repeats as a reserve player on the team with one crack of the bat drives in all three runs wins game and is MVP.
---

"I Dearly Love A Good All Star Game with all those star spangled boys of summer escaping the unemployment lines here in sunny west coast of beautiful California."
"Too be totally truthful that home run hitting thing they do a day or so before the actual All Star Game sure gets next to my skin it really hurts but that's why they wound me so tight and then stitched me with red stitching in this leather coat of cowhide." "I have a tough hide."
---


Rosters: By League AL: Starters | Pitchers | Reserves NL: Starters | Pitchers | Reserves
American League All Stars 2010 Team
Starters LINE UP Revised: July 13, 2010
Player Team Position
Ichiro Suzuki, Seattle, RF
Derek Jeter, N Y Yankees, SS
Miguel Cabrera, Detroit, 1B
Josh Hamilton, Texas, CF
Vladimir Guerrero, Texas, DH
Evan Longoria, Tampa Bay, 3B
Joe Mauer, Minnesota, C
Robinson Cano, N.Y.Yankees,2B
Carl Crawford, Tampa Bay, LF
David Price, Tampa Bay, LHP

Pitchers: Player Team
P Clay Buchholz, BOS *
P Trevor Cahill, OAK
P Fausto Carmona, CLE
P Neftali Feliz, TEX
P Phil Hughes, NYY
P Cliff Lee, TEX
P Jon Lester, BOS
P Andy Pettitte, NYY @
P David Price, TB
P Mariano Rivera, NYY *
P CC Sabathia, NYY
P Joakim Soria, KC
P Rafael Soriano, TB @
P Matt Thornton, CWS
P Jose Valverde, DET

Reserves: Position Player Team
C John Buck, TOR @
C Victor Martinez, BOS *
1B Paul Konerko, CWS @
1B Justin Morneau, MIN *
2B Dustin Pedroia, BOS *
2B Ian Kinsler, TEX @
2B Ty Wigginton, BAL
SS Elvis Andrus, TEX
3B Adrian Beltre, BOS
3B Alex Rodriguez, NYY
OF Jose Bautista, TOR
OF Torii Hunter, LAA
OF Nick Swisher, NYY #
OF Vernon Wells, TOR
DH David Ortiz, BOS National League roster All Stars 2010 Team

Starters LINE UP Revised: July 13, All Stars 2010
Player Team Position
Hanley Ramirez, Florida, SS
Martin Prado, Atlanta, 2B
Albert Pujols, St. Louis, 1B
Ryan Howard, Philadelphis, DH
David Wright, N.Y.Mets, 3B
Ryan Braun, Milwaukee, LF
Andre Ethier, L.A.Dodgers, CF
Cory Hart, Milwaukee, RF
Yadier Molina, St. Louis, C
Ubaldo Jiminez, Colorado, RHP

Pitchers: Player Team
P Heath Bell, SD@
P Jonathan Broxton, LAD
P Matt Capps, WAS
P Chris Carpenter, STL
P Yovani Gallardo, MIL *
P Roy Halladay, PHI
P Tim Hudson, ATL
P Ubaldo Jimenez, COL
P Josh Johnson, FLA
P Tim Lincecum, SF
P Evan Meek, PIT
P Arthur Rhodes, CIN
P Adam Wainwright, STL
P Brian Wilson, SF

Reserves: Position Player Team
C Brian McCann, ATL
1B Adrian Gonzalez, SD
1B Ryan Howard, PHI
1B Joey Votto, CIN #
2B Brandon Phillips, CIN
2B Martin Prado, ATL$
SS Rafael Furcal, LAD@
SS Jose Reyes, NYM@
SS Troy Tulowitzki, COL*
3B Omar Infante, ATL
3B Scott Rolen, CIN
OF Michael Bourn, HOU
OF Marlon Byrd, CHC
OF Corey Hart, MIL
OF Matt Holliday, STL
OF Chris Young, ARI Notes:
* Chosen on Player Ballot, on the DL
+ Chosen by fans, on the DL
@ Injury replacement
$ Named as reserve, will start as injury replacement
# Final Vote winner MLB.com Just as our All-Star Game of 2010 became history the game also will add much to the history of our game.

"That's It Folks !-- that is your All Stars 2010 teams and players."

Batter Up----Lets Play Ball....