Kirk Gibson
One Moment Can Make A Baseball Hero
Rememberd For Ever
Tommy Lasorda And Kirk Gibson Personafied Guts And Glory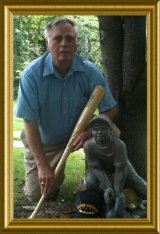 Kirk Gibson Baseball Hero with the crack of the bat and a well hit baseball delivered a moment of baseball history which is now proving to be a moment remembered forever.
Kirk Harold Gibson was born on May 28, 1957, in Pontiac, Michigan.
He starred as an All-American for Michigan State University at flanker in football and outfielder in baseball. After Gibson set several Spartan football records, including 24 touchdown catches, 112 receptions, and 2,347 yards, the NFL St. Louis Cardinals drafted him in the seventh round in 1979.
In 1978, the Detroit Tigers had made him a first round draft selection and signed him for a $200,000 bonus after his only season of college baseball.
Gibson had decided to play baseball at MSU to get some leverage in negotiations with NFL teams. He hit .390 in 48 games, drove in 52 runs, and set a school record with 16 homers.
Best Season and Moment Remembered:
1988 Gibson arrived in LA like a fish out of water. An outdoorsman from the Midwest, Gibson failed to fit in to the California beach lifestyle, but he did bring a winning attitude.
He took charge of the clubhouse and led one of the least talented teams in history to the World Series.
He blasted two game-winning home runs in the playoffs against the Mets and then delivered his storied "The Natural" longball off Dennis Eckerlsey in Game One of the World Series. His homer to win the first game of the 1988 Series was his only at-bat of that Fall Classic.
This pinch hit ninth inning homer winning the first game of the World Series for the Dodgers is the defining moment for Kirk Gibson Baseball Hero. Hobbled with a severe almost crippling leg injuries set the stage for this true and real Baseball Guts and Glory history making moment.
One of the defining moments in baseball history which makes it the greastest sport ever devised is marked by such baseball memories as provided by the ninth inning first game of the 1988 World Series.
One thing it proved is that given a major league baseball team Manager with the Guts to believe in one of his players and for that player to bring Glory for a moment in time which now lives on and will be remembered forever.
---


"Well Thinker I Tell You The Truth Ole Kirk Gibson Baseball Hero Badly Crippled With A Pulled Hamstring In One Leg And A Twisted And Swollen Knee Of The Other Leg, Blasting My Hide Out Of The Park Was A One Of The Games Guts and Glory Moments Still Remembered."
---
Baseball fans around the world would you like to know just how this moment of baseball history means in the overall scheme of how significant it has been remembered?
It might best be described simply by repeating a recent newspaper account dateline Monday November 15, 2010.
GIBSON'S historic bat sold at auction
LAGUNA NIGUEL,Calif---The bat Kirk Gibson Baseball Hero used for his historic home run for the Los Angeles Dodgers in the 1988 World Series sold for $575,912.40 early Sunday in SCP Auctions' October/November auction.
Gibson's home jersey from Game 1 of the World Series went for $303,277.20.
The auction also included Gibson's 1988 World Series batting helmet($153,388.80). NL most valuable player award ($110,293.20). World Series trophy($45,578.40) and World Series road uniform ($9,664.80).
Proceeds from the sale of the World Series trophy and MVP award will benefit the Kirk Gibson Foundation.
The identities of the winning bidders weren't revealed.
Also, a 1934 Babe Ruth professional-model bat used by Babe Ruth to hit career home run No. 702 sold for $135,865.60, a Ty Cobb H&B side-written professional model game-used bat went for $75,330, and a 1953 Mickey Mantle New York Yankees game-worn autographed road jersey sold for $62,256. The Associated Press
Now we know what impact a little expressed Guts and Glory displayed well back there in 1988 still is a feat remembered.
Thanks Tommy and Kirk for providing us this Forever Memory Kirk Gibson Baseball Hero for one of baseballs greatest moments.
Batter Up----Let's Play Ball....
Go Shopping Check Always For Free Shipping You Are Already Assured Quality Goods

---
---