Loyal Fan
Siblings----Yes ! Family
After all you taught him how to Play
and how to Love the game...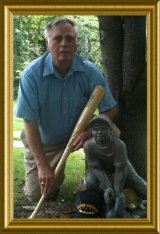 Baseball Players Loyal Fan not only taught him how to play the game but even how to really love the game.
Who would you think would become a baseball hero and also be an All Star in the making? Yes! your very own younger brother your protege'.
--That little one who tagged along to every ball game in the neighborhood for you had an adoring fan for you was his hero.
A younger brother was always there patiently watching and waiting his turn or that silent plea, "It's My Turn."
Sometimes it was a little annoying but that small fry would persist and "want his turn" to bat and get his chances to field some grounders.
Baseball players loyal fan through the years of brothers growing up together has proven to be a two way street.
That little feller knew his big brother was it all. Then look out! Both grew up under the watchful eye one for the other.
Younger for older. Older for younger and baseball is part of it all. Like the great and well told story of "The Three Musketeers" One for all and all for One.
This brother to brother, brother to sister and sister to sister admiration society between baseball playing family siblings is the strongest bond mankind has ever had the pure pleasure to know.
Wouldn't you just know it, that "want to" for a chance to play like his big brother, was the glue that made those two grow closer and closer because of this game of baseball?
An older baseball playing brother not only will respect that longing to play by that small fry, but within himself he cherishes the opportunity to "show him how".
This bonding is a beautiful and cherished phenomenon that has repeated itself many times through out the history of our game of baseball.
Playing baseball and being a baseball players loyal fan is as natural as night following the day.
As this bond continues the older brother will began to take pride beyond words in his younger brother's developing skill and expertise of play.
Like a farmer watching that green corn grow tall and maturing, that older brother is tending to the development of that younger brothers skill and style of baseball play.
Now we see one of the wonderful aspects of this great game of baseball. It has the built in magic of bringing players ,fans, families and older baseball-brothers into contact with a shared bonding that is a joy untold.
Sibling of a family sharing their game of baseball together share something more precious than gold which we know as family-love.
You can sense the growing tendency, of a baseball players loyal fan, as being that older baseball-brother, who shared his game of baseball with someone who would later become that All Star and baseball hero.
That tag along youngster learned from his older brother, who without question was his hero. This thing of baseball heroes has a funny and unique way of reversal.
There are many baseball game rules and we even have our professional baseball rules but there is no baseball rules dealing with that lump in a proud older brothers throat which gets so huge it is hard to breathe as he chokes with pride.
The older brother will stand up and walk around when that younger brother playing in the All-Star High School game misses a third strike and has struck out.
That deep down inside feeling is something, "must stir have to get up and walk around" emotion for the older brother, because his younger brother is also hurting inside by not coming through with a hit at the bat.
Folks this older brother is the baseball players most loyal fan and the truest friend a baseball player can have. This lump in the throat is all part of the players most loyal fan mystique.
These simple everyday play baseball memories and playing circumstances are nothing more than a part of this great game. Win or lose, make a great play or bobble, an easy put out it's the love of the game that makes ball players winners.
Baseball playing heroes and All Stars need to learn the art of being gracious as winners and to be tough minded and chin up after a loss.
I spoke of this relationship of brother to brother as being something that is a tremendous part of the game. There is also a significant bond between a Dad and his son but you know it is different not negatively but simply this thing called time.
Time put brothers together while time kept Dads at work earning that livelihood for the family.
Brothers spent those summer days out there on that dusty ball field where that younger one, under the watchful eye of an older brother, developed and grew as a ball player.
So I say that a baseball players most loyal fan is bound by circumstance, blood and pride, as that older brother becomes an Uncle and-and-and then too the cycle always continues.
Young ladies I did not ignore you on purpose but you see I just do not have the experience of knowing how baseball playing girls had such remembrances.
Baseball players most loyal fan with fondness and love for the game is I'm sure filled with as much attachment and love but I just don't have the words to explain.
The game of baseball is a team thing. Its an individual thing. Its a family thing. Above all baseball should be forever and always a fun thing that nurtures love of the game.
Catch the fever.
The thrill for baseball players loyal fan is the witnessing of a superb executed play by his younger brother. What more can I say it is the thrill of a lifetime.
The joy of superb baseball play by a younger sibling is a rare and humiliating thrill for many older baseball-brothers to witness. these are the kinds of things which makes the game of baseball a sport which has endures through these many years.
Baseball is a game that is more than hits, outs, fly balls, strikes, foul tips, line drives, running full speed laying out catching that fly ball deep into the outfield, catchers catching that tipped third strike, the organ playing "Take me out to the Ball Game", or Mama reminding that young ball player to be home by dark. I suppose you could sum it up as family-love.
Baseball players most loyal fan embodies all the emotions, all the hopes, all the dreams of ball players, baseball heroes and All-Stars that have ever played this game.
Ah Yes! baseball-- the playing uniform is simple. The one, two, three strikes and you are out, and then the one , two, three outs and we change sides and the other team bats, but then it gets pretty well complicated with the emotion thing.
If you have never experienced what I'm talking about "this emotion thing" I can assure you that your total experience for life as a baseball player or fan leaves you short changed.
Believe me.
Nothing compares to a baseball players loyal fan, being rewarded more, than the all star playing exploits of a younger kid brother playing baseball.
Baseball players loyal fan following did not happen just by happen stance it has taken many hours of practice and many heartaches of miscues and errors to hone these skills now which are all thrills.
It was something that has grown through the years because it has such an impact on the practical aspects of human competitive spirit toward winning.
It has been said "happiness cannot be bought" well good people there is not enough money in the world to pay the full price of happiness of a baseball players loyal fan watching a younger brother excell in ball playing.
Baseball players loyal fan and players greatest follower never sits quietly at a game. He sits on the edge of the seat and watches every bounce of the ball headed to his ball playing sibling.
Many a loud word of encouragement shouted from the stands is more often than not an older brother or sister talking to that kid brother out there on the diamond.
You pit your skill of hitting the ball against you missing the ball. Tests your skill of catching up to that fly ball trying to sail past and over your head.
Your skill of throwing that perfect peg to your teammate for the third out.
A true competitor and champion player loves these challenges and will spend hours untold in honing his skills toward being acknowledged as the best and toward becoming a winner.
As an older brothers this thrill of being a winner in the eyes of his younger brother is the most humbling emotion in life.
The fan support for enjoying a younger brother out there playing as an All Star cannot be described in words.
The emotion involving a brother or sister playing ball brings jubilation to the heart by a baseball players loyal fan watching a game.
That a Baseball Players Loyal Fan is - The older brothers and sisters yes! family - is no mystery. The game is played with heart.
Batter Up----Let's Play Ball....
Have you ever had the itch to have your own Web Site? Site Build It
Set Your Site To Succeed The fascinating world of sharing a passion via the Internet could come alive for you just as being a baseball players loyal fan.
----Website Hosting considered to be at the top in the field will lead to Web-Building Success. Solo Build It provides Awesome results...Here's the Proof!
Go Shopping Allow Your Young Baseball Player To Be Thrilled as You Save Money Shopping Online From Baseballfarming.