MLB Players Association
Many Youngsters Dream Of This Honor
Only A Few Have The Privilege Of Belonging
To A Brotherhood Of Legends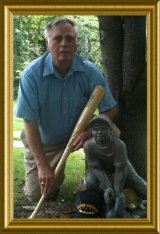 MLB Players Association what an honor just to have attained the credentials to become a member.
Our game of baseball has etched its place in baseball history due to the "want to" of countless youngsters who lived those dreams in and on the Field of Dreams.
The priveledge of wearing the uniform and competing at baseballs highest level Major League Baseball will always be only a dream for millions of youngsters growing up playing the game.
---

"I AM A BASEBALL I TOO AM HONORED BY EVERY PLAYERS WHO HAS EVER SUITED UP IN A MAJOR LEAGUE BASEBALL UNIFORM."
I'm particularly proud of the great hitters who pounded my hide and I shall never forget those pitchers who taught me their English so I could talk."


---
To be honored with multiple awards for skills diplayed while playing Major League Baseball is simply the icing on the cake in comparison to the honor just to have played Major League Baseball.
I would think your current president of this prestigious club would agree and his awards were many.
President of the Major League Baseball Players Alumni association or all time great Brooks Robinson
Brooks Robinson played third base from 1955-1977 with the Baltimore Orioles. Robinson's career totals include 2,896 games played, a career batting average of .267 with 1,357 RBI and 268 homeruns. Robinson appeared in five American League Championship Series and four World Series. The American League's Most Valuable Player in 1964, he set the standard by which all third baseman whom have followed him are judged. He won an amazing 16 Gold Gloves and for 15 straight seasons was the American League's starting All-Star third baseman. He led American League third basemen in assists eight times and in fielding 11 times. One of the games greatest ambassadors both on and off the field, he was elected into the Hall of Fame in 1983 which drew one of the largest crowds in Cooperstown history and selected to Major League Baseball's All-Century Team. Thanks to each and all of you major league baseball players alumni association gentlemen for making our sport and game of baseball great.
SOME FOOD FOR THOUGHT----ARE ALL LEADERS GOOD?
Batter Up ---- Let's Play Ball .... Every member of the Major League Baseball Players Alumni Association, or MLB Players Association, is cordially invited to visit with the many other fans around the World and enjoy Baseball Farming.
Go Shopping Here At Baseballfarming For Convenience And Pleasure.

---
---