Victoria's Secret
It's Coming Up Pink
It's No Secret Anymore
Baseball Pinstripes And Travel Gray
Settled For Victorias Pink Secrets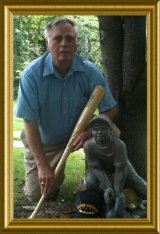 Victoria's Secret is on display now for the ladies and gentlemen at the ballpark it is no longer a secret Victoria's apple pink pervades the stands.
Where the girls are the boys will follow who knows the score anyway? The score is all even.
MLB is partnering with Victoria's Secret PINK brand to take aim at young women during the 2010 season with a new fashion line featuring the logos of 11 clubs, including the New York Yankees Yankee Stadium, St. Louis Cardinals, Chicago Cubs, Minnesota Twins, Boston Red Sox Fenway Park, and Los Angeles Angels.
We might have known things would happen as Major League Baseball got full swing into the hip sexy lady fashion lines. Baseball also is rumored to be partnering with Soft As A Grape to roll out a line of maternity T-shirts.

Wow ! Boy Howdy Bubba Will You Just Look In Those Stands It Looks To Me Like A Blooming Pink Rose Garden. I Know The Marines Promise No Rose Garden But Sowee Look At All That Pink
"No Fair Peeking At The Crowd Gathered In The Outfield Bleachers. Must Be A Crowd Pleaser Huh!"
"My Running Mate And Good Buddy The Thinker must Be Out There With The Sun Crowd In The Bleachers I'm A Thinking."
---
The well familiar PINK brand caters to college-age women with bras, lingerie and sleepwear. The baseball-themed line of crystallized hats, jerseys, T-shirts, hoodies, sweatpants, tanks, shorts and fleeces will roll out in more than 100 Victoria's Secret stores in 11 markets.
The youthful gear will feature sayings such as "I Only Kiss Angels Fans" and "Love Love Love Twins." Some MLB ballplayers will appear alongside Victorias Secret models as they tout the line in the 11 markets.
Now that spring training is well under way, the boys of summer getting themselves fit will slack off of the heavy lifting, getting fired up for opening games and a season of a Cherry Pink and Apple Blossom White exciting season.
MLB anticipated the coming future attractions after ushering in video replay this past season. The videographers will have a ball scanning the crowd and missing nothing in the stands during the lull of action out on the baseball diamond.
Does anyone know who is leading and on top of their division in the major league baseball season standings? Which teams won yesterday and still stayed on top of their division in a tight race for the pennant?
Who says, "Baseball is a slow dull game for they have just never dreamed of what a little pink like Victoria's Secret can do to anyones game." From this day forward let the word go forth boys of summer playing out there on their Field Of Dreams if they make it to the Big Show their dreams and song could be "In The Mood" Pink.
The final chapter has not been written as a tell all about baseball history and Victoria's Secret.
Batter Up----Let's Play Ball....
White sports coat and pink carnation will be alive and well while on display at the baseball ballparks around the baseball country and soon around the World come

Baseball International Series.