Yankees Catcher Yogi Berra
Peter Lawrence Berra
"ACE CATCHER OF THE AGES"
Known In The Game As
"A Money Player"
Baseballs Most Famous
N Y Yankees Catcher
Yogi Berra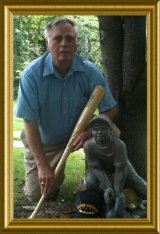 Yankees Catcher Yogi Berra is known around the world simply as "Yogi" or Yogi Berra. Who is Lawrence Peter Berra ? Simply put "Yogi" (Lawrence Peter Berra). If you will baseballs premier modern era Hall Of Fame Baseball Catcher.
Yogi of the New York Yankees is one of the players coaches will referto teach kids learning about baseball. He is best known for his uncanny utterances and and the most beloved player in the history of baseball.
Some of the off the wall impromtu and sometimes hilarious remarks attributed To Yogi are known as Yogi.isms.
This all time great N Y Yankees catcher Yogi Berra Hall Of Fame Catcher and three time American League (MVP) most valuable player achieved the pinnacle of fame as one of many of the fabled New York Yankees.
Bill Dickey one of baseball's All-Time greats as a N Y Yankees catcher but the dynasty of Yankee catchers greatness was not diminished one small tittle when Yankee catcher Yogi suited up as a Yankee.
It is not by coincidence, but by hero adulation, in following Bill Dickey, as the N Y Yankees catcher Yogi suited up game after game wearing Bill Dickey's number No.8
The NY Yankees have now retired the No.8 in recognition and honor of these two great Yankee catchers "Yogi and Bill."
This great and and famous baseball player, as history reveals, received his nickname in his preteen years. He and some of his buddies around the age of eleven or twelve attended a movie about India.
One character in the flick was a Yogi, a Hindu wise man.
As the group left the movie in bright daylight one of his pals looked at Berra, and shouted, "That's you. You look like a yogi!"
From that day until now N Y Yankees catcher Yogi "Lawrence Peter Berra" has been known as "Yogi" Or Yogi Berra.
Any nickname, other than Yogi, could not have been more appropriate for Larry "Yogi" Berra.
This short, chunky and plain-looking boy with ears which protruded like flaps from his head was no poster boy candidate.
How could this young kid who dropped out of school after the ninth grade reach such heights of fame for which he can claim?
Well, I suppose we should go back to his early childhood where he grew up in St. Louis, and understand his dream of one day playing baseball for his idolized ball club the St. Louis Cardinals.
Yogi was an intense student of every opposing hitter he knew every strength and every weakness of opponent hitters. His battery mate pitchers knew without quetion when Yogi called for the pitch to be low inside that was the spot for the swinging strike-out.
Berra become well known for his competitive spirit and ball playing in the St. Louis area and his boyhood friend Joe Garagiola and Yogi Berra were both catchers. Yogi's dreams were dashed when Joe was offered and accepted a contract to play baseball with the hometown Cardinals.
In 1943, at the age of seventeen the New York Yankees offered and he accepted a bonus of $500.00 and sent him to the minor leagues and Norfolk, Virginia.
Many may recall at this time in history the United States was knee deep in a struggle called World War II. Yogi Berra as so many of our baseball Hall Of Fame players, also like most of America, heeded their country's call and served in the military.
Yogi Berra having been assigned to the Yankees farm team in Norfolk, Virginia and surrounded with Navy Sailors made it a natural for Yogi to "Go Navy."
His first year of minor league play did not really bode well for Yogi. He did not hit well at first and the remarks by the fans of his performance and appearance hurt him. So it was "Anchors Aweigh" for young Yogi.
His season with the Norfolk minor league team under Shaky Kain, the baseball club's manager, was good for Yogi. Shaky understood what Yogi Berra was going through and said, "Look this is gonna happen. More to you than most others. And in language worst than you're hearing. You gotta learn not to get mad." Yogi Berra never forgot this lesson so aptly given him by his first professional manager.
A person's exterior appearance has seldom allowed for more misconceptions about his character or capabilities than in the case of Lawrence Peter Berra. A squat, funny looking kid standing 5'8" with an infectious grin would not be considered the ideal for a poster ad.
NY Yankees catcher Yogi was not the "Clown Prince" of baseball as a matter of fact Yogi was "The Knight In Shining Armor" when he was decked out in his full catchers regalia or protective catching uniform.
Myself, being a career "Marine" with over 20 years active duty, I can relate to this poster ad concept of appearance which many people are judged. The 6'3" tall physically trim with the bearing of a "Prince" is an automatic first impression winner.
As a matter of fact the fitness reporting system of the military requires marking as to the "Appearance" of the person being marked/graded.
In reality, NY Yankees catcher Yogi Berra, whose appearance and disposition earned him the nickname "Yogi", was a shrewd and successful businessman, and by all counts one of the most consistently superb catchers of baseball's Golden Era.
NY Yankees catcher Yogi played on 14 pennant-winners and 10 world-championship clubs in his 19-year career, setting records for World Series games, hits and doubles during these glory years as a N Y Yankee.
Upon returning to the Yankees in 1946 after his stint with the Navy, Yankees catcher Yogi Berra this kid hailing from a St. Louis neighborhood known as "Dago Hill", was destined to be one of the most popular Americans of the 20th Century.
Yogi was a great guess hitter who performed best in the clutch. His known and proven record of hitting in clutch situations earned him the reputation as a "The Money Player". When the chips were down and it was a do or die for a win, Yankees catcher Yogi Berra came through like the champion he always was.
Blessed with very strong wrists and a keen eye, his ability to hit the ball was a tremendous asset even though his style was uncanny. Most great hitters take pride in only swinging at baseballs thrown into the strike zone.
Yogi took pride in batting a baseball that was pitched close enough for him to get a good swing at it. When Yankees catcher Yogi decided to swing his bat, he did so to hit the ball that was in or out of the strike zone.
This Hall Of Fame baseball player's apparent philosophy of hitting was fairly simple, "If the pitcher has the nerve to throw the ball he has the guts to hit it."
Hal Newhouser, one of the great Detroit Tigers left handed pitchers, was told that he should have no trouble with Berra, "He's strictly a bad-ball hitter." Newhouser's response,"Yeah, but I defy anybody to throw him a good pitch."
The NY Yankees catcher Yogi by most hitters standard, looked funny in the batters box, but he could get his bat on most any pitch. Armed with those strong wrists and a good eye when the chips were down, he nearly always came through with a hit.
Mel Ott, another Hall Of Fame baseball great, probably summed up Yankees catcher Yogi's abilities the best. "He seemed to be doing everything wrong, yet everything came out right. He stopped everything behind the plate and hit everything in front of it."--Mel Ott
I'll give you a good pair to draw to. Casey Stengel and Yankees catcher Yogi Berra were a pair of cards. These two gentlemen fostered a language all it's own. When Casey went on a tirade and ranting, it was known as "Stengelese." When Berra offered advice, it was "Yogi-ism."
Over the course of two decades this pair was part of the New York Yankees domination of professional baseball. Casey and Yogi spoke their own brand of baseball language. They were masters of turning a phrase with mixed metaphors.
No player in major league baseball history has ever won the "MVP" award more than three times. Six men --Dimaggio, Mantle, Foxx, Musial, Campanella and Berra-- have all won it three times.
Yogi was the American League Most Valuable Player "MVP" 1951, 1954, 1955. My baseball cap is tipped to this great baseball player.
Good folks I tried to finish up and end my Yogi story but I'm compelled to share some personal memories and experience with you.
Baseball catchers will always hold a special thought in my mind and heart. Just briefly to name some of the greats without detail they are Bill Dickey, Roy Campanella, Yogi and Johnny Bench. Now, I am leaving those well known powerhouse greats of the game for the sports world to admire my personal heroes right here at home.
One of my older brothers, Bill was a catcher in sandlot baseball having played with grit and hustle unmatched within my mind. You see, he was an older brother who along with his twin Bob taught this little fella when he was young to love the game.
In later years my younger brother, Bailey also a catcher, played Little League baseball as if he were a pro. Ironically and with much admiration of his ability as a catcher Bailey was known far and wide throughout the community as "Little Yogi."
My youngest son, Bo was a catcher playing from Tee ball through high school. Then to bring further joy my oldest grandson, Jack was a catcher playing baseball by Little League rules and then right on through Jr. high school.
I have one more group coming on as my grandsons, Zachary, Taylor and John Liles just now entering Little League playing age and with promise, maybe of continuing this string, as catchers all.
Yogi Berra is surely a great role model for any growing up future young baseball players. I am thankful our youngsters of today have N Y Yankees catcher Yogi as a role model.
Yogi certainly ranks up near the top of the list as one of baseballs greatest so Yankees Catcher Yogi Berra was closely considered during my choice to name the greatest player but not as a hitter.
Being the worlds master of Yogi "isms" is vintage Yogi and what you see is what you get. What you hear may leave you a little befuddled. What he said is what he meant?
NY Yankees Catcher Yogi cut from a mold like none other.
Batter Up----Let's Play Ball....
Report any broken links to Baseballfarming would be a big help please Contact Us.
Have you ever had the itch to have your own Web Site? Solo Build It
Affordable professional Site Builders for your Business Sitesell
Shopping Saves Money Buying Quality Baseball and Sporting Goods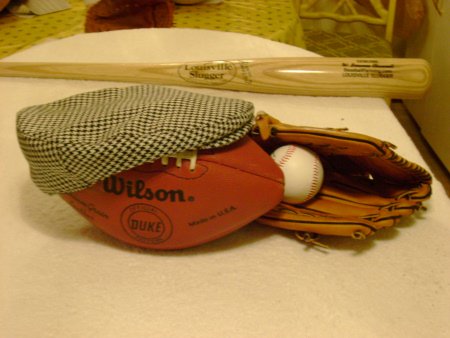 ---
---