BASEBALLS GREATEST HITTER
BASEBALLS GREATEST HITTER
WAS A HERO AND A LEGEND
Any Choice Proclaiming The Greatest Of Anything Is As Controversial As An Umpire's Close Call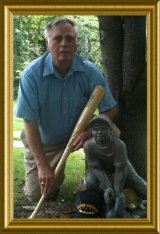 Baseballs Greatest Hitter during the course of his playing days was more than a hero he became a legend as baseball's finest and best hitter in the game. He was universally respected by both his peers and most baseball fans for his superb and sensational baseball hitting ability.
Ted Williams grew up as a local San Diego,California high school baseball phenomenon and after graduating from high school, signed a contract with the San Diego Padres - then a minor league team of the Pacific Coast League.That same year during December, the Boston Red Sox purchased Williams contract.
After two years with the Red Sox's AAA minor league team in Minneapolis, Williams was brought to Boston.
In his rookie year of 1939, he batted.327 with 31 home runs and 145 RBIs - the first rookie up to that time to lead the league in RBIs.
From the outset, the out spoken, thin-skinned Williams had a contemptuous and confrontational relationship with Boston's fans and press.
Nov. 27, 1947: Joe DiMaggio edges Triple Crown winner Ted Williams in AL MVP vote
(National Baseball Hall of Fame Library)
Ted Williams must have felt as if he had seen this movie before. In 1947 – a for the second time in his storied career – Williams won the American League's Triple Crown, leading the loop in batting average, home runs and RBI. And for the second time, the Triple Crown was not enough to secure the Most Valuable Player Award from the Baseball Writers' Association of America voters. The BBWAA announced 66 years ago this week – on Nov. 27, 1947 – that Joe DiMaggio of the Yankees had won the AL MVP. DiMaggio, who led the Yankees to the 1947 World Series title, hit .315 with 20 homers and 97 RBI compared the Williams' .343, 32 and 114 in the same categories.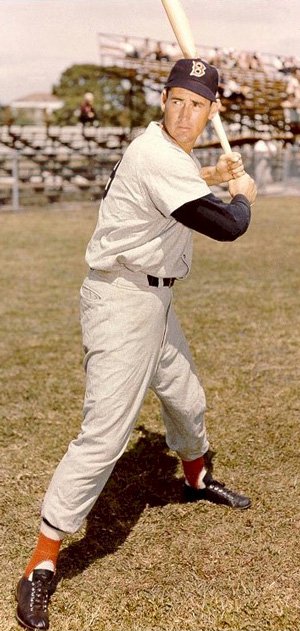 Aug. 20, 1960: Ted Williams draws 2,000th career walk
(National Baseball Hall of Fame Library)
There is little debate that Ted Williams was one of the best hitters ever. His numbers speak for themselves. "Ted was the greatest hitter of our era," Hall of Famer Stan Musial said. "He loved talking about hitting. He studied hitting and pitchers. He was the greatest." But his .344 lifetime batting average, 1,839 RBI and 521 career home runs were only part of what made Williams so fearsome at the plate. Here are Ted's career major league totals:
Batting average .344, Games 2,292, At bat 7,706, Runs 1,798, Hits 2,654, Doubles 525, Triples 71, Home runs 521, Runs batted in 1,839, Stolen bases 24.
We, that is--All of Us--Baseball Fans make our own choice of baseballs favorite player and baseballs greatest hitter. All across this fantastic country the opinion and argument of which hero fits this accolade of being Baseballs Greatest Hitter and one of baseball playing legends will rage on.
That simple fact does not prohibit me from expressing my personal choice and vote for my pick as baseballs greatest hitter.
Baseball fans around the world here are some acute and poignant excerpts taken from the touching observations, statistics and thoughts relating to baseballs greatest hitter as provided by Jack Kenny:
BASEBALL HERO, Ted Williams
Look into the record books and maybe you too will get an appreciation of the man's accomplishments in baseball. Even those who seldom dwell on the numbers may find the Williams record breathtaking.
It was as though he were born hitting .344, the average he achieved in just his second big league season and his career batting average. In his third season, he batted .406, becoming, thus far, the last player to bat over .400 for an entire season.
Sept. 28, 1941: Ted Williams goes 6-for-8 in a doubleheader against the A's to finish the 1941 season batting .406
It has been 70 years since anyone in baseball has completed a season with a batting average of .400 or higher. Boston Red Sox slugger and Hall of Famer Ted Williams was the last to accomplish this feat.
The following year, his batting average dropped 50 points to a mere .356 and he still won baseball's mythical Triple Crown, leading the league in batting average, home runs, and runs batted in. He would win another Triple Crown in 1947, the only player other than Rogers Hornsby to achieve that twice.
At age 39, he made another run at .400 and might have made it with a little more speed to beat out "leg hits." As it was, he finished the season with a league-leading .388, leaving runner-up and reigning MVP Mickey Mantle in the dust at .365.
Not even Ty Cobb hit for such a high average at such an advanced age.
He decided early in his career he would never again tip his cap to acknowledge the cheers, a vow he kept through the rest of his brilliant but turbulent career.
He did not tip his cap in that final and redemptive 1960 season, when he batted a very respectable .316 and whacked 29 home runs off a variety of pitchers, including one whose father had served him a homerun ball a generation earlier.
He did not tip his cap after hitting a dramatic home run in the bottom of the eighth inning in his final at bat in his final game at Boston's Fenway Park.
He refrained again when, after he had trotted out to his position in left field, manager Billy Jurges sent out a replacement for him so he could come trotting in to still more cheers from the fans, who must have felt like they were watching Moses retire from the heights overlooking, but not reaching, the promised land of a World Series championship.
Ted like the Babe was known by other descriptive names which referred to his ability to hit a baseball such as: The Kid, Teddy Ballgame, and the Thumper (in addition to the Splendid Splinter).Ted Williams with his superb eyesight and hitting ability earned him the well deserved accolade as baseballs greatest hitter at least in the eyes of this fan.
Thirty-one years after his final game, in a ceremony at Fenway Park commemorating the 50 years since he had batted over .400, Williams, now age 73, pulled a Red Sox cap out of his back pocket, put it on his head and then in one grand gesture, tipped it to the baseball fans in Boston, New England, and the world.
He might also have tipped it to the brave men with whom he had served in World War II and those whom he fought both with and against in Korea.
The gallant warrior who had fought so many battles and stirred so many passions left the large baseball spotlight with a sincere and moving gesture of peace and good will. He continued to offer his accumulated wisdom and unequivocal judgments to the world until his death in July of 2002, less than two months shy of his 84th birthday.
He and we were lucky he lived so long. We are lucky as well that he returned safely to the game he loved after having fought so brilliantly and with such dedication for the country he loved.
John Glenn, the first American to orbit the Earth, a U.S. Senator from Ohio, and a Marine pilot who served with Williams in Korea, had only the highest praise for his distinguished Marine Corps teammate.
Ted was not only baseballs greatest hitter of baseball it was reflected again in his ability to zero in and place Marine Corps Aviators bullet strikes time after time on the targets where it truly counted the most.
The above is (only a small part) of an excellent article BASEBALL HERO, Ted Williams Written by Jack Kenny Friday, 17 September 2010.
Playing baseball in high school in the mid 1950's during the hey day of the fabulous New York Yankees domination of baseball and to choose the greatest hitter brings to vivid memory many of those Yankees.
Determining the greatest of the many greats was a daunting task for this wannabee baseball player. Mickey Mantle of those famed Yankees and also including "Joltin" Joe DiMaggio, "The Babe" Babe Ruth, and the "Iron Man" Lou Gehrig, and others such as Honus Wagner, and the "Georgia Peach" Ty Cobb, George Sisler and Roger Hornsby were truly hard to bypass.
I have always considered yankees catcher Yogi Berra as one of my all time favorite players.
Yogi was not known widely by his prowess as a hitter but as a true and pure great all around baseball man he is considered to be near the top of ones list as being great.
When we stop to contemplate and muse about our real heroes and the standout greats of the game of baseball, we often ponder such things as "Character," "Patriotism" and "The American Flag." Then we pick a few as being worthy of our recognition as great American Baseball Icons, and one of the many worthy greats of baseball Hall Of Fame players!
Take a moment to scan or even study in detail the listing of famous baseball hitters and you will realize it is a daunting task to choose only one of many so deserving for such and honor. Statistics will set the tone but in the end it is and emotional gut feeling attachment thing which tips the scales for a choice.
Theodore "TED" Samuel Williams was and still is, revered for the many attributes that made him truly one of the Greatest. Ted Williams, by my reckoning, became one of baseballs greatest hitter and playing gentleman heroes in the history of baseball.
Regarding the enormous compensation received by today's top professional athletes, contrast this: "The last batter to reach the 400 plateau was also a decorated veteran of two wars, the winner of two triple crowns, and off the field served as the tireless champion of charities such as The Jimmy Fund, in addition to pursuing his passion of fly fishing. He is also the last major-leaguer to demand a pay cut at the apex of his career." - Richard A. Johnson ---------------------------- [In 1959, after a drop in his batting average, Ted Williams demanded that his salary be reduced from $125,000 to $90,000.]
The mention of "Ted" as The-Splendid-Splinter recognizes him for his sensational hitting ability. His baseball hitting skills is one of the numerous reasons he is considered among the greatest of baseball players.
Most of us avid followers of this game know that Ted was one player that was exceptionally gifted with eyesight that surpassed the norm or average person's vision. This capability of seeing the ball in excess of the average player provided the edge that made him a super star hitter.
The year 1935 found Ted Williams as a member of Herbert Hoover High School baseball team in San Diego. In 1941 only six years out of high school" The Kid" or" The-Splendid-Splinter" became the American League hero after his ninth-inning homer ended the 1941 All-star Game...
That 1941 season marked the pinnacle and epic sensational start of one of the most respected hitting careers that spanned more than 21 years. Williams great 1941 season was capped by a .406 batting average.
Ted to this date is the last of baseballs greatest hitter to achieve a .400 batting average for a season.
Apple Pie-Baseball-The American Flag fit Ted to a tee. His mother had hoped that her tall, gangling son would follow in her footsteps and join the Salvation Army, but the kid with his picture-perfect batting stroke, respectfully declined.
Along with his solid, respectful upbringing, his manner and courteous respect towards others, we saw him often quietly performing his feats, and becoming the greatest of hitters, without any outward fanfare or hoopla.
Ted was never associated with many of the after hours escapades so well known of other big stars of the game. This, we might say is the Apple Pie of this piece with Baseball and the American Flag.
Ted became the real American Idol, with his stoic determination and belief in himself. He reeked with confidence in his ability as a hitter.
He had his moments, when frustration in his performance as a hitter, only served to fill him with more determination. In his own natural manner, he illuminated the differences between batter bats baseballs and a true pure baseball hitter.
Once, when his line drives were streaking straight into waiting gloves, he fumed "Nuts to baseball, I'd rather be a fireman." This natural and normal frustration was overcome by his fierce and bulldog never give up the goal of being the best hitter baseball could offer. Always determined, "Ted Williams" became Baseballs Greatest Hitter.
Our many baseball heroes which is often the case are also great hitters become role models for most all younger playing baseball hitters.
Moms Apple Pie, The American Flag and Baseball.

Be there any Major League Most Valuable Player (MVP) and specifically a Hall Of Fame player that embodied patriotism and true defender of The American Flag it must be Ted Williams. If not baseballs greatest hitter or baseballs greatest player then at the least he is among the top three of the greats of baseball. That only begs the question, "who are the other two"?
Ted captured the MVP baseball award of the American League in 1946, his first season back from serving two (2) years Two complete seasons of baseball,as a United States Marine Corps Aviator during World War II and Korea.
On Nov. 14 1946 – Williams was named the AL MVP. The Red Sox slugger led Boston to its first AL pennant in 28 years by hitting .342 with 38 homers and 123 RBI and league-leading totals in runs (142), total bases (343) and walks (156).
"If he was leading off an inning, he couldn't wait to grab his bat and get up to the plate to watch the pitcher take his warm-up throws," said Mickey Vernon, the Senators first baseman who led the AL with a .353 batting average in 1946 and later a teammate of Williams in Boston. "Or if he was the hitter and they were changing pitchers, he would move up to watch the new pitcher warm up, to see what the ball was doing. He was always studying."
Williams' avowed goal was to eventually be known as the greatest hitter who ever lived. By 1946, he was well on the way to that level – despite missing three full seasons from 1943-45 while serving in the Marines.
As if two years during World War II duty for this famous baseball player was not enough Ted was called back to active duty during the Korean Conflict. Because of his flying duty in Korea the The-Splendid-Splinter played in only six (6) games in 1952 and 37 games of 1953.
This loss of playing during these two seasons, his prime playing years due to the Korean conflict, plus World War II missing a total of nearly five full seasons may have cost him the unanimous and unchallenged honor as baseballs greatest hitter and possibly all time greatest baseball player.
Ted Williams closed his baseball playing career in a most dramatic fashion on a September afternoon in 1960 with a home run blast on his final appearance at bat this was a fitting end to the career of Baseballs Greatest Hitter.
It was fitting that the baseballs greatest hitter finished his career with a home run because his first at bat as a young kid from San Diego had struck out during his first at bat when joining the Red Sox.
This striking out thing was detested by Ted and his entire baseball hitting career seemed destined to be the baseball leader for not allowing a pitcher to strike him out.
One thing for sure every pitcher whom ever toiled against Ted, while he was at the plate, knew full well it would take some doing to get him out and to bring his lunch for it was going to be a full days work.
Ted was a proud individual by proud I am relating to his tendency of not showing rah rah jubilation when he cleared the fences with his homers. His pride was shown in his workman like job of simply getting the job done well.
Hitting that baseball he considered was his primary and foremost duty for this famous baseball player anything less would not have been Ted Williams. His reputation of seldom taking off his cap and waving to his cheering fans was simply "Ted".
Ted Williams being one of the all time greats and a self styled perfectionist like all of us had his negative side and not so good moments of personal style. Ted being and only child and dedicating humself to performing flawlessly become totally manifest during his latest years of playing baseball.
Might we say Ted showed signs of being pampered and maybe a little spoiled as a youngster might account for some of his disdain for outward friendliness when his performance by himself was considered sub par? Additionally, Ted reflected a sincere disrespect for fair weather fans and the sports writers writing personal articles about ball players and even himself when the writing or cheering was not with him during gloom as well as the sunshine.
Ted displayed an act of cynacism by not tipping his cap more of a payback for the lack of good cheering or encouragement during the times when all was not well in camelot. You can readily see greatness in one thing does not mean one is great in all things.
This gentleman gets my tipped hat as one of the All Time Greats and truly Baseballs Greatest Hitter. The American Baseball Icon. I hope Ted would appreciate my tipped cap.
Well Sport Fans!..That's my story and I'm sticking to it. Ted Williams is my pick as Baseballs Greatest Hitter.
Baseballs greatest Hitter receives this honor because of Baseball Memories of "The Splendid Splinter" as my choice.
Baseball Memories are a part of all baseball players growing up following their baseball heroes.
Most all of our memories are personal even when shared.
Most all baseball players and baseball fans hve their own choice as for naming Baseballs Greatest Hitter. You also have your personal choice.
You might enjoy checking into anothers choice here Who Is The Greatest Hitter?
Ted would be glad to direct you to study and learn baseball hitting because Baseballs Greatest Hitter lived and breathed Baseball Hitting.
Theodore Samuel Williams was born on August 30, 1918 in San Diego, California.
Ted Williams passed away on July 5, 2002 in Inverness, Florida
Report any broken links to Baseballfarming would be a big help please Contact Us.
Baseball is unique by its uses of lingo, vocabulary, terminology, chatter and jargon, all of which is a descriptive word picture describing the game and the action surrounding what's happening.
The fluent close up use of baseball talk and continued baseball lingo and naming of i:e Baseballs Greatest Hitter is an important part of the game of baseball. Taking a stand and declaring ones personal pick as Baseballs Greatest Hitter is a mind and heart thing.
I've had my say, now I'd like to let you have yours...
Batter Up ---- Let's Play Ball....
Who Do You Nominate as Baseball's Greatest?
Do you have an opinion on who is baseball's greatest... greatest hitter? greatest pitcher? or just the greatest player ever? If so, please tell us why you're nominating this baseball player here, won't you? Let's get the discussion going!
Who Other Visitors Have Nominated
Click below to see nominations for baseball's greatest from other visitors to this page...