Baseball Playing Legends!---BALL..... Be A Living Legend.
Are You A Part Of This Legacy?
Baseball Playing Legends Are Winners
Also A Part Of Every Towns Lore.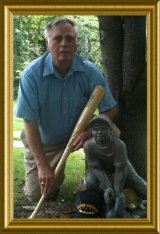 Baseball Playing Legends are a part of every community or hometown. This is an inescapable part of the fascination and devotion fans impart to the best playing Superstars who are winners playing for the hometown fans in this great game of baseball.
These local hometown baseball player heroes are the ones who taught us how to play baseball. This hero adulation and keen watchful attention to every detail of play fostered and added immensely to the love for playing and we learned how to play baseball.
Legends are made in the twinkling of an eye or thru hundreds of games and sometimes many years. How can it be? Let's reason together about how this could happen. Things do happen.
Baseball can prove that this phenomenon of how legends of persons, famous baseball players or their feats can be so conceived and long remembered.
We have ball playing legends contributed to feats that may be totally unprovable and possibly might be only imagined but they can persist and be passed from father to son to son and to son.
One of our most famous and well known legendary feats is whereby The Great Bambino, "Babe Ruth", indicated by posture and body language he was going to put the ball out of the park.
This is so much a part of our famous baseball players baseball lore we simply want to believe it is so and therefore it is!
This one moment in time watching a great feat or superb executed play often is remembered and talked about, on every play ground, through out this great land. The act itself is only reinforced by the unbelievable hero status afforded to the consistent best of the best.
Babe earned his hero following for his feats while he lived.
The "Babes" exploits at bat not only got him the calling of being "The Great Bambino" but he was also known as "The Sultan Of Swat".
Lou Gehrig, a Yankee teammate of Babe Ruth, was again a living legend during his days of playing in The Bronx and in the House That Ruth-built "Yankee Stadium".
Lou "Iron Horse" Gehrig played in a legendary 2130 consecutive games. This feat alone would have compelled fans to regard him as a legend but his playing and hitting feats supplied the catalyst/chemistry on the Yankee teams in the 1930's propelling the Yankees into ALL Time Fame for Baseball dynasty of greatness.
Ty Cobb, Ruth, Gehrig and DiMaggio are without question ball playing legends.
Baseball Hall Of Fame Players are not the only baseball playing legends for there are many a hometown player in our mind and memories which will hold that honor.
Baseball playing legends, again I repeat, may be a feat or it can refer to the person.
When I say "BALL" "B e A L iving L egend" I would be humbly grateful if in some way my thoughts and words of encouragement could influence a player or players to reach for and achieve legendary status. Being a living baseball playing legend is achieveable.
The rememberance of a person as a ball playing as a legend is a moment often revisited in our thoughts and are truly cherished.
This I think to be true. The traits which makes a person most admired by his baseball playing peers are the stuff from which baseball playing legends are made.
In Baseball, and also true by all ball players and athletes everywhere, is this thing called a winning attitude. You must have it to become a true living legend. Our Society thrives on supporting and admiring Heroes and Winners.
Here is something of which shows the importance of the admiration for winners. Major League Baseball in 1997 retired from future use baseball uniform No.42. This No.42 baseball blouse was the uniform number of the legendary Jackie Robinson.
Jackie Robinson the pride of Cairo,Georgia born of humble beginnings was a three sport star at UCLA and due to Branch Richey became the first Black player of Major League Baseball.
Jackie signed by Branch Richey premiered with the Brooklyn Dodgers on Opening Day of the 1947 season and was named the National League Rookie of the year that his very first season in professional major league baseball.
A true winning attitude entails empathy of, competing and playing fair and by the rules, for all your competitors. Remember competition starts when one is able just to make the team or squad.
You must obtain skills better than your competing teammates to gain that starting berth on the team. Then as part of the team your competitive spirit and skills could make your team a winner.
A baseball playing legend gains this status by his attitude and skills. All baseball players and most fans, see and feel a persons aura of how he conducts himself as well as how his superior skills dominate his playing action.
When you add constant determined hustle plus all around heads up smarts of playing, everyone knows this is a Kid that is worth following. This living legend thing can be nothing more than idle conversation praise or it can be the makings of future Banner Headlines.
The difference sometimes is nothing more than perception.
Headlines are fleeting thoughts but that sibling watching his older brother perform as an All Star or that Kid down the street staying after school to watch his buddy at practice is forever. Then too those boys in the neighborhood who do not have the coordination to be gifted athletes in their own right, yet admires their buddies play and attends all the games cheering him on is worth it all.
You see that baseball player is on his way to becoming a baseball playing living legend. Shucks that is only neighborhood hero worship. ---Good People, that is everything, Nothing more could be added that would be more gratifying.
Baseball Playing Legends are not that mythical some dude somewhere it's that Lad that performs brilliantly for the Hood that transforms into those headline making Superstars.
Get your glove It's Ball Game time and you are not one of our Baseball Playing Legends yet.
Legends of this game are not only those baseball playing legends that you read about in the newspaper or see on television. They are some of those buddies and friends you grew up with.
Prime example my friend Billy Dunaway wanted to tell me about Pat Fulmer and his fireball pitching.
Billy was a catcher on the playing fields and his recollection of ball players who could really hurl that pill was etched in his memory bank.
He said," Pat Fulmer would fling that ball so hard it not only burned and hurt his hand it about turned him over".
Growing up in Argo, Alabama, one gentleman who was the country postmaster and owner of the general store/service station was paralyzed in his legs and used a wheelchair from his latter teen years. He had contracted Polio just as he was reaching maturity as a young man.
The storyline is poignant in that not only did I hear about his ball playing prowess from my Dad but the entire community agreed that Leo Keith was a future Baseball SuperStar in the making.
That realization could never be, never the less, "Leo" was a living ball playing legend in his time. I understand his play was as smooth as silk and his speed was unmatched in the community.
Another of baseball playing legends, but never played Major League Professional Baseball, who can claim a status above most in his community for his playing of this game of baseball was Trussville's Steve Quick.
Steve stood every bit of 5 ft 8 inches but could he slap that ball with his bat. Steve's physical endowment as a hitter was his grip (like a vise) and forearms that resembled "Pop Eye's."
His bulk and strength of his forearms and gripping strong wrists made him a legendary power hitter.
Legends are with us through out life. It is not just those chosen few that we read about, it is our teammates and community players who excell in this craft of baseball.
Back home there was one young Little League catcher that was known far and wide in the town as "Little Yogi".
Small towns across our country is where you find the real winners and the hometown baseball playing legends. This superstar hero attention make the game of baseball a very special part of the legacy for remembering the playing legends.
That alone to you might not mean much. People that is what being a living legend or baseball playing legend is all about. No he did not become a Big League Super Star, but his love for the game remains his forever.
The time is now to take the time to go shopping and get that little guy you play pitch with some new baseball playing gear.
Visit with our Baseball Business Partners at Baseball Farming One-Stop Shopping Center and buy some good quality merchandise today
Leave the Baseball Playing Legends Page and Go Shopping..
Batter Up----Let's Play Ball....
Report any broken links to Baseballfarming would be a big help please Contact Us.
Go Shopping Save Money
---