Ball Playing Babe ....
Ball Playing Babe, Wore Lace and She Wore Blue Jeans. Was She A Ball Player !
An Argo Playground Babe
Baseball Playing Star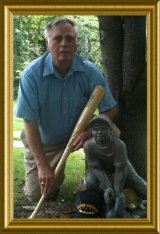 Ball Playing Babe alias our grammar school baseball playing star Carol Jean "Babe" Massey. She wore lace and, yes sir, she wore blue-jeans, absolutely yes she did, and you can believe me she was a playground hero and ball playing starlet.
The playground of Argo grammar school had many good ball playing girls but Carol "Babe" Massey was the best she set the tone for the thrill of victory as a starlet of the soft ankle fairer sex.
I can tell you in her blue-jeans she was noticed for she was all girl as well as the top flite baseball player on the playground. Our all boys team of American Legion baseball sure could have used players like Babe with her skills and playing ability she was several caliber notches above the average.
No! Carol was never referred to as a baseball baby signee, she never played Boston Red Sox with red stockings nor in Yankees pin stripes and never had a baseball playing league named in her honor but she was still a Ball Playing Babe.
Ball Playing Babe not only played a superb game of baseball, on the playground, she was also a standout top of the class "A" student and leader.
The Keith family, the Massey family, the Weems family and the Day families were baseball fans and players that dearly loved to play the game.
Well let me tell you the boys in those families did not have a lock on playing baseball. Some of the girls from those families did more than hold their own. These girls also excelled in the game.
The two Keith girls Elizabeth and Edith Keith could fling a baseball from their front yard clear across U.S. Hwy 11 and almost to the railroad tracks.
Pat and Jo Day would handle that double play around the keystone as the shortstop and second base lady as good as any pair on the playground.
Then there were the three Weems sisters Marie, Lou and Sis, of these three, Lou was the standout star. There were the other Massey girls, Emily, and Rose. Naturally "Babe" Carol Jean was the baby in this family of several boys and girls. You can believe it or not, Rose along with Ball Playing Babe could have made it in the big time Womens Baseball League.
These two Massey girls could handle themselves better than all the rest and they were the best-- throwing, catching and hitting. Playground-leader and baseball playing for them was as natural as "howdy do" playing backyard baseball or on the playground at recess.
Carol Jean Massey was not only a gifted ball player, but she was a class leader as a straight A student. It always tweaked my pride and truthfully got my goat for her to make higher marks in arithmetic and spelling.
Good honest hard to beat competition is a wonderful thing and makes one achieve more. Well, Carol set the mark in class during my days at Argo grammar even though this lad was always trying to outdo her.
After grammar school days baseball was no longer the star attraction like playing playground baseball at recess. In high school it was Lace, and blue jeans. Mercy.. Mercy "Yonder comes Babe with her blue jeans on". Sometime during our high school years, the Jim Massey family, moved to Florida and I lost track of baseball Babe and the Massey clan.
The Massey and Keith families helped settle the northeastern part of Jefferson County, Argo, Alabama so naturally Carol Jean had many relative back here in Alabama.
Ball Playing Babe was always right at home here in Alabama she was indeed an Alabama girl.
As fate would have it some years after our grammar school days of playground ball playing we met somewhat strangely. Years had passed and I had retired from the Marine Corps and moved back home in Alabama.
I needed to have cataract surgery on an eye. The Eye Foundation was where I was scheduled for the surgery and low and behold my grammar school days baseball playing class mate "Babe" was my anesthetist.
Boy did that make me feel comfortable. I knew Carol would know what she was doing. Everything went as smooth as silk and just like clockwork. It is great to know and have team mates and former class mates in critical situations for which you can have total dependence and confidence in.
Nothing in this world compares like having a ball playing teammate you can depend on. Playing playground recess time baseball with companions like Ball Playing Babe who was a team ball player, a friend, a competitor,an academic leader, and a winner caused a closeness and kinship. Toss me that ball I'll catch it bare handed like my grammar school chum, Ball Playing Babe And Baseball Memories of days on the playground at Argo grammar.
What are we waiting for... Baseball Babe is already on the playground?
Batter Up----Let's Play Ball....
Have you ever had the itch to have your own Web Site? Solo Build It!
Get business smarter do not let the opportunity you have available, if you own a business, slip away without expanding the scope and volume of your business. Use the internet to take you to that next level.
Professional Affordable Help from Sitesell..to Build a World Class Website!
Go Shopping Make Your Young Baseball Player Thrilled While And You Save Money.