Christy Mathewson
Pitching Ace Dead Ball Era
Known As A Gentleman And A Scholar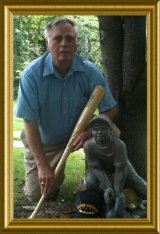 Christy Mathewson was a two sports letterman at Bucknell University he later made his mark in the game of baseball as a true gentleman and Ace pitcher of the New York Giants during the dead ball era of baseball.
Christopher "Christy" Mathewson (August 12, 1880 – October 7, 1925), nicknamed "Big Six", "The Christian Gentleman", or "Matty", was a right-handed pitcher in Major League Baseball.
In the passage of history when a man or woman obtains the status of being honored for their outstanding achievement and the friends and local towns people erects a monument to signify this recognition it is an honor beyond words. Christy Mathewson Park in Christy's hometown of Factoryville, Pennsylvania has proudly honored their native son with his Statute.
During his 17-year career, Christy Mathewson won 373 games and lost 188 for an outstanding .665 winning percentage. His career ERA of 2.13 and 79 career shutouts are among the famous baseball players and one of the best all-time for pitchers, and his 373 wins is still number one in the National League
In 1936, Mathewson was one of the original five players elected to the Baseball Hall of Fame, along with Babe Ruth, Ty Cobb, Honus Wagner and Walter Johnson
"The Christian Gentleman" Pitcher
Born: August 12, 1880(1880-08-12) Factoryville, Pennsylvania, United States
Died: October 7, 1925 (aged 45) Saranac Lake, New York, United States
Batted: Right Threw: Right
MLB debut July 17, 1900 for the New York Giants
Last MLB appearance September 4, 1916 for the Cincinnati Reds
Career statistics
Win-Loss record 373–188
Earned run average 2.13
Strikeouts 2,502
Shutouts 79
Teams As Player

New York Giants (1900–1916) Cincinnati Reds (1916)
As Manager

Cincinnati Reds (1916–1918)
Career highlights and awards
World Series champion (1905)
373 career wins (3rd all-time)
2.13 career ERA (8th all-time)
1.059 career WHIP (5th all time)
Won 20 games or more 13 times, won 30 games or more 4 times.
Pitched 79 shutouts (3rd all time)
Won NL Pitcher's Triple Crown in 1905 and 1908
Five-time ERA champion (1905, 1908, 1909, 1911, 1913)
Five-time strikeout champion (1903, 1904, 1905, 1907, 1908)
Pitched two no-hitters.
Name honored by the Giants. Major League Baseball All-Century Team
Member of the National Baseball Hall of Fame Induction Inaugural Class of 1936 Mathewson figure likeness would unquestionably have been ideal for the poster image of a boy scout, a clean-cut player with blond hair and blue eyes. Born into a farming family, Mathewson attended Bucknell University, where he was class president. He also played on the football team as a placekicker and was a star pitcher on the baseball team.

In 1889, he joined Taunton (New England League) as a pitcher. He went to Norfolk (Virginia League) the following year and finished with a 20-2 record.

The hallmark of Mathewson's mound work was his incredible control. Mathewson only walked 1.6 batters per 9 innings in his career.

In 1918, Mathewson enlisted in the Army and served overseas. He was gassed during a training exercise and developed tuberculosis. He returned to the Giants in 1919-1920 to serve as a coach, but most of his time was spent fighting tuberculosis.

He served as part-time president of the Braves in 1923, and died two years later at the age of 47.

Batter Up----Let's Play Ball....

Go Shopping Here With Baseballfarming For Convenience And Pleasure.
---

"I can tell you this without hesitation the schooling and character building of Ivy League Universities with Christy Mathewson from Bucknell and Lou Gehrig out of Columbia is showing. Two of the reported true gentleman of baseball one of the dead ball era and the other in the heyday of our modern era game."
"Do you suppose schooling and the time of two World Wars were helping catalyst reasons forming the mannerly upbringing and purantanical demeanor of both Mathewson and Gehrig"


---
---