Baseball Books...
Love Baseball... Love Great Baseball Books
Baseball History Books And Stories Of The Game
Books To Warm The Cockles Of Your Heart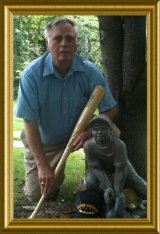 Baseball Books are leave nothing short of an extension of the love for the game of baseball when it tells its baseball-stories,baseball history or just some wonderful baseball and the life of the game as told by masterful writers.
Take it for granted if you will but the pleasures of reading books today has come a long way from the first forms of books available to our world.
Consider this and be thankful:
Clay tablets were just what they sound like: flattened and mostly dry pieces of clay that could be easily carried, and impressed with a ( possible dampened) stylus. They were used as a writing medium, especially for writing in cuneiform, throughout the Bronze Age and well into the Iron Age.
Wax tablets were wooden planks covered in a thick enough coating of wax to record the impressions of a stylus. They were the normal writing material in schools, in accounting, and for taking notes. They had the advantage of being reusable: the wax could be melted, and reformed into a blank. The custom of binding several wax tablets together (Roman pugillares) is a possible precursor for modern books.
Now see how fortunate our lives have advanced to have readily for our pleasant reading our modern day books and expecially wonderfully written books about our game of baseball.
Baseball literature is among the most colorful and interesting of any non-fiction genre. Books about baseball can offer fresh looks at history, or different ways of looking at the present.
Great story books depicting a moving saga of the life for a particular player, descriptive portrayal of how to play the game, moving still pictures of great moments and significant additions of our history with award winning baseball books.
Books about our game of baseball or about the many varied and great players who have played in a superior capacity are generally dominated with heartfelt human interest making them powerful attention holding and honestly interesting.
Now that Japan has proven they can dominate the World Baseball Classic it is time to go to press in anticipation of which team of the baseball world will come on to set a dynasty of baseball championships playing in the Baseball International Series.
What constitutes an Award Winning Baseball Book? One thing it is not it is not the praise dished out by some literary pogue being paid to write glowing words about the book.
Find book reviews & news about authors, new books, best sellers, fiction & non-fiction, literature, biographies, memoirs, children.
Discover a new favorite or unearth an old classic.
An Award winning great baseball book captures the interest and imagination of the reader to the delight of which he wants not to put it down till he digests the full measure of its content.
Best sellers to the simply forgotten manuscripts of someones thoughts and recollections of America's Pastime with Award Winning Baseball History Books adds richness into the lives of the readers.
Maybe you have heard the talk and the glamour of "The Mighty Casey at The Bat" or the exploits of the real bigger than life "Babe,The Sultan Of Swat,or The Great Bambino." The storied recount of Truth and Fiction of this great baseball player is only captured in and by the award winning books we can now read.
Babe: The Legend Comes to Life

by Robert W. Creamer: Babe Ruth has at last found the biographer he deserves.
Eight Men Out: The Blacksox and the 1919 World Series (Ulverscroft Large Print Series)
by Eliot Asinof: A painstaking reconstruction of the sordid tale of bargains between eight players of the Chicago Black Sox and several bands of crooked gamblers.
Award Winning Baseballs best books fill your mind with much good and it can become habit forming to reading baseball books on your favorite sport subject.
Baseball is a Funny Game

by Joe Garagiola Humorous recollections from the former catcher and broadcaster.
Bang the Drum Slowly (Second Edition)

Mark Harris's book is the finest baseball novel that has appeared since we all began to compare baseball novels with the works of Ring Lardner, Douglass Wallop and Heywood Broun.
Bang the Drum Slowly was made into a movie in 1973, with Michael Moriarty as Henry Wiggen and Robert De Niro as Bruce Pearson.
The Natural

Bernard Malamud has contrived a sustained and elaborate allegory about the "natural" player who operates with ease and the greatest skill, without having been taught.
Inspired by the 1949 shooting of Philadelphia Phillies first baseman Eddie Waitkus, Malamud's first novel tells the story of Roy Hobbs, a player whose chance at redemption falls prey to corruption and greed. Forget the movie with its happy ending; this is an anti-myth about the dark side of the American dream.
Satchel Paige

Lesa Cline-Ransome celebrates the life of the first African American inducted into the Baseball Hall of Fame in this biography of the great pitcher.
Living on the Black: Two Pitchers, Two Teams, One Season to Remember

John Feinstein offers a superb journalistic account of the art of pitching, as told through a study of the Mets' Tom Glavine (now with the Atlanta Braves) and the Yankees' Mike Mussina during the 2007 season.
Ball Four

by Jim Bouton and Leonard Schecter (1970). Bouton published his ground-breaking, controversial tell-all while he was still an active player, and it effectively ended his baseball career. But it remains one of the funniest, boldest and most genuine sports books ever written.
This book was so revolutionary, it started a new mess of inquiries: the tell-all athlete biography. No book had ever taken a reader this far inside a professional locker room. And the humor holds up almost 40 years later, even if you've never heard of Bouton (a journeyman relief pitcher) or the 1969 Seattle Pilots (an expansion team that moved after one season and became the Milwaukee Brewers).
The Boys of Summer

by Roger Kahn (1971). Kahn grew up a stone's throw from Ebbets Field and went on to cover his hometown Brooklyn Dodgers during baseball's most pivotal era – Jackie Robinson breaking the game's race barrier. A story of fathers and sons, friendship and heartbreak, and America's pastime.
A fan of the Brooklyn Dodgers is probably 100 percent sure this is one of the best books about baseball every written. Kahn weaves the exasperation of being a Dodgers fan with growing up in Brooklyn in the 1930s and 1940s, and then covering them, and then going back and writing about the lives of these players he idolized. It's a fascinating read about a bygone era and team, written beautifully.
Luckiest Man: The Life and Death of Lou Gehrig

by Jonathan Eig (2005). It's hard not to want to read about one of baseball's immortals and perhaps its greatest ambassador. Eig's version of Lou Gehrig's story is as good as it gets!
Cobb: A Biography

by Al Stump (1994)
The Southpaw (Second Edition)

by Mark Harris
Shoeless Joe

WP Kinsella W. P. Kinsella's novel Shoeless Joe (1982) which became the movie, Field of Dreams, in 1989.
Jackie Robinson: A Biography

by Arnold Rampersad Whoever wants to know the heart and mind of America had better learn the Jackie Robinson story.
Jackie Robinson and the Integration of Baseball
Scott Simon's new book tells the familiar tale of Jackie Robinson's path-breaking career.
Extra Bases: Reflections on Jackie Robinson, Race, and Baseball History

Jules Tygiel's book completes and occasionally challenges the Robinson legend.
The Pride of Havana: A History of Cuban Baseball

by ROBERTO GONZÁLEZ ECHEVARRÍA The story of Cuban baseball -- its stars, its fans and its disappearance from public view in the Castro years.
Remembering Yankee Stadium: An Oral and Narrative History of "The House That Ruth Built"

Harvey Frommer and Bob Sheppard (Hardcover - Sep 1, 2008)
Science of Hitting

by Ted Williams, John Underwood
Men at Work: The Craft of Baseball

by George F. Wills
Small-Town Heroes: Images of Minor League Baseball

by Hank Davis
The Crackers: Early Days of Atlanta Baseball (Athens, Ga.: Hill Street Press, 2003).
Tim Darnell 2003
Baseball books filled with baseball terminolgy and baseball lingo right from the action pages, are worth the read just to gain use of this baseball jargon, which you hear out on the ball diamond and in the stands.
Return to the Top of Baseball Books
Batter Up----Let's Play Ball....
Dare To Build Your Own Website


---
Enjoyable stories about baseball history and biographies of great players pertaining to these ,many fascinationg bits about the game of baseball.
Enjpy especially the legendary players of the game then life's baseball pleasures are yours forever more.
Have you considered where you would get your boy the bat you promised? You will not go wrong going to Annex Bats.

Go Shopping Online With Baseballfarming For Convenience And Cost Savings.