Baseball Field General
The Manager Of The Team
The All Seeing All Knowing Commander
Commander-In-Charge Or Simply Stated The One Respectfully Called "Coach"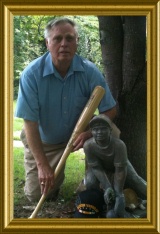 Baseball Field General is known far and wide as the players manager or the baseball team manager/coach. The baseball team manager or just team manager, try as try can, he tries his best to sit calmly there in the dugout and observe everything moving and what each player does.
In high school and college baseball terminology he is simply called "Coach." Those gentlemen in the profession respected and loved, by his team players which he has coached through the years, that term "Coach" is worth more than the salary which he draws.
The manager, coach Commander or Commander-In-Charge or simply the dude in charge of a baseball team has many hats to wear in earning his pay. He must not only take charge he is charged with transforming ever player on the team into a better ball player.
There is not a Commissioned Naval Officer of the free world who does not know exactly what is meant by my reference to the Commander-In-Charge the Ring Knocker.
If you are puzzled by the above reference then say hello to a Naval Officer friend and get the mystery resolved.
Make every player a more skilled and well taught player but now mix these into a team wanting to win a championship. You are not only going to be known as the baseball field general you are the toast of the town and every one knows your name.
Baseball field general is somewhat like being a Naval Aviator, during practice and during the game, keenly watching everything which relates to flying an airplane. The field general is like that aviator, flying his plane soaring up and around the clouds then skimming down low tree top level to get a better look, both looking searching seeing and observing every thing paying attention to every detail which is going on.
Take a moment and pick up some helpful things you must know about this game of coaching learn-youth-baseball-coaching.
Then the clear skies cloud up and thunder and lightening and hail starts all around then it gets down to serious business of flying that bird back into safe and calmer skies.
Well good folks a baseball game smoothly moving along trying to one team best the other until in a cloud of dust a player slides coming across home plate. The call made by the umpire is made in a split second and the call could go either way.
It matters not what the call one of the raging baseball field generals or manager will storm from his serene perch of the dug out waging holy hell in protest of the call.
You see the aviator caught in the sudden thunder storm and a teams manager caught in a sudden cloud of dust situation at home plate are both caught in a moment of action or reaction.
Maybe the umpire threw up his right arm holding his face mask and yelled, "You're Out." Every fan in the ball park or stadium can see plain as day the runner was out. But big buddy that is not satisfactory to the manager on the wrong end of the call.
He (the manager) does not slowly approach the umpire who is standing calm and collected there at home plate. No Sirree he comes charging out like a wild bull chasing the red blanket with his horns lowered.
A little well kept secret very few fans really know about all baseball managers secretly belong to the Screen Actors Guild. Not for real but they sure put on a good act with their supposedly furious screaming and animated arm flinging.
Some team managers or baseball field generals get very adept at kicking dirt onto the home plate dish, just to make the umpire have to take out his little broom to clean the plate. Glory be when this tirade is ended we now can enjoy watching our baseball team on the field play our game of baseball with the baseball field general camped back safely in the dug out.
The really top flite baseball field general will have earned his spurs from many a year of play out there on the diamonds across our country. Because these seasoned and knowledgeable managers know the game from experience they potentially add substance and true meaning of how our Rules Of Baseball are to be played.
The experience of playing the game on jam up good teams in the past gives a new manager a good head start toward his managing business. Let me hasten to add being the baseball field general having the respect and willingness of the entire team to play under your guidance is a horse of another color.
Knowing baseball rules and how to execute every play of the game and within the same breath knowing people and what makes them tick is a stretch.
Managers in charge of championship caliber teams know, for the players to perform every game with every ounce of energy wanting to win, it requires that he (the manager)leads by staying on top of everything.
The baseball field general must know the game and he must know his players. He is the all knowing guru, the king of the hill, and the taskmaster
Well! you might say,"Ole shoe that is really saying a mouthful." This axiom has been proven a zillion times: Players knowing how to play baseball and being one super athlete will come to naught if he is not observed, taught and encouraged to perform at the top of his ability. Prove me wrong.
The baseball field general must be smarter than a fifth grader and realize even the best of the best needs some words for building confidence in every individual on the team.
The animated make believe acting and doing things according to how Hoyle would have them do it is for the birds it is not being a true baseball field general.
Through out these many years of playing baseball certain mannerisms of conduct especially the team field generals or managers have been observed.
Let us list a few and the next time out at the ball park you take note:
Meeting at home plate with umpires start of game to give the score card batting order. Will stand with both hands in his back pockets
Comes running onto the field, or at a fast trot, on a close contested call by the umpire. He is in a hurry to raise a racket
Leaves the field looking down after this confrontation Like a scolded puppy
If he is a manager that wants to be on the field and coach third base. He will not, and I mean not, stay in the designated coaching box
Taking his pitcher out of the game he will pat the pitcher on the fanny As if to say, You did an OK job but not good enough
Has the eyes of an Eagle and the intensity of a Hawk He sees everything all the time while sitting in the dug out with his arms folded and his head on a swivel.
Claps his hands after every out being made This is a mystery baseball signal
Almost invariably has his team jacket on. He gets the cold shoulder from most all the players during the game
Baseball being played professionally has the various levels of playing (theoretical skill levels). You have the Rookie leagues, Single A, Double AA, Triple AAA, and then the Major leagues. Well before this we started as you well know way back there at the Tee ball level.
My point for all real fans, coaches and managers at all levels, is that the baseball field general, is required to know and must realize, that at each different level of play will require a significant different method and technique to manage the team.
Managing the team means managing the thought processes and the temperament level gauged to the baseball playing level being managed.
My observation through the years leads me to one very profound and sincere belief. A baseball field general, manager or coach needs to fully totally and dedicated to understand the needs for managing his particular team level.
Coaching and training youngsters at Little League requires the patience of Job to teach so many different personalities yet allow them to enjoy the game. Kids at this level are eager to learn and try to the best of their little hearts ability. It may take a few more years for them to perform as a cracker jack team player.
Stay with me now for we move on to the high school level of play. High school level of play finds those hot charging heroes trying their dad gum best to please the coach to get a uniform and play for dear ole Rah Rah High.
Remember also dad and older brothers are constantly watching and giving pep talks or chewing outs as needed. There is another factor which shows up and that is simply the growing up years and "playing at a stand out level" to catch the eye of soft ankle Susie with the blond pony tale. Players in high school realize the competition is tough so all out hustle is within them the coach simply turns them loose to compete and win.
Lets skip the college level play for this is a blank spot in my ball playing agenda. College baseball relegated me to the sitting on the bank as a fan "wishing I was 6' 2" and 200 lbs and could run like an antelope."
From college level play under a normal progression of things will, that is the real baseball players with a potential ability to make the big show, get signed to play with one of the major league organizations.
The hot college prospect baseball player makes it through the rookie year of professional baseball his ability and skill level has him on most scouting reports of "great arm good hitting eye above average speed excellent potential can't miss."
Just like Goodyear knows it is time to let the rubber meet the road. Someone somewhere has to greet these young "can't miss" hard chargers into Single A leagues of professional baseball.
You got that right, it is those veteran baseball field generals managing at the Single A level waiting their turn or shot up the road to take charge of a Major league team.
Single A level baseball leagues without question is the hardest most demanding job any baseball field general can be saddled.
Why so? You have all these baseball players filling your roster all of which have had in the most part storied All-Star tags hung on them at all levels to date. What would you surmise to be the mind set of most of these ball players? You name it but the baseball field general not only has to name it he must contend with it.
In the most part the typical young Single A player, while excluding some of the veterans that are still in that 2nd or 3rd year waiting pattern to move up the one or two levels is a player with upside potential but he thinks he is due something better than Single A level of baseball.
Being placed on a team at one level while thinking he should be already moved higher has a potential to cause discontent and even disdain for or toward any coaching. Now good buddy the baseball field general has a team of maybe some malcontents or mild cases becoming a little lackadaisical in all the mechanics of play they were taught and learned through the years.
Now given this above scenario it is a real champion of a manager or baseball field general whose ability to get these players heads back into the game and mold a winning team and individual winners with the same brush stroke.
If there is any level of baseball whereas the field general truly earns his pay by building championship teams and champion future major league players it is the Single A and Double AA level of baseball.
For an example of the type coaching and manager action to understand and sorely needed is this situation.
Here is a potentially "can't miss" player with all the tools except hitting average. Keep in mind through out american legion baseball, high school, sandlot baseball and even baseball hitting at the college level was no problem for this particular kid. Look out he is now at the Double A level, and the pitchers out there popping those zingers in there at a consistent 80+ miles per hour, putting the ball well placed in the strike zone and pitching against his known weakness it is sit down time, next batter please.
What has gone wrong? The gone wrong deal is a terribly flawed hitting style he perfected through his playing years but at this competition level he is being beat like a drum by the pitching.
The flaw is simply this: he raises his front foot before each pitch. That mechanical flaw was OK back when he could out dance the pitchers but now things are different the pitchers are calling the tune. Raising of the front foot at this level of pitching expertise has caused his timing and rhythm to be out of control. The pitchers here at Double A baseball are eating his lunch.
Now for the $64,000.00 question rather a two legged,two pronged and double edged sword question?
1) Will this teams baseball field general earn his salary and take the time to correct this players hitting flaw?
2) Will the player take the coaching to correct this deadly shortfall which will never allow him to advance.
Ladies and Gentlemen the above situation describes only briefly a part of what is needed to be recognized as being at the top of the profession as a baseball field general
Return to the Top of Baseball Field General
Batter Up----Let's Play Ball....
Go Shopping Save Money.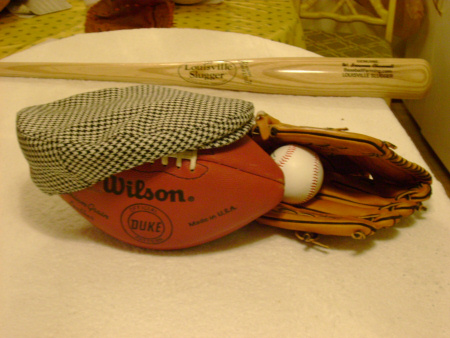 ---
---