Baseballs Founder
Alexander Joy Cartwright ,Jr.
...Should Not Be Obscured By Historical Myth!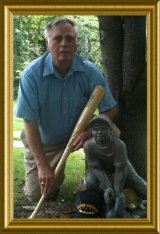 Baseballs Founder credit for our game of baseball should be known far and wide throughout our great land. The myth surrounding baseballs true founder or the baseballs founding father needs to be told from actual on record data.
America's game of baseball has such a deep and profound feeling, within the hearts of the American people, then enshrining a myth as being the truth, is bad wrong.
Upon being committed to promoting my website as a focal point for baseball and all about the game of baseball I have uncovered some heretofore unknown truths. The question of who founded or invented the American game of baseball was pretty well straight forward but as always things get tinkered with and so it is.
History as we knew it and as was given to us by truth, lore or myth is the accepted norm. However, as thinking men and women when more complete data and facts are revealed then what seemed to be is not really the reality of it.
The history of baseball as recorded in such great detail volume upon volume of statistics yet still has allowed one significant myth to be promoted without sufficent data to prove other than the myth.
BASEBALLS FOUNDER by documented data should be recognized as Alexander Joy Cartwright Jr. and the Knickerbocker Base Ball Club in 1845.
Cartwright's rules and regulations changed baseball from a simple children's game to a game that adults could play.
The Knickerbocker Base Ball Club provided form and substance to the formulation of playing rules and regulations for the game.
Baseball had first taken root on this continent in the middle 1700's when English lads brought an offshoot of their game of cricket to America from their native England.
The baseballs true founder and founding Father of Organized Baseball and the genesis of American Baseball was Alexander Joy Cartwright Jr..
Evolving from older bat-and-ball gamewhich was being played in England, (many consider this to be the genesis of game America turned into our game of baseball), by the mid-eighteenth century. This earlier type game was brought by immigrants to North America, where the modern version developed. By the late nineteenth century, baseball was widely recognized as the national sport of the United States. Baseball is now popular in North America, parts of Central and South America and the Caribbean, and parts of East Asia And is today played around the entire World.
---
---
Alexander (Alick) Cartwright at the age of 25 years in 1845,in New York City, took various elements that were used in these different forms of early baseball and, adding a few rules of his own,fashioned them into regulations that stand today.
Folks we owe it to each of ourselves to realize by at least a cursory look at the facts and admit and then individually at the very minimum say "Enough of this myth, I'm satisfied with the truth."
Baseball is American, Crickett is English now that is the long and the short of it.
The game turns professional
In the mid-1850s, a baseball craze hit the New York metropolitan area. By 1856, local journals were referring to baseball as the "national pastime" or "national game".
A year later, sixteen area clubs formed the sport's first governing body, the National Association of Base Ball Players. In 1863, the organization disallowed putouts made by catching a fair ball on the first bounce.
The game's commercial potential was developing:
In 1869 the first fully professional baseball club, the Cincinnati Red Stockings, was formed and went undefeated against a schedule of semipro and amateur teams.
The first professional league, the National Association of Professional Base Ball Players, lasted from 1871 to 1875; scholars dispute its status as a major league.
Baseball and the history of the game should be bathed in the truth of the matter instead of compounding fiction and myth for a legacy of truth.
Provide some of your very own truth's of the game Contact Us as you leave Baseballs Founder-Contact Us.
Adding your personal input will make you a proud teammate on the baseballfarming system.
Batter Up----Lets Play Ball....



Have you ever had the itch to have your own Web Site? Solo Build It!

Website Hosting considered to be at the top in the field will lead to Web-Building Success. Solo Build It! provides Awesome results...Here's the Proof!
---
---
Go Save Money When You Shop For Quality Goods And Being A Friend Of Baseballfarming.