Stan Musial
"Stan The Man"
One Of Baseballs Great Hitters

His Unorthodox Stance Truly
Defied All Hitting Coach Standards
Achievement As A Hitter Amazed
And Captivated The Entire Baseball World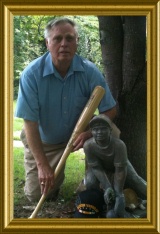 Stan Musial with his hitting style challenged all coaching norms for his use of an unorthodox stance yet he proved unquetionably the natural ability is worth more than any forced "cookie cutter" silliness.
Musial played baseball with a career which is a model for all players to hope their careers and manner of play and deportment could possibly achieve. The reference to Stan Musial as "Stan The Man" was not some catch phrase hung on this gentleman it was a testament of the respect all in baseball held for this player.
One can only imagine the bright red cardinals perched on his baseball playing shirt or blouse must have tweeted a soft gleeful chirp each time his bat connected for they never flew away and he never quit his masterful hitting.


---

"How Can It Be So? ONE With Such A Gentlemanly Manner Standing At Home Plate Wearing A Shirt With Birds Perched On The Cardinal Bat Logo-- yet --While Every Mama In The Stands Is Wondering Why The Manager Did Not Let Him Go Before Making Him Bat.
I'll bet if you were in his predicament you would be all curled up too and ready to hit. Hit he did and became one of baseballs greatest."
---
Stan Musial was a winner not only as a swing man with a hitters battle stick he straddled the era of the "Gas House Gang" of the Cardinals right on into the modern era of baseballs glory days after World War II. Season upon season the Cardinals would fight tooth and tong those Dodgers of Flatbush and the Giants of the Polo Grounds for the right to go calling on those Damn Yankees of the American League from the Bronx in the World Series.
Right in the thick of those hot summer long battles of baseball supremacy for the right to meet the Yankees or the American League winner was you got it right our Man Stan The Man. Stan Musial The Early Years and Baseball
Musial was born in Donora, Pennsylvania, the fifth of Lukasz and Mary (Lancos) Musial's six children (four girls and two boys). His mother was of Czech descent and his father was a Polish-American immigrant who chose the name Stanisław Franciszek Musiał (/ˈmuːʃaʊ/) (Moo-shiau) for his first son, though his father always referred to Musial using the Polish nickname "Stashu".
Musial frequently played baseball with his brother Ed and other friends during his childhood, and considered Lefty Grove his favorite ballplayer. Musial also had the benefit of learning about baseball from his neighbor Joe Barbao, a former minor league pitcher. When he enrolled in school, his name was formally changed to Stanley Frank Musial.
Musial will never be able to compete with Mays defensively, but arguably few, if any, can. But many do not realize how fast Musial was. He earned the nickname "The Donora Greyhound," a reference to both his hometown in Pennsylvania and his ability to run.
At the age of 15, Musial joined the Donora Zincs, a semi-professional team managed by Barbao. In his Zincs debut, he pitched 6 innings and struck out 13 batters, all of them adults. Musial also played one season on the newly revived Donora High School baseball team, where one of his teammates was Buddy Griffey, father of MLB player Ken Griffey, Sr. and grandfather to MLB player Ken Griffey, Jr.
Baseball statistician Bill James described Griffey Jr., in comparison to Musial, as "the second-best left-handed hitting, left-handed throwing outfielder ever born in Donora, Pennsylvania on November 21." Griffey Jr. exploits as a rising player in Pennsylvania where he earned early in his career the nickname "The Donora Greyhound ".
Musial also played basketball, for which he was offered a scholarship by the University of Pittsburgh. Meanwhile, the St. Louis Cardinals had scouted Musial as a pitcher and, in 1937, offered him a professional contract after a workout with their Class D Penn State League affiliate.
Musial's father initially resisted the idea of his son pursuing a baseball career, but reluctantly gave his consent after lobbying by both Musial and his mother.
Musial also credited his school librarian Helen Kloz for pointing out that baseball was his dream and advising him to pursue it professionally.
In what was then a common practice, the Cardinals did not file the contract with the baseball commissioner's office until June 1938. This preserved Musial's amateur eligibility, and he was still able to participate in high school sports, leading Donora High School's basketball team to a playoff appearance.He then reported to the Cardinals' Class D affiliate in West Virginia, the Williamson Red Birds. Stan Musial is tied with Willie Mays with the honor of the most times selected for the All-Star team in baseball with 24 times selected to play in the All-Star games.
Musial's MLB carer spanned a period of 22 years with 1945 away from baseball due to military sevice. Career of 22 years and 24 All-Star. Folks the years 1959,60,61,and 62 there were two All-Star games those years.
Stan Musial began his career in 1941 and in his each of his first 16 full seasons did not hit below .300. Only three players in Major League history have more batting championships than Musial's seven.
Career Statistics
Outfielder / First baseman
Born: November 21, 1920 (age 91) Donora, Pennsylvania
Batted: Left Threw: Left
MLB debut: September 17, 1941 for the St. Louis Cardinals
Last MLB appearance:September 29, 1963 for the St. Louis Cardinals
Career Batting average .331 Career Hits 3,630 Career Home runs 475 Career Runs batted in 1,951
Teams: His entire MLB days were with the St. Louis Cardinals (1941–1944, 1946–1963)
Career highlights and awards:
24× All-Star (1943, 1944, 1946, 1947, 1948, 1949, 1950, 1951, 1952, 1953, 1954, 1955, 1956, 1957, 1958, 1959, 1959², 1960, 1960², 1961, 1961², 1962, 1962², 1963)
3× World Series champion (1942, 1944, 1946) 3× NL MVP (1943, 1946, 1948)
7× NL batting title (1943, 1946, 1948, 1950, 1951, 1952, 1957)
1957 Lou Gehrig Memorial Award
St. Louis Cardinals #6 retired
Major League Baseball All-Century Team
The Cardinals franchise was up for sale in early 1953, and Musial and Schoendienst advised their friend and fellow duck-hunter Gussie Busch to consider buying the team.
Busch used the resources of the Anheuser-Busch company to purchase the Cardinals, keeping Musial in St. Louis by averting the possibility of a move by the team to another city.
The 1953 season marked Musial's 10th All-Star selection, and the 12th consecutive time he finished a major league season with a batting average above .300.
Notwithsdtanding that many to include my self in this assessment "Stan Musial is one of the greats of our baseball game" certainly being underrated, by deserving acclaim, thus often being overlooked for his rock steady achievements during his 22 years as one of our greatest.
Return to the Top of the page Stan Musial
Batter Up --- Let's Play Ball ...
---
---