MLB Home Run Derby Winners
All Star Game Added Attraction For Slugggers
The Home Run Hitters
Heroes To The Younger Ball Players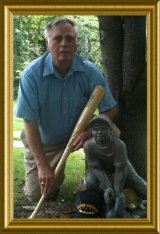 Home Run Derby staged during the festivities of the MLB All Star break at mid-season bringing together the Best of the Best both American League and National League All Star Home Run Sluggers.
Baseball the ever evolving sport so beloved by it's millions of fans across the country and around the globe love the All Star Game staged annually since 1933.
Prior to 1991, the Home Run Derby was structured as a two-inning event with each player receiving five outs per inning which allowed for the possibility of ties.
Just as our game of baseball has made changes through the years and the All Star Game has added the Slugging Derby and the hitting Derby has grown so popular it two has evolved to its present format since 1990.
Eight players are selected for the Home Run Derby and compete in a traditional playoff system where the players with the most home runs advance to the next round. Each player gets ten "outs" per round, where an out is defined as any swing that is not a home run in this case.
To bring more excitement and anticipation of the middle of the season the All Star Game has added the Home Run Derby. The contest is performed the day before the All-Star game showcasing the Long Ball Home Run Hitters in a titanic contest of "Who is The Best?" Most baseball playing school boys around the country keep track in their memory bank their heroes who have won the MLB Home Run Derby.
Many of the fans of the grand game of baseball need a litle reminder to bring back the exploits of those heavy hitting Home Run Derby Winners.
There has never been a kid who has ever pulled on a pair of spikes and beat his fist into his baseball playing glove which has not dreamed of being the home run hero even if for only one game.
If the Prince is to be King then he must do this home run derby feat twice more to better the (3) three times Ken Griffey Jr. has won this battle.
2012-Prince Fielder, Detroit Tigers, (Kauffman Stadium Kansas City, Missouri)
2011-Robinson Cano, New York Yankees, (Chase Field Phoenix, Arizona)
2010-David Ortiz,Boston Red Sox, (Angel Stadium of Anaheim)
2009-Prince Fielder, Milwaukee Brewers, (Busch Stadium)
2008-Justin Morneau, Minnesota Twins, (Yankee Stadium)
2007-Vladimir Guerrero, Los Angeles Angels, (AT&T Park)
2006-Ryan Howard, Philadelphia Phillies, (PNC Park)
2005-Bobby Abreu, Philadelphia Phillies, (Comerica Park)
2004-Miguel Tejada, Baltimore Orioles, (Minute Maid Park)
2003-Garret Anderson, Anaheim Angels, (US Cellular Field)
2002-Jason Giambi, New York Yankees, (Miller Park)
2001-Luis Gonzalez, Arizona Diamondbacks, (Safeco Field)
2000-Sammy Sosa, Chicago Cubs, (Turner field)
1999-Ken Griffey Jr., Seattle Mariners, (Fenway Park)
1998-Ken Griffey Jr., Seattle Mariners, (Coors Field)
1997-Tino Martinez, New York Yankees, (Jacobs Field)
1996-Barry Bonds, San Francisco Giants, (Veterans Stadium)
1995-Frank Thomas, Chicago White Sox, (The Ballpark In Arlington)
1994-Ken Griffey Jr., Seattle Mariners, (Three Rivers Stadium)
1993-Juan Gonzalez, Texas Rangers, (Camden Yards)
1992-Mark McGwire, Oakland Athletics, (Jack Murphy Stadium)
1991-Cal Ripken Jr., Baltimore Orioles, (Sky Dome)
1990-Ryne Sandberg, Chicago Cubs, (Wrigley Field)
Bat Speed (This thing we now understand as bat speed is the magical Star Dust)
Bat Grip Strength, Wrist Snap, Powerful Flexed Forearm, Rhythm and Timing.
Understanding all of these above essential elements for power and the ways and means to improve and put all of them together is the formula we need for hitting power.
Here is the myth so wrongly assumed by the mediocre or average baseball player trying to hit a baseball for power. Follow me now as I try to explain that how many batters, with myself included in this group, was so wrong about baseball power hitting.
The batter thinks if he is strong enough and if he gets his bat behind the ball just right he can push it over the fence.
A baseball will not and cannot be pushed over the fence no matter how hard you want to lift that little apple over the fence.
The ball heads to the fence only by the the swinging bat speed meeting the ball with terrific bat speed a little timely boost from the other factors described herein which are the other essentials for baseball power hitting.
MAJOR LEAGUE BASEBALL'S ALL TIME CAREER HOME RUN HITTING LEADERS
. Barry Bonds-------------762;--(73-2001);
. Hank Aaron--------------755;
. Babe Ruth---------------714;--(60-1927);
. Willie Mays-------------660;
. Alex Rodriquez---------647;
. Ken Griffey, Jr---------630;
. Jim Thome--------------612;
. Sammy Sosa--------------609;
. Frank Robinson----------586;
. Mark McGwire------------583--(70-1998);
. Harmon Killebrew--------573;
. Rafael Palmeiro---------569;
. Reggie Jackson----------563;
. Manny Ramirez----------555;
. Mike Schmidt------------548;
. Mickey Mantle-----------536;
. Jimmie Foxx-------------534;
. Willie McCovey----------521;
. Ted Williams------------521;
. Frank Thomas------------521;
. Ernie Banks-------------512;
. Eddie Mathews-----------512;
. Mel Ott-----------------511;
. Eddie Murray------------504;
. Roger Maris-------------275--(61-1961);
# identifies which are at this time active players.

"Now You Folks Might Enjoy It To High Heaven This One After Another Sluggers Tanning My Hide And Getting Your Kicks But Gleeful Celebration Hurts Little White Baseball."
"I Think I Just Might Unwind One Of These Days And Come Sailing Back Like A Boomerang. Now Wouldn't That Be The Cats Pajamas?"
---
Batter Up ---- Let's Play ball ....
---
---
Go Shopping With Baseballfarming Friends and Merchants.