Honus Wagner
"The Flying Dutchman"
Baseball As A Rule Knew Honus
As One Of Baseballs Great Shortstops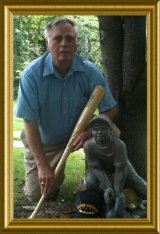 Honus Wagner or if you will his Mom called him "Hans" while the game of baseball recognized him mostly as "Honus" as well as Hans but his full given and christian name is Johannes Peter Wagner.
Born February 24, 1874 in Pennsylvania. Raised up in the coal mining area of Pennsylvania which found "Hans" at the age of twelve quitting school to work with his father in the coal mines.
For most fans of baseball history, Honus Wagner represents one of the most respected and mythic figures the game has ever known. The "Flying Dutchman" spent moat all of his playing career, all but three seasons of his 21 years, of major league baseball playing shortstop for the Pittsburgh Pirates before being an inaugural inductee to the Baseball Hall of Fame in 1936.
"Hans" Honus Wagner and his brothers enjoyed most all of their spare time playing baseball out on the sandlots with scrub pickup games in the area mining villages.
Honus being of stout upper body and long limbs and even said to be a little bowed legged had superb speed and was nicknamed "The Flying Dutchman due to that gift of superb speed and his German Heritage.
The Flying Dutchman gained fame and was a baseball hero proven beyond doubt with his collectible baseball card being one of the most prized in value of any card today.

"You know something really fascinating to me is the fact that this ole boy Hans they say had long arms and hands like hams and when he scooped me from the dirt of the diamond he would come up with a hand full of dirt and as I travelled to first base I trailed a dust stream like a vapor trail now folks that is the way to travel."
Shortstop honored through history of our game as one of the Greatest.
Born: February 24, 1874(1874-02-24) Chartiers, Pennsylvania
Died: December 6, 1955 (aged 81) Carnegie, Pennsylvania
Batted: Right Threw: Right
MLB debut July 19, 1897 for the Louisville Colonels
Last MLB appearance September 17, 1917 for the Pittsburgh Pirates

Career statistics
Batting average .327
Hits 3,415
Runs batted in 1,732

Teams As Player
Louisville Colonels (1897–1899)
Pittsburgh Pirates (1900–1917)

As Coach
Pittsburgh Pirates (1933–1951)

As Manager
Pittsburgh Pirates (1917)

Career highlights and awards
World Series champion (1909)
NL Batting Champion (1900, 1903, 1904, 1906, 1907, 1908, 1909, 1911)
Pittsburgh Pirates #33 retired
Major League Baseball All-Century Team
Member of the Baseball Hall of Fame Inducted Inagural Class in 1936. He and Babe Ruth tied for second behind Ty Cobb in the voting for induction into the Hall of Fame Here is a very interesting and unique quote by Dwight Eisenhower:

"When I was a boy growing up in Kansas, a friend of mine and I went fishing and as we sat there on the warmth of a summer afternoon we talked about what we wanted to do when we grew up. I told him I wanted to be a major league baseball player, a genuine professional like Honus Wagner. My friend said that he'd like to be president of the United States. Neither of us got our wish."

Dwight D. Eisenhower
---
For 56 years, Wagner was a fixture in Pittsburgh, as a player for 17 years and as a coach for 39 more. In that time, Wagner was the first player to have his signature on a Louisville Slugger (1905), had his face put on an early baseball card that is now worth more than $100,000 (1909), served as a sergeant at arms for the Pennsylvania state legislature (1929), became one of the first five players elected to the Hall of Fame (1936), and, seven months before he died, saw a statue of himself erected outside Forbes Field. When he died, Branch Rickey declared that Wagner was the greatest player he had ever seen.
The greatest of honors bestowed upon Major League Baseball players was begun the year this cotton top lad was born so it is doubly a time in history of which I am proud to know about this Grand Game of Baseball.
Batter Up----Let's Play Ball....
Go Shopping Here With Baseballfarming For Convenience, Quality Goods And Pleasure
---
---