Baseball Caps
Baseball--Toad Frogs--Sling Shots
Part Of The Playersl Uniform
Baseball Caps Are Also Part Of Young Boys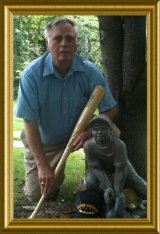 Baseball Caps are a required part of the team uniform. People wearing a teams cap or logo of the team on their cap are generally if not universally accepted as being reflective of that teams following of loyal fans and supporting their favorite team.
No sport other than baseball has ever had a total captivating universal appeal throughout the civilized world as has the wearing of a particular style of head wear as the baseball cap.
One aspect of wearing caps, which has completely changed the tenor of team caps wearing, is the now rapper age concept of wearing a cap turned backwards. Possibly this silly display is a signal that this person thinks he is quite the macho man or a cool cat and seeks or is begging attention.
The cap worn turned backwards for the players in a teams dugout, is a whole different ball game, this spirited display signifies a teams emotional outward appearance to inspire and urge their teammates to mount a rally.
When you see a team in their dugout with their baseball caps on backward and even the true baseball fans in the stands doing the same this is a silent emotional plea of support for the team needing a rally for some runs.
Turning the cap around by the players is called "Rally Caps."
True team support and real show of spirit for supporting a winning team is embodied in the wearing of a teams baseball cap sporting the team logo.
One thing you can hang you hat on and it is simply this! very few perennial losing teams baseball caps are to be seen in a crowd of sports fans.
Is a Red Cap a porter?
Most of the time a cap is bought by the wearer thus it is axiomatic to conclude one will purchase a cap of a winning team he or she truly roots for with all their might.
A prime example is the college baseball caps for instance the hounds tooth style baseball cap of Alabama and the Bear Bryant mystique.
"AND TIDE PRIDE"
Baseball fans are obsessed with their allegiance and a firm loyalty commitment to their favorite team. The baseball caps depicting their favorite team logo is the one they will purchase. Team baseball caps is a large part of this team fan loyalty mania.
A dude wearing a baseball cap is the most visible part of the uniform evidence is that out out in the general public some teams have fans with a passion to show their loyalty for their team.
There are many stories and tales associated with the baseball cap as a part of theteam uniform. The stories may be fact or fiction, myth or reality, but in actual real life there is some truth to it all.
Will you find a Red Cap at uptown class Hotels? Could be !!
The brimmed hat worn by gentleman in public was the vogue when my dad was a young man. In the today more modern fast paced world gradually but over the short period of one generation the brimmed hat has given way to the would you believe, standard baseball cap, being worn almost universally..
The game of baseball has many rules and regulations telling you the way the game should be played. One of the rules is, "Players are required to wear his cap while playing in a game."
This is one simple but basic rule of organized league baseball playing that players are required to wear a cap.
The custom baseball cap is associated with many of life's characters both real and fictional. In the "Andy Griffith" television series of life and times in May Berry, "did you ever see Gomer Pyle without that cap cocked jauntily on that noggin? Charlie Brown wasn't opposed to a little game of baseball in the "Peanuts" comedy strip with his caps bill as big as Charlie himself.
Tom Selleck of television and movie fame finally has it rightwith his team logo cap. The first half of the 2006 season has found his Detroit Tigers leading the show. There must be a Tiger in that tank.
Did you see or notice or see someone wearing a Red Cap at the train station?
Bear Bryant the legendary football coach of the University of Alabama at University, Alabama has caused to be sold as many crimson colored "A" of the white Alabama Crimson Tide baseball caps as his world famous hounds tooth hat.
The "Bear" was an outspoken critic who also taught our generation a very important lesson on the ethical wearing of a cap. During my parents generation as well as for Coach Bryant, the boys and girls as well as the men and women, were taught to wear their cap or hat when outdoors.
Did the Bear ever wear a Red Cap? Not as a rule but he often wore a white baseball cap with the Red Alabama A on it.
Here is the ethical lesson. Bear told us all, "Mama would not allow the wearing of his cap or hat while inside the house or any building."
The "Bear" took this teaching and lesson to heart and without fail to his Mama's teaching of this principle. "Bear" Bryant would not even wear his hat when The University was playing a game inside a domed stadium.
All of my generation was taught this same ethical rule; however, "The Bear" was revered for not only his relating of this action but by the example he set by reinforcing this ethical idea.
My dad all his life also wore a hat when outdoors; however, when he opened a door to go inside the house that hat came off. I learned from my dad another ethical principle relating to the cap or hat.
Maybe you can tell me about White Caps?
My dad taught me, "When a gentleman by chance would come into the presence of a lady, he should by proper etiquette, protocol and conduct, tip or doff his hat or cap." If he stayed in the presence of a lady for conversation he was to remove his cap or hat.
This simple act of tipping or doffing ones cap or hat is the showing of respect and appreciation toward the other person.
This doffing of one cap or hat is even taken one step further in the realm of chivalry when a Knight in armor in Medieval days would meet another Knight to show respect he would dip his lance which is the same as the artful ethics of doffing ones hat.
The wearing of a cap indoors today is so common that it would appear the urging of such people as my dad and the World famous "Bear" Bryant has come to naught. Society today totally ignores this once taught no no of a cap on while indoors.
A baseball players taking off his cap to the cheering crowd is a simple statement of respect and appreciation of their recognition of his athletic feat.
Do the rolling waves of the oceans wear White Caps?
The early years of baseball saw most all games played during the day. The bill or front bream of a cap acted as a sunshade keeping the glaring sun somewhat under control. This functional design of a bill of the cap was an important feature of the ball players cap.
Are the Black Hats and Caps always worn by the bad guys?
Please allow me to alert you on a new item hopefully to be marketed right here from the baseball farming website.
STYLED CUSTOM "TEAM SPIRIT CAPS"
Have you ever heard of or do you know what a "Newsboy" or "Ivy" styled cap looks like? Well! sports fans this style of cap was popular well ahead of the sporting worn caps of today.
"A cap flat on top like a flat pone of cornbread or a pancake with a shortened button down short bill on the front and has a wedged shape profile when being viewed from the sides."
The most famous baseball player who ever played the game of baseball while growing up on the streets in Baltimore wore a floppy short billed flat cap. Later in life "The Babe" was often seen wearing his designer stylist flat top caps which hopefully will be dubbed a Teams Spirit Cap near future.
One other world famous person a golfer athlete made this style of cap standard wear whenever he was on the golf course. Ben Hogan was not only a great golfer but he was also very dapper wearing his flat top short buttoned down bill cap.
My brother Bailey has urged me to resurrect the flat cap and market so sport fans around the globe might enjoy the sporting style and utility value of this Ivy League model stylist cap.
Very soon the cap sporting the look in the hounds tooth color scheme or other college school spirit colors will be available for all real sportsmen and also their ladies.
The demand cycle might preclude instant availability but hopefully soon this coming year the flat cap will be ready for marketing, so be ready to place your order.
Someone once started a rumor, "No one size fits all." Baseball cap makers did not have to be hit over the head with an ugly stick to understand and to conclude this was a truism.
Most of the baseball caps on the market today are constructed with an adjustable strap which confirmed that something was needed to overcome the, "No one size was a perfect fit."
The professional baseball teams tenaciously stick with the custom fitted caps. No adjustable strap for the boys of the Big Show. The team logo on a cap is a signature statement and symbol of pride for the professional baseball teams.
Before the use of a batting helmet became a requirement for hitters the cap was required. A batter was not allowed in the batters box without his cap on.
You could almost conclude that every baseball player chewed spitting tobacco. That wad of chew in the puffed up cheek of most would almost lead you to believe all had that chew. Some players stayed with the simple several pieces of double bubble, bubble gum or a full pack of juicy fruit or double mint.
One Hall of Fame player, the name skips me right now but I believe if I remember correctly, it was Eddie Collins. Collins when coming to the plate would take his wad of bubble gum and stick it to the button on the top of his cap. Caps had a button on top where all the stitching came to a point at the top of the cap.
Eddie simply did not want to forget his chew and swallow hard when a high and tight fast ball careened close to his noggin. One thing for sure he wanted to save that chew so onto the cap button it went.
The baseball cap industry would surely out produce the sock makers if only we had two noggins. People of the world have a burning penchant to be part of and to belong in a group. The symbolic wearing of a baseball cap with a team logo provides subliminally this yearning to belong.
As the baseball cap with its team colors and logo grew in popularity the cap set the stage for ever increasing demands for more and more marketable products. The ever growing demand now sees the public appeal for sporting jerseys and shirts racing on like wild fire throughout the sports world.
The genie is now out of the bottle. Every product associated with team sports exploded with the baseball cap leading the way. The cap came off the bottle.
Today the crowd attending a baseball game generally will be wearing a baseball cap by a huge margin. Look at some of the pictures of ball parks filled with people of the early 20th century. Almost 90 percent of the gentleman in the crowd are attired in Panama straw hats.
I wonder if a thinking cap is anything like a baseball cap? All I really know about a thinking cap is it has so often been referred to me while I was in school. Teachers in fits of expiration would outwardly scold kids of the classroom for being a dunce. A teacher would exclaim, "Think, put on your thinking cap."
Now that time and some wisdom have served me well, I think I know what the teacher wanted from her students. It was more of take off the lid and let your mind explore and be filled with thoughts other than daydreaming about recess time.
From hats to caps in one generation just like the sandy beach flight at Kitty Hawk to the moon in one generation.
Many personalities familiar to a lot of us older generation remember vividly photos of the famous and near famous who wore a hat or cap.
Bear Bryant in later years often wore his hounds tooth hat but his early days at the Capstone the white baseball cap with a crimson Alabama (A) was his signature style.
Ernest Hemingway with his big wide brim fishing cap attire.
Howard Hughes wearing his dark colored fedora classic hat.
Tom Selleck wearing his Hawaii shirts sported the Detroit Tigers baseball cap.
Goober and Gomer with their never to be forgotten caps brought us greetings many times from Mayberry USA.
Gabby Hayes (Roy Rogers sidekick) with the front brim of his hat pushed up getting all flustered and flabbergast getting excited.
Fess Parker with the Daniel Boone coons skin cap.
Two great athletes who were often found wearing their Newsboy or Ivy styled caps was Babe Ruth and Ben Hogan
In recognition of these two All-Time Greats and pinnacle performers in their respective sports of Baseball and Golf BaseballFarming is proud to announce the resurgence by popular demand the Newsboy style Cap which will be provided as a Team Spirit hat.
The Newsboy or Ivy style Cap is now being fashioned as a Team Spirit Cap. Indeed Yes.
You will hopefully soon be able to get your modern in style Cap as a "Team Spirit Headgear."
Return and review the baseball caps and team uniforms information inasmuch as the most universally recognized part of the teams Baseball Uniform is the Headgear.
Proudly wear your Team Spirit Cap Baseball Caps
Get and treasure a special game cap for a keepsake Iron Bowl Game Mementos

Batter Up----Let's Play Ball....