Baseball Whiz
Might Be A Blue Darter And Too Hot To Handle
Baseball Whiz is probably more than a good "wad of chaw" and most likely more than I can handle. If I stumble and happen to swallow I'll probably turn green.
Playing baseball with your kick around buddies, brothers and friends the tendency is for ball players to learn and quickly pickup many of the inside finer points of the game.
It is simple enough to learn the basic baseball rules . However, we are forever changing baseball rules and to keep up to date with the baseball playing rules. One excellent source for keeping abreast of the latest is the use of sporting news baseball rules published by Sporting News.
Now when reflecting back on those many times spent out on the baseball diamond the thoughts and memories of the game will come flooding back into your mind. When shared the game takes on a life of its own and you might be considered the one all knowing or the Baseball Whiz.
Some vivid remembrances yes and detail of lessons learned and now shared yes. Baseball player wannabee and student of the game but "Baseball Whiz" is a real stretch.
No Guts No Glory so I'll be with you baseball fans as the Baseball Whiz till the cows come home. Ole Bossy out in the pasture eating or just lazing around would take the same path home each evening at feeding and milking time.
Every pasture has a well worn rutted path or trail which the bell-weather cow will lead the herd homeward bound each evening when coming back home to the barn. I don't believe it! Check me out, "If I'm lying I'm dying".
Baseballfarming.com is the place we want all of our good baseball fans coming to on that well worn path.
We may on occasion pull some real Baseball Bloopers if so we will handle the muff and not stray far before we get back on track and keep the ball in play.
Our Founder...
Major W.B.Channell
USMC (retired)
The "Baseball Whiz" will be here in the barn to provide news and wisdom about this Game of Baseball.
I've heard of a "Whiz" before and we even had one in our math class but a "baseball-guru"? Maybe I'm lucky he called me a "Whiz" instead of a "Guru".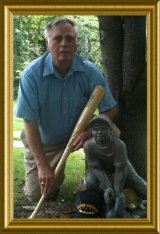 Baseball Whiz is in the far corner of the pasture in the bull-pen getting warmed up for extra innings.
There are some more short articles for you to enjoy some might even amuse you check in at the Baseballisms which is an assortment of short articles brimming full with a mixture of baseball stuff.
To answer your questions, I know a lot of my friends and fellow teammates will be glad to help me along this endeavor. My buddies and you too will chuckle when you read about the Baseballs Knuckle-ball Pitch and as I dance away from those trick questions.
My first line of mates I will depend on to cover all the bases like the bats in baseball equipment bag are my very own brothers and sisters. Being a member of eight (8), six boys and two girls, it required teamwork just to manage scheduling activity around our home.
You learned, "My Turn" and "Fair Play" or hurt would come.
I will expand further into the family and call upon Uncles and Cousins, old acquaintances, former teammates, past coaches, and people on the street. "So Roll Fans Roll" let there be joy in "Mudville"The Mighty Casey has struck out but "Casey Stengel" brought the fans back to their feet with his indomitable "Yankees". You may have heard the phrase, "You are the ding dong daddy of dumb-ass". Well I'll just settle on being "The Baseball Whiz".
Our Coach "Piggy" is no longer with us to provide his full bag of wisdom. Coach Charlie Herron and Calvin Ramsay could provide some well used words of advice on playing to win.
I would venture an opinion that "Piggy" was the original Strategist as "The Thinker" for the Game Of Baseball.
Baseball Whiz will know most but not all. Who knows? The Shadow Knows.
Former players, friends and teammates, who are remembered, help immensely in bringing back memories of things which happened on and off the playing fields. This is my kitchen cabinet.
Baseball Whiz has been blessed to have shared this game of baseball with many tremendous and true caring friends through the years. Please indulge, the Baseball Whiz, in my sharing of names which means so much to me in bringing baseball alive for you folks.
These names used are real people and my friends but they are only a small fraction of the many I am indebted for my passion for the game. Foremost are my very own two older twin brothers Bill and Bob.
Bill and Bob are the ones who taught that little squirt (me) running around in knee britches how to catch and throw. When they were fifteen and playing on the Trussville "De Molay Team", I was twelve and wanted to play just like my big brothers.


These neighborhood friends, school chums, older playing idols and teammates remembered:
Jack Day, Sherman Forehand, Ed Massey, Earl Massey, Buddy Micklewright, Tom Martin, Johnny Martin, Dalton Weems, Mark Weems, Honor(Jack)Keith, Harrison Keith, Lois Veneable, Hugh Disker, Curt Disker, M.J.Jennings, Swafford, Everette brothers,Dickey Wages, Meriwhether (Bubba) Long, Dickie Strickland, Ronald Joe Moore, Bill Goodwin, Graydon Goodwin, Billy Dunaway, J.K.Worley, Whaley Hall Jr., Bo Roper, Pat Fulmer, Wahoo Needham, Jerry Smith, Aubie Smith, Sonny Quick, Donnie Quick, Burrell McGowan, William Grissom, Johnny Davis, Jimmy Self, Lawrence Self, Aaron Goodwin, Bobby Joe Craig, Joe Faucett, Mike Bryan, Buddy Burns, Tippy Crow, Hal Gwin, J. Littleton, Jimmy Taylor, Teddy Gilmer, Johnny Grissom, Thompson Gilmer, Red Gabert, Zack Gabert, Jimmy Taylor, Joe (Slick) Hawkins, Tony Cox, Henry Howard, John Mabe, Pete (Billy Ray)Spencer, Paul Wear, Harold Stubbs, Bob Martin.----This listing will never end. There will be no period at the end of this
I told you there would be more--Gerald Bradford, Paul Bradford Jr., Buddy Cowan, Jimmy Burns, Sonny DeShazo, Tommy Treadaway, Tony Taggart, Mike Connell, Buck Tidwell, P.C. Tidwell, Paul Tillotson, Whoopi Vann, Bud Vann, Simmie (Of Glendale Mills)
Joe Martin, Martin Melton and my younger brothers Bailey, Barney and Ben the list goes on and on
One generation after the other will still be enjoying baseball till the cows come home.
Ball players all were they.....
Oh! now that the days of shagging high hit fly balls out in the tall grasses of the pasture are sweet memories and the handle of Baseball Whiz is now my treasure to keep.
All my teammates are invited to shop with many of the good merchants who are my good business partners and now my teammates.
Open that wallet and spend some of your money.
More affiliate merchants are located at your BaseballFarming One-Stop Shopping Center.
Return to The top of Baseball Whiz
Batter Up----Let's Play Ball....