Baseball Hitting Leaders
Home Run Hitters
Baseball Heroes
Home Run Leaders
The King Of Diamonds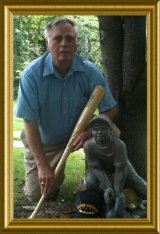 Baseball Hitting Leaders are considered the Kings on the Diamond in baseball. Power hitting home runs kings and going yard with that round tripper blast over the fence is what the crowds want to see.
Major League Hitting Leaders and the Home Run Kings are and always will be the toast of the town. Speaking of being with or even in the same ballpark with the MLB Home Run Leaders will bring a sparkle to the eye of any young baseball fan.
Home Run sluggers and the baseball hitting leaders home run record holders are not the only heroes of the game but you can bet your bottom dollar they are the ones with most of the press.
Jam up great pitchers are worth their salt and are the talk of the town by, dyed in the wool, real true baseball fans. A twenty game winner during any season is considered the top flight ace in the pitching business end of the game.
The Creme-de-la Creme of the pitchers each year is chosen as the best in the game and is Awarded the "Cy Young" which is emblematic of being designated the best of their respective Leagues.
The Cy Young award is given to the best of each the American League and the National League from the entire corps of pitchers in the two respective leagues.
MLB recognizes players as being an All-Star super fielding player by awarding annually Golden Glove Awards for each fielding/defensive position of the game.
Slick smooth sure handling fielders with strong arms fleet of foot sure handed scoop and shoot fielders are paid premium money as baseball leaders.
The shortstop and second base and center field positions or what we refer to as down the middle of the field are the key spots requiring exceptional fielding skills and agility.
Our Cy Young pitching award and Baseball Leaders for career pitching wins and our Gold Glove fielding award leaders are predominantly an annual recognition. The combined career records solely dedicated for these achievements carry not near the following of the Home Run career Leaders.
Major League Baseball Pitching Leaders will be a matter for later for now we will Shuck Down The Corn extolling the heroics and identifying our Baseball Hitting Leaders.
If the Home Run Hitter is the King then it has been and always will be the lingering question who is the King of the Diamond based on statistical data "Who Was Best Or Greatest Baseball Hitter?"
One gent had pondered this question and his considered opinion and rationale as compiled shows some truth telling data for comparative reasoning and has allowed me to use his words and facts.
In his words: People just won't turn this "Who was best?" question loose.
A good leader such as a home run hitting leader must have the discipline to work toward his or her vision single-mindedly, as well as to direct his or her actions and those of the team toward the goal. Action is the mark of a leader. A leader does not suffer "analysis paralysis" but is always doing something in pursuit of the vision, inspiring others to do the same.
Barry Bonds has hit the most home runs in his career of any player___past or present. But the thought crossed my mind: Does that actualy make him the best home run hitter? The most home runs and the best hitter of home runs are not the same thing. It just means that he played long enough to hit more than the other guys did.
I was intriqued, and decided to do a little research. The following stats paint a different picture of who was actually the best home run hitter___that is, who could be counted on (more often than not) to hit a home run when he came to the plate.
Babe Ruth hit a home run every 11.7 times he came to the plate. Bonds, on the other hand, hit one over the fence every 12.9 times at bat, and he came up to bat (1,365) more times than Ruth.
Hank Aaron came up to bat (3996) more times than Ruth and only hit a homer every 16.3 times.
Clearly it is no contest: The best home run hitter is and probably always will be George Herman "Babe" Ruth. He hit the most home runs with the fewest times at bat.
It took these other good players several thousand more tries to catch him. And that was using today's tighter-wound precision ball, which by the way, is replaced with a new one every time it gets hit during a game.
It should be noted that like Bonds, Ruth had a habit that may have helped him____or not. Instead of steroids, he often showed up for the game badly hung over from the night before.
I wonder how good he might have been if he had trained hard, remained sober, kept his weight under control, and had the benefit of muscle-building drugs.
//signed// Fred C. Dobbs

MLB.... Career MLB Baseball Hitting Leaders For Home Runs:
These are the heroes of baseball hitting leaders who have thrilled the crowds on many and certainly more than one occasion.
Baseball fans around the world as you reflect on the Baseball Greats as measured by hitting the home run ball take a moment to realize it takes by most standards almost and entire lifetime playing the game to aclaim a spot within the top 25.
A complete career goes into the making of these baseball hitting heroes. Barry Bonds holds the Major League Baseball home run record with 762. He passed Hank Aaron, who holds the second spot with 755, on August 7, 2007. There is only one other player to have hit 700 or more and that is the Great Bambino "Babe Ruth" with 714.
MAJOR LEAGUE BASEBALLS ALL TIME CAREER HOME RUN HITTING LEADERS
. Barry Bonds-------------762;--(73-2001);
. Hank Aaron--------------755;
. Babe Ruth---------------714;--(60-1927);
. Willie Mays-------------660;
. Alex Rodriquez#---------654;
. Ken Griffey, Jr---------630;
. Jim Thome#--------------612;
. Sammy Sosa--------------609;
. Frank Robinson----------586;
. Mark McGwire------------583;--(70-1998);
. Harmon Killebrew--------573;
. Rafael Palmeiro---------569;
. Reggie Jackson----------563;
. Manny Ramirez#----------555
. Mike Schmidt------------548;
. Mickey Mantle-----------536;
. Jimmie Foxx-------------534;
. Ted Williams------------521;
. Willie McCovey----------521;
. Frank Thomas------------521;
. Ernie Banks-------------512;
. Eddie Mathews-----------512;
. Mel Ott-----------------511;
. Eddie Murray------------504;
. **Roger Maris**-----275--------- (61-1961);
# identifies which are at this time active players. ** In recognition of his season total besting The Babes 60
MLB...Active Playing Major League Home Run Leaders:
Alex Rodriquez- 654
Jim Thome- 612
Manny Ramirez- 555
Albert Pujols- 500
Carlos Delgado- 473
Chipper Jones- 468
Vladimir Guerrero- 449
Jason Giambi- 435
Andrew Jones- 434
Paul Konerko 429
David Ortiz 420
MLB...CAREER BASEBALL LEADERS FOR GRAND SLAM HOME RUNS
. Lou Gehrig 23
. x-Manny Ramirez 20
. Eddie Murray 19
. Willie McCovey 18
. Robin Ventura 18
. Jimmie Foxx 17
. Ted Williams 17
. Hank Aaron 16
. Dave Kingman 16
.Babe Ruth 16
.x-Alex Rodriquez 17
.Ken Griffey Jr. 15
.x-Richie Sexson 15
.Gil Hodges 14
.Mark McGwire 14
.x-Mike Piazza 14
.x-Jason Giambi 14
.Harold Baines 13
.Albert Belle 13
.Joe DiMaggio 13
.George Foster 13
.Ralph Kiner 13
.Jeff Kent 13

Career RBI's Baseball Hitting Leaders: (Update includes end of 2008 season)
Hank Aaron:---- 2297
Babe Ruth:---- 2213
Barry Bonds -----1996
Lou Gehrig:---- 1995
Stan Musial:---- 1951
Ty Cobb:---- 1938
Jimmie Foxx:---- 1922
Eddie Murray:----1917
Willie Mays:---- 1903
Cap Anson:---- 1879
Mell Ott: 1860
Carl Yastrzemski:1844
Ted Williams: 1839
Ken Griffey Jr.--1836
Rafael Palmeira: 1835
Dave Winfield: 1833
Al Simmons: 1827
Frank Robinson/--1812
Honus Wagner/----1732
Frank Thomas#/---1704
Reggie Jackson/--1702
Cal Ripken Jr/---1685
Toney Perez/-----1652
Sammy Sosa#------1647
Ernie Banks/-----1636
Gary Sheffield#--1633
Harold Baines/---1628
Goose Goslin/----1609
Nap Lajoie/------1599
George Brett/----1596
Mike schmidt/----1595
Andre Dawson/----1591
Rogers Hornsby---1584
Harmon Killebrew/1584
Al Kaline/-------1583
Jake Beckley/----1575

Consecutive games Hitting streak record leaders:

Jimmy Rollins...Phillies shortstop is a man with a mission starting of the 2006 season. Rollins finished the 2005 season with a .385 batting average but that's only part of the story.

His season-ending 36-game hitting streak is 21 games short of Joltin' Joe's 56 consecutive game streak during the 1941 season that still stands.

Baseball's Longest Hitting Consecutive Game Streaks
1941 Joe DiMaggio Yankees 56
1897 Willie Keeler Orioles 44#
1978 Pete Rose Reds 44#
1894 Bill Dahlen Cubs 42
1922 George Sisler Browns 41
1911 Ty Cobb Tigers 40
1987 Paul Molitor Brewers 39
1945 Tommy Holmes Braves 37
2005 Jimmy Rollins Phillies 36

#Wee Willie Keeler and Pete Rose share single season for NL Wee Willie got a hit in the final game of 1896.

This 45 games overall streak is the first record Rollins must over come for recognition as one of baseball hitting leaders.

Come on batter up 2006 Let's Play.

Sunday April 9, 2006

Well ! baseball fans Jimmy Rollins consecutive game hit string has been snapped in the 38th game. His valiant hope for catching and surpassing Joltin Joe Dimaggio's record of 56 games has fallen short.

Willie Keeler and Pete Rose record of 44 consecutive game hitting streak as baseball hitting leaders in the National League also remains intact as records.

Come on Jimmy don't look back the future is straight ahead with a few curves to contend with. Never say die! Come on let's go.

Jimmy Rollins and his quest to better Joltin Joe's record just adds fuel to the fire for baseball hitting leaders fanfare around the World.

Baseball Consecutive Games Leaders-Number Most Consecutive Playing Games:
Cal Ripken Jr/--2632
Lou Gehrig/-----2130
Everett Scott/--1307
Steve Garvey/---1207
Miguel Tejada/--1152
Billy Williams/-1117
Joe Sewell/-----1103
Stan Musial/-----895
Eddie Yost/------829
Gus Suhr/--------822
Nellie Fox/------798

Return to the Top of the Page Baseball Hitting Leaders.

Baseball Hitting Leaders is what draws the fans and crowds to the games. Learn well the real and true essential elements of Baseball Hitting.

Batter Up----Let's Play Ball....

Report any broken links to Baseballfarming would be a big help please Contact Us.

Website Hosting considered to be at the top in the field will lead to Web-Building Success.Solo Build It provides Awesome results...Here's the Proof!

Shop For The Family and More...