Barry Bonds And Baseball 2007
"The Big Chase Of 2007 "Barry Bonds
Baseball Fans Around The Globe Followed "The Big Chase"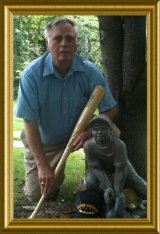 BARRY BONDS USED WHAT KIND OF WOOD BAT DURING HIS "2007 BIG CHASE" FOR PURSUIT OF THE HOMERUN KINGS CROWN?
No I cannot claim it was a bat specifically made by Annex Baseball but it sure as heck was and certainly was Maple. It would be nice to outfit your team with the proven wood bat of hard rock-em-sock-em Maple bat from Annex Baseball.
The world of baseball has a never ending hero acclaim for the power hitting home run King. Did you wonder how Barry Bonds pounded and powered his way game after game during 2007 to become the King of Home Runs?
Baseball season 2007 "The Big Chase" season will forever be known as the year of The Big Chase for this was the year Barry Bonds mounted a determined effort to become one of baseballs famous at the bat hitters to unseat Henry "Hammerin Hank" Aaron as Baseballs Career Home Run King.
Now the Home Run King holds quite the record what with the astounding 762 home runs which is more than any ball player in the history of the game of baseball. You know we often joke when someone or some extra ordinary feat of true significance occurs comments will come such as, "It must have been something in the water?"
Barry Bonds it could have been or maybe must have been the Maple bat which was more like a club than a bat for his bat was shorter than what one might consider the proper length for such productive clout of homers.

Barry Bonds Major League Baseball MLB "2007 Big Chase" brought suspense and excitement back into the game of baseball.
The baseball season when the crowning of a new Home Run King surpassed the horses running as the Sport of Kings with "The Big Chase" for the Home Run King's Crown.
Barry folowed his dad,Bobby Bonds a significantly accomplished big league baseball playing outfielder, into the game of baseball.The son grew stronger and bolder reaching the very pinnacle of baseballs hero mountain as the Home Run King.
It is a story of sad report in that a most productive and awe inspiring accomplishment achieved by this baseball hittter has to be sullied due to the association with the steroid problem of baseball.
Personal Information
Born Barry Lamar Bonds, July 24, 1964, in Riverside, CA; son of Bobby (a professional baseball player and coach) and Patricia (Howard) Bonds; Married Sun (divorced); married Liz; children: (with Sun) Nikolai, Shikari, (with Liz) Aisha Lynn.
Education: Attended Arizona State University, 1982-85
Born in Riverside, California, Bonds grew up in San Carlos, California and attended Junípero Serra High School in San Mateo, California and excelled in three sports baseball, basketball and football. As a freshman, he spent the baseball season on the JV team.
The next three years—1980 to 1982—he starred on the varsity team. He batted an astounding .467 batting average his senior year, and was picked to be honored as a prep All-American.
Begins Professional Career After Arizona State University
The Giants drafted Bonds in the second round of the 1982 MLB draft as a high school senior, but the Giants and Bonds were unable to agree on terms when the maximum offer was $70,000 ($168,579 today) and Bond's stoic minimum to go pro was $75,000, so Bonds instead decided to attend college.
Bonds attended Arizona State University, hitting .347 with 45 home runs and 175 runs batted in (RBI).In the 1984 season at ASU he batted .360 and had 30 stolen bases.
In 1985 he hit 23 home runs with 66 RBIs and a .368 batting average. He was a Sporting News All-American selection that year. He tied the NCAA record with seven consecutive hits in the College World Series as sophomore and was named to the All-Time College World Series Team in 1996.
He graduated from Arizona State in 1986 with a degree in criminology. He was named ASU On Deck Circle Most Valuable Player; other winners include Dustin Pedroia, Willie Bloomquist, Paul Lo Duca, and Ike Davis. During college, he played part of one summer with the Alaska Goldpanners MLB during the 2007 awAON found the baseball fans with an insatiable appetite for the drama and thrill of a good battle for the home run supremacy and a possible new home run king.
The only missing actor in this suspenseful drama was the fact that "Hammerin Hank" one of baseball's quite gentlemanly and composed unassuming real long ball hitter had already bested the mark of the "Babe" and had finished his hitting heroics and had retired.
Barry Bonds in a never say die quest to become the American baseball home run king stayed the course until his goal was duly accomplished and the year 2007 and The Big Chase for this coveted Crown as Home Run King will live till?
Bonds was using hard Maple wood-baseball-bats during his rocketing success of home runs and he was now being noticed all over the world and his Maple wood-bats were certainly gaining a players fan base.
Barry Bonds with the season of MLB 2007 and "The Big Chase" season of 2007 to unseat "Hank" Aaron standing alone with the crown was watched and followed intensely by the baseball world.
There is no thrill in all of baseball to compare to the
baseball heroes with the awe and wonderment found in the eyes of young ball players for admiration of whomever wears The Home Run King's Crown.

The minds and hearts of baseball fans spanning the globe, are allo attuned and well aware of who is the Home Run King of Baseball. Tall stands Hank Aaron but does Barry Bonds have the magic dust to win this coveted acclaim.

Through out the annals of sports and the history of baseball and now especially during the summer of Baseball 2007,MLB 2007 as the entire sports world watched Barry Bonds and awaited the outcome of "The Big Chase."

Babe Ruth aka The Sultan Of Swat, The Great Bambino, The Babe and truly the toast of all the baseball sports world wore the Purple cape and the Jeweled Crown as Home Run King for many baseball seasons.

Then from Mobile, Alabama a kid by the name of Henry "Hank" Aaron, plying his own brand of professionalism and humble "can do", proved to the world records to be held for the holder, even if only for a time.

Henry "Hammerin Hank" Aaron like many a King has proven once again to the entire universe that even the mightiest are subject to being replaced by a new King.

Babe Ruth's record standing 714 home runs during a stellar and awe inspiring career was exceeded by Hank Aaron's unbelievable 755 Home runs, setting a new record, only proved to be a standing target.

The World and Baseball 2007 fervently watched waited Barry Bonds "Big Chase" of 2007 and clamored for the tilt of a two sided coin. "Long Live The King" or "Bring On A New King." Which side will the coin fall?

Babe Ruths' bravado and fan following made him into an American Icon and truly one of Baseballs' most memorable and loved hero player of all time.

Henry (Hank) Aaron, a most mild mannered and quitely assuming gentleman with talent as a baseball player, kept his shoulder to the wheel and gently pushed his way into true stardom and the hearts of all sports fans.

Aaron, with 755 Home Runs for a career, has worn this coveted King's Crown as a true gentleman.

Barry Bonds in his relentless quest has caused a rumble of baseball's "Big Chase" of 2007.

Look out Baseball 2007 ! There is a brash and much maligned new hero pushing shoving and digging with his spikes firmly planted in the batters box to capture this King's Crown.

Bonds' accomplishments during his baseball career in spite of his personal tragedy associated with body physical enhancement controversy places him among and to be counted as one of the greatest baseball players of all-time.

He has a record-setting seven Most Valuable Player awards, including an awesome record-setting four consecutive MVPs.

14-times as an All-Star and 8-time Gold Glove-winner. He holds numerous Major League Baseball records, including the all-time Major League Baseball home run record with 762 and the single-season Major League record for home runs with 73 (set in 2001), and is also the all-time career leader in both walks (2,558) and intentional walks (688).

It is somewhat ironic that Hank Aaron, hailing from the Bay area of Mobile, might be dethroned as the Home Run King with a baseball sailing into the Bay area of San Francisco.

The sun is travelling from the East to the West, The home run King's Crown is associated with the East to West and Bay to Bay.
---
An "ODE" to the Home Run Record and Baseball 2007
BASEBALL'S HOME RUN RECORD, THE 2007 BIG CHASE, OF BASEBALL
Home Run Record Was Set To Last---- Led By A Babe---- Hammered Down By Hank---- Bonds Was Broken By Barry's Blast
--------------Copyright July 2007----- Major Wiley B. Channell USMC (Ret)
---
Come baseball's Summer of Baseball 2007 and "The Big Chase" for home run supremacy and Baseball 2007 is on.
The All-Star break and the Game to be played at AT&T Park in San Francisco, California on July 10,2007 sets the stage for The Big Chase" beginning today for the Home Run Kings Crown and Baseball 2007.
Barry Bonds hitting in the number two slot of this All-star game now stands-in at a total of 751 career Home Runs, only four shy of Hank Aarons 755.
From this day forward all eyes of the sporting world Baseball 2007 and all true baseball fans who ever held a bat and hit a baseball will be watching and waiting for each days results and every game that Barry Bonds is a player.
It matters not which side of the coin one favors. It is simply a matter of suspense and the way our world filled with eartlings enjoys the aura of the King's Crown.
If all goes as planned each day a posting right here at http:// www.baseballfarming.com/Baseball2007.html I will keep posting the Barry Bonds Home run total.
---
THE BIG CHASE---STATUS BOARD----BASEBALL 2007
751 and counting------At AT&T Park in San Francisco
7/10/07 All-Star Game no change;
7/11/07 no change;
7/12/07 no change;
7/13/07 no change;
7/14/07 no change;
7/15/07 no change;

Barry Bonds in the last game of the just concluded home stand for the Giants was as follows:

Barry Bonds popped out in the first, flied out in the third, popped out to end the fifth, struck out swinging to end the seventh and popped up for the final out of the game. He was hitless for the sixth straight game and had consecutive 0-for-5 or worse performances for only the fourth time in his career.

Now it's onto the road to play the Chicago Cubs and the Milwaukee Brewers then returning home the last week of July to the friendly environs of AT&T Park.

Now on the road for the "Big Chase" Baseball 2007 saga to continue with the Chicago Cubs at Wrigley Field:
7/16/07 Monday (held out of the game) no change;
7/17/07 Tuesday no hits no change;
7/18/07 Wednesday (held out of game) no change;
7/19/07 Thursday---- Doubled up to catch up. Bonds blasts two out of the Cubs den with No. 752 and No. 753.

Bonds leaves the Windy City in a whirlwind as he puts two (2) over the ivy covered walls.

Bonds comes within two home runs of Hank Aaron's record of 755 putting No. 752 over the right-field bleachers to lead off the second inning. No. 753 was a three run blast off Will Ohman in the seventh inning.

The Giants and Barry Bonds in "The Big Chase" for Baseball 2007 home run supremacy is on to Milwaukee where they play a series with the Brewers before coming back home to AT&T to capture a great moment in the annals of all sports.

Faded Glory Baseball 2007 with Barry Bonds and his merry men from the city of cable cars comes trouncing into Milwaukee full of glee. To the victor goes the spoils. Giants win 8-4 but Bonds slumps.

Friday night July 20, 2007 at Miller Park in Milwaukee, Wisconsin and Barry musters a dismay 0 for 4. Baseball 2007 saw no glory this night for Barry our Hero in waiting.

MILWAUKEE SERIES
7/20/07 Friday 753 and holding, no change;
7/21/07 Saturday no change;
7/22/07 Sunday (Bonds held out of the game) no change;

SAN FRANCISCO AND HOME STANDING SERIES JULY 2007

Now it is back to the city and where many have left their hearts according to Tony Bennett. So it is welcome back to San Francisco and AT&T Park.

Fasten your seat belts for it is going to be a fine flight with smooth sailing as the baseball fans around the world want to be the first to know "Did he do it."
7/23/07 Monday no change;
7/24/07 Tuesday (extra inning game) no change;
7/25/07 Wednesday (Held out of game for rest) no change;
7/26/07 Thursday no change;
7/27/07 Friday Bingo ! He swats No. 754. Now he stands only one shy of Hammerin Hank's total of 755.
7/28/07 Saturday, no change (754 holding and hoping);
7/29/07 Sunday, no change; stuck on 754 till?

Giants and Marlins conclude the series at AT&T Park on Sunday the 29th. Can it realy be Christmas in July at AT&T?

My prediction of capturing the whole deal during this home visit did not pan out. Now it is off to enemy territory and do the best he can.

The Dodger fans will howl and scream and shreik with delight if Barry fails to tap little white ball over the Dodgers fortress walls. Los Angeles and the Dodgers are both under the gun.

To release the Kings Crown while in L. A. would be a gotcha but to withhold The Kings Crown during a complete Series would be something to really crow about.

Chavez Ravine ,Los Angeles Dodgers stomping grounds
7/31/07 Tuesday no change (754) looking good for action on Wednesday night. The stadium was jam packed for Tuesday night, watching and waiting.

THE DRAMA MOUNTS FOR "THE BIG CHASE" BASEBALL 2007.
8/1/07 Wednesday no change;
8/2/07 Thursday, no change; Barry Bonds stays at 754

Barry Bonds and the Giants leave Los Angeles and head to Petco Park in SanDiego for a three (3) game series.

Petco Park--San Diego,Ca. for a 3-game series
8/3/07 Friday, no change;
8/4/07 Saturday Camera Lights Flash, Bells Ring, Canons Go Boom, Firecrackers Sound ! Bonds has rocked the Petco Park fans with a Blast into the Left Field Stands for No.755, tying Hammerin Hanks mighty feat.
755--755--755--755--755--755--755--755--755--755--.
8/5/07 Sunday, no change. Bonds did not play in the game.

Hurrah, Hurrah. We go marching back Home to AT&T Park with our clutches firmly gripped on the Home Run Crown. Now to dethrone King "Hank" with grace and dignity with all the hearts left in San Francisco.

WHEW, back to dear ole AT&T Park and San Francisco for the HURRAH of Baseball and the Crowning of a new HOME RUN KING.

Which side will the coin fall?

My brother Bailey and I are of one accord as to what constitutes a true sportsman of the game of baseball. We are of the opinion that the game of baseball and the desire to win games and to respect the game is much more than the individual for it is a team effort and sport.
8/6/07 Monday, no change. A Young rookie by the name of LANNAN put the handcuffs on the big bopper and held him in total check. Barry gave up, called it "calf rope" and exited in the seventh inning.

I guess that his leaving the game would have been OK if the score had not been tied and there were probably some fans in the stands who were there for only the one night and had to dig deep for money/funds and make special efforts just to be in attendance.

To me it was logical that Bonds would have another at bat since the score was tied. So why did he leave the game?

A true competitor doesn't give up the ship. He stays till all who can be rescued are safely to shore. In my forties I felt that I was in my prime and I can only imagine that steroids have caused Bonds to lose some of the edge and endurance to go the distance.

Let this act be a lesson to all up and coming baseball players throughout the universe. The possible use of steroids is a no no and will get the best of any body.

Well. as I had anticipated, Bonds would have had another plate appearance. In the bottom of the eleventh there was a man on first with the Giants down by one. Bonds, with a single swat, might/could have put the ball into The Bay.

With the percentages in his favor, I feel that there was a great possibility for this to occur since he was due-a great ending for the fans and the game and also for "The Big Chase".

However, we will never know since Bonds seemingly personal welfare and desires were more personally important than pleasing the fans who ultimately make it possible for him to play the game and receive his hefty pay check.

The Giants win 3-2 in the bottom of the eleventh and all is well at AT&T Park, with a huge exception.

Many or a few loyal baseball fans who were denied and disappointed that Bonds didn't "go the course" and give them the pleasure to see him one more time at the plate "going for all the marbles".

What in the world is going on in today's sports? Is the game for the player, the team or is it for the fan?

Well tonight, I think it was more about the individual player without regard to how Bonds would please the fans and help his teammates in later innings to "chalk up a victory".

To me the way his exit was handled was just not sportingly right. If this were the first time it might be Ok, but this is not the case.

Is it's Bonds "Desire" or "Stamina" that causes him not to "go the course" after he has "his fill" of the game?

In Baseball, as in other sports, The Fans and Teammates are what it's all about and not individual desires and motives. Baseball is a team sport and win or lose, it is the team that wins or quits as a loser.

I say for sports authorities to put an asterisk * along side his statistics.
8/7/07 Tuesday night at AT&T Park in San Francisco, California, No. 756 was hung on the wall. The coin has finally rolled to a rest with Barry Bonds being crowned as the New Home Run King of Baseball.
8/8/07 Wednesday He does it again No.757
8/9/07 Thursday no change;
8/10/07 Friday, Yes he did. He hit no.758
8/11/07 Saturday, no change;
8/12/07 Sunday, no change;
8/13/07 Monday, no change;
8/14/07 Tuesday,no change;
8/15/07 Wednesday, The power of home run fate touched and caught the moment while Barry hits No. 759.
8/16/07 Thursday, no change 759 and "The Big Chase" for "Baseball 2007" becomes what record will all of baseball be shooting for at the end of this momentous Summer Of Baseball?
8/17/07 Friday ,no change
8/18/07 Saturday, Bonds caught the Marlins with his blast -------------------------for No. 760
8/19/07 Sunday, no change;
8/20/07 Monday, no change;
8/21/07 Tuesday, no change;
8/22/07 Wednesday, no change;
8/23/07 Thursday, no change;
8/24/07 Friday, No. 761 goes sailing into McCovey Cove of San Francisco Bay out of AT&T Park.

Now it is the month of September 2007:
9/06/07 Thursday, and Bip No. 762 finds its way into the record book.

Coca Cola may have "The Pause That Refreshes," but with the advent of the-- Baseball International Series-- which brings its --Baseball Classic-- back to us in the 2009 season the name-- Sadaharu Oh-- will be a name for all of baseballa to have a "Cause For A Pause."

In twenty two (22) years with the Yomiuri Giants, Japan's most beloved team, Oh recorded a .301 lifetime batting average and 868 career home runs---this is the most any baseball player has hit in any league anywhere in the world.

Now Baseball World, that is a record which is almost mind boggling.

If all were to go according to "Hoyle." Surely we all remember Hoyle,then the good fortunes of Baseball's 2007 smile of fate has indeed smiled upon Barry and did in fact, allow him to set Baseball History among baseball 2007 fans and many friends at AT&T Park.

There's a old old song we use to sing in grammar school. It was something like this. "She will be driving six white horses when she comes" repeat "She will be driving six white horses when she comes."

Well, good folks, Barry Bonds and Baseball 2007 will not be driving six white horses when he comes back to AT&T but he will be ready to drive little white baseball into the Bay.

The magical record of Barry Bonds The Home Run King for all of Baseballdom has witnessed baseball's blast over the fence into the San Francisco night for Baseball and MLB 2007.

Folks do the math--IT'S ALL IN THE NUMBERS.

Barry Bonds in the Big Chase of MLB 2007 will end for a short time, come our Baseball World Series in October.
Home runs 756 7+5+6 =18
Date 8/7/07 8+7+07 =22
Date 8/7/2007 8+7+2+7 =24
Inning 5th = 5
Pitch count 3-2 3+2 = 5
Times at Bat 3 = 3
Final score 8-6 8+6 =14
Score Difference 2 = 2
Pitcher "Bacsik" 6 digit name = 6
(1) Date of 22 digits plus times at bat 3 equals Barry Bonds No.25
(2) Date of 24 digits plus final score digits of 14 plus inning of hit 5th or 5 digits equals 24+14+5 equals Barry Bonds age 43
(3) Number of home run 18 digits minus 6 digits in pitchers name plus Barry Bonds uniform number 25 equals Pitcher's number 37.
(4) Date of 22 digits equals Barry Bonds seasons played 22.

From here to eternity people will be playing with the Baseball 2007 season and Barry Bonds combination of numbers.

You will literrally be surprised and amazed at the combinations, which will portend the certain fate and logic or illogic of numbers.

San Francisco April 13, 2011

SAN FRANCISCO A federal jury convicted Barry Bonds of a single charge of obstruction of justice Wednesday but failed to reach a verdict on the three counts at the heart of allegations that he knowingly used steroids and human growth hormone and lied to a grand jury about it.

Following a 12-day trial and almost four full days of deliberation, the jury of eight women and four men could reach a unanimous verdict only on one of the four counts against Bonds. A fifth count against Bonds was thrown out earlier. U.S. District Judge Susan Illston declared a mistrial on the others, a messy end to a case that put the slugger — and baseball itself — under a cloud of suspicion for more than three years.

Bonds acknowledged that he did take steroids but said Anderson misled him into believing they were flaxseed oil and arthritis cream.

Go to my Baseball Hitting pages to learn about the five essential elements of Baseball Hitting.

Return to the Top of page Barry Bonds "The Big Chase" MLB 2007.

Batter Up----Let's Play Ball....

Report any broken links to Baseballfarming would be a big help please Contact Us.

Have you ever had the itch to have your own Web Site? Click here get the cure and buy the tonic Solo Build It

Website Hosting considered to be at the top in the field will lead to Web-Building Success. Solo Build It provides Awesome results...Here's the Proof!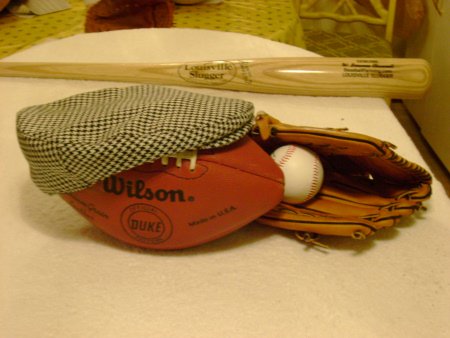 ---
---