World Baseball History
History Is Written Through Time While
Baseball Is Timeless
Baseball World History Since It's Start Has Had No Boundaries Of Time Nor Place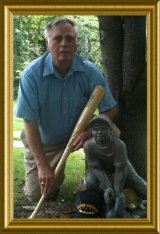 World Baseball History or is it baseball world history which was like a wild prairie fire once the spark was lit it took of and has covered the playing Fields Of Dreams within the hearts of fans and players around the World. No one continent could corral its spread as it jumped across the oceans and is now embraced by most every Country of the World.

" Bat and Ball games well I'm at least half of that action and if my hide stays together long enough maybe I will make some of this world baseball history be it rounders cricket baseball or even dodge ball."


Evolving from older bat-and-ball games, an early form of baseball was being played in England by the mid-eighteenth century. This game and the related rounders were brought by British and Irish immigrants to North America, where the modern version of baseball developed.
By the late nineteenth century, the baseball was widely recognized as a prime component for the national sport of America.
Rounders a game played between two teams each alternating between batting and fielding. The game originated in the UK and has been played there since Tudor times, with the earliest reference being in 1745 in A Little Pretty Pocket-Book where it is called "baseball".
Game-play centres around innings where teams alternate at batting and fielding. A maximum of nine players are allowed to field at one time. Points ('rounders') are scored by the batting team by completing a circuit around the field through four bases or posts without being put 'out'.
The earliest known reference to baseball is in a 1744 British publication, A Little Pretty Pocket-Book, by John Newbery. It contains a rhymed description of "base-ball" and a woodcut that shows a field set-up somewhat similar to the modern game—though in a triangular rather than diamond configuration, and with posts instead of ground-level bases.
English lawyer William Bray recorded a game of baseball on Easter Monday 1755 in Guildford, Surrey; Bray's diary was verified as authentic in September 2008.
This early form of the game was apparently brought to North America by English immigrants. Rounders was also brought to the continent by both British and Irish immigrants.
The first known American reference to baseball appears in a 1791 Pittsfield, Massachusetts, town bylaw prohibiting the playing of the game near the town's new meeting house.
By 1796, a version of the game was well-known enough to earn a mention in a German scholar's book on popular pastimes. As described by Johann Gutsmuths, "englische Base-ball" involved a contest between two teams, in which "the batter has three attempts to hit the ball while at the home plate". Only one out was required to retire a side. WorldBaseballHistory in America
In 1845, Alexander Cartwright, a member of New York City's Knickerbockers club, led the codification of the so-called Knickerbocker Rules. The practice, common to bat-and-ball games of the day, of "soaking" or "plugging"—effecting a putout by hitting a runner with a thrown ball—was barred.
The rules thus facilitated the use of a smaller, harder ball than had been common. Several other rules also brought the Knickerbockers' game close to the modern one, though a ball caught on the first bounce was, again, an out and only underhand pitching was allowed.
While there are reports that the New York Knickerbockers played games in 1845, the contest now recognized as the first officially recorded baseball game in U.S. history took place on June 19, 1846, in Hoboken, New Jersey: the "New York Nine" defeated the Knickerbockers, 23–1, in four innings.
With the Knickerbocker code as the basis, the rules of modern baseball continued to evolve over the next half-century.
In the mid-1850s, a baseball craze hit the New York metropolitan area. By 1856, local journals were referring to baseball as the "national pastime" or "national game".
A year later, sixteen area clubs formed the sport's first governing body, the National Association of Base Ball Players. In 1863, the organization disallowed putouts made by catching a fair ball on the first bounce.
Four years later, it barred participation by African Americans.
The game's commercial potential was developing: in 1869 the first fully professional baseball club, the Cincinnati Red Stockings, was formed and went undefeated against a schedule of semipro and amateur teams.
The more formally structured National League was founded in 1876. As the oldest surviving major league, the National League is sometimes referred to as the "senior circuit".
Professional Negro leagues formed, but quickly folded. Several independent African American teams succeeded as barnstormers.
Also in 1884, overhand pitching was legalized. Virtually all of the modern baseball rules were in place by 1893; the last major change—counting foul balls as strikes—was instituted in 1901.
The National League's first successful counterpart, the American League, which evolved from the minor Western League, was established that year. The two leagues, each with eight teams, were rivals that fought for the best players, often disregarding each other's contracts and engaging in bitter legal disputes. The Prairie fire of world baseball history jumped the oceans and spreads to other Continents and Countries.
World baseball history took on a life of it own as play outside North America became truly an International game due to action in 1874, when a party comprising members of the Boston and Philadelphia clubs toured England both playing cricket and demonstrating baseball.
A further tour, by the Chicago club with the addition of various All-Stars in the winter of 1888–89, took the game to Hawaii, Australia, New Zealand and the south Pacific Islands. Returning via Europe and North Africa
Baseball as its birth pangs of world baseball history becoming International as a competitive sport saw baseball world history being borne and played around the globe becoming part of world baseball history around the globe in an ever increasing scope.
World Baseball History adopted play for a Baseball World Cup
Baseball World Cup
The first World Cup (or World Championships) in baseball world history were held in 1938, as teams from the United States and United Kingdom played a series of five games.
Britain won four and became the first baseball World Champion extolling the virtual claim in world baseball history of World Cup play.
After this championship, the IBF was founded. World Cups have been played at irregular intervals ever since; the 36th took place in the Netherlands in September 2005.
Until 1996 professional players were not allowed to participate in the World Cups; since then major league players generally have not participated because the tournaments have conflicted with regular season games. Baseball World History or the coming to challenge in world baseball history for full recognitions was the World Cup games
Year Host Nation Number of Teams Winner
1938 United Kingdom 2 United Kingdom
1939 Cuba 3 Cuba
1940 Cuba 7 Cuba
1941 Cuba 9 Venezuela
1942 Cuba 5 Cuba
1943 Cuba 4 Cuba
1944 Venezuela 8 Venezuela
1945 Venezuela 6 Venezuela
1947 Colombia 9 Colombia
1948 Nicaragua 8 Dominican Republic
1950 Nicaragua 13 Cuba
1951 Mexico 11 Puerto Rico
1952 Cuba 13 Cuba
1953 Venezuela 11 Cuba
1961 Costa Rica 10 Cuba
1965 Colombia 9 Colombia
1969 Dominican Republic 11 Cuba
1970 Colombia 12 Cuba
1971 Cuba 10 Cuba
1972 Nicaragua 16 Cuba
1973 Cuba 8 Cuba
1973 Nicaragua 11 United States
1974 United States 9 United States
1976 Colombia 11 Cuba
1978 Italy 11 Cuba
1980 Japan 12 Cuba
1982 Korea 10 Korea
1984 Cuba 13 Cuba
1986 Netherlands 12 Cuba
1988 Italy 12 Cuba
1990 Canada 12 Cuba
1994 Nicaragua 16 Cuba
1998 Italy 16 Cuba
2001 Taiwan 16 Cuba
2003 Cuba 15 Cuba
2005 Netherlands 16 Cuba
2007 Taiwan 16 United States
2009 Europe 22 United States

Caribbean Series

The first Caribbean Baseball World Series was held in 1949, involving teams from Cuba, Puerto Rico, Panama, and Venezuela. Cuban teams dominated the tournament, winning seven out of twelve titles.

The first incarnation of the Caribbean Series was cancelled after Fidel Castro abolished professional baseball in 1961. The Caribbean Series was revived in 1970, with teams from the Dominican Winter League, Mexican Pacific League, Puerto Rican Professional Baseball League and Venezuelan Professional Baseball League.

The most successful franchise is Santo Domingo's Tigres del Licey, which has won ten Caribbean Series titles. Puerto Rico's Cangrejeros de Santurce (Santucre Crabbers) and the Dominican Republic's Águilas Cibaeñas have both won the title five times.

World Baseball Classictrying its best to become another leading player on the stage of world baseball history.

This new upstart called a world baseball classic tournament commencing with the tournament of 2006 in our world baseball history will usher in the real Baseball International Series

In 2006, the firstfor world baseball history World Baseball Classic took place from March 3–20. The tournament, sanctioned by the International Baseball Federation (IBAF), was organized by Major League Baseball and the Major League Baseball Players Association in cooperation with other professional leagues and player associations from around the world.

World Baseball History is writing new chapters each and every season of play this game of baseball around the world.

The tournament was held before the start of domestic league play for many nations, allowing professional players from domestic leagues to participate. On March 20, Japan defeated Cuba 10-6 in the final held at Petco Park in San Diego, California to win the 2006 World Baseball Classic.

In the 2009 World Baseball Classic, Japan defeated Korea 5-3 in 10 innings in the final at Dodger Stadium on March 23, 2009 in Los Angeles, California, to win their second consecutive championship.

I'm old school and hoping nothig will ever really replace our MLB Baseball World Series of America.

For all you faithful baseball fans here for your review and remmemberance are the complete baseball world series listing winners.

Olympic Baseball in world baseball history

The first real Olympic appearance of world baseball history was in 1912, as a team from Västerås played against competitors from the U.S. track and field team at the Olympic Games in Stockholm, Sweden.

The United States beat the Swedish team, which played with some Americans borrowed from the opponent, 13–3. A second game was played later, which included decathlon star Jim Thorpe as a right fielder. USA won again, 6–3.

World baseball history took on the real Oympic flavor when the International Olympic Committee (IOC) when in the 1986 IOC congress, it had been decided that the first official Olympic baseball tournament would be held in Barcelona, Spain in 1992.

All was not well in Camelot for forces beyong the understanding of many baseball loving fans around the World will never know why a strange twist too baseball and its siste sport out of the Olympics.

At the 117th IOC Session, delegates voted to remove baseball and softball from the 2012 Summer Olympics in London.

So be it for the powers to be in the realm of our sport and the game of baseball be it recorded by world baseball history we are approaching a new era.

A Baseball International Series to be sanctioned by all of baseball hierarchy will supplant the World Baseball Classic, American MLB World Series of Baseball, The World Cup and the once up on a time Olympic Baseball Games.

Return to the Top of the Page World Baseball History

SOME FOOD FOR THOUGHT----ARE ALL LEADERS GOOD?

Batter Up----Let's Play Ball....

Go Shopping With Your Baseballfarming Friends and Merchants.

"Does Your son Need A really good Maple Bat for Which He Would Be Extra Proud To Have?"