World Series 2010
Rangers-Giants
Texas Rangers Wins American League
San Francisco Giants Wins National League
MLB Pennant Winners
Playing In The 106th Meeting
2010 World Series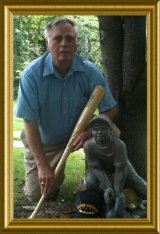 World Series 2010 Rangers-Giants in baseballs 106th Fall Classic World Series with the first pitch set for 6:57 p.m. October 27, 2010 marks the meeting between the American League and National League MLB pennat winners.
The San Francisco Giants AT&T Park site of the first two games offers unique flavor what with the crush of watercraft which will be descending on McCovey Cove adding luster and excitement just over the shoulder of the right-center field fence.
It is even more breathtaking when you're in AT&T Park, with the Bay Bridge and all the boats in what's come to be known as McCovey Cove, and the sun setting on the most unique and glorious city in the United States. FOX network has done an incredibly artistic job capturing the scenics of where the World Series 2010 will begin, but it's like the Grand Canyon, because no picture could possibly fully recreate reality.
There are no glorious scenics in Arlington, Texas, unless you like the rides at Six Flags. But the park is a fan's park, and the interest in the Metroplex -- which some calculate as the fourth-largest market in the country, which would make it the largest baseball market with only one baseball franchise -- is wildly higher than at any time since the Rangers moved to Texas from Washington in 1972.

"Here we sit waiting patiently while our webmaster finds a beautiful picture of AT&T Park perched so picturesque on the Bay of San Francisco to replace my pal the Thinker and Myself.
I hear tell this is also the city where Tony Bennett left his heart."
---
Baseball fans around the world now knows there is a tree in Brooklyn and there is a Major League Baseball team that plays baseball at Rangers Park in Arlington.
The game of baseball so wildly acclaimed has a fascinating storied history surrounding the teams and playing of the Fall Classic each October we so love as the World Series.
The World Series play all started back there in 1903 with Boston Americans of the upstart American League to face off against the Pittsburgh Pirates of the National League.
1904 The Giants of New York, and as the preeminent cock of the walk National League Champions, refused to play the American League Pennant winning Boston with an excuse, "Calling the Boston team as being "bush." The 1904 World Series, did not happen, was scrubbed as a non play.
The Giants repeated as National League pennant winners in 1905 and faced off against the Philadelphia Athletics of the American League. These Giants as you most know have been around for some doing even from New York to California.
The Texas Rangers was the only current major league franchise that hadn't won a play-off series to make it onto the World Series scene.
The Rangers clinched their first World Series berth by winning Game 6 victory at home sweet home Rangers Park in Arlington, Texas before 51,404 frenzied fans under Friday night lights.
Prior to their ascension to play the San Francisco Giants in this World Series 2010 Rangers-Giants these Rangers had felt the agony of defeat on three previous play-off attempts all against the vaunted and their old nemesis the New York Yankees. 2010 the Rangers would not be denied their year of destiny to make it into the World Series.
---
Game one October 27, World Series 2010 Rangers-Giants at AT&T Park San Francisco, California
Game one: San Francisco Giants 11 Texas Rangers 7
What was billed to be a real pitching duel between Cliff Lee of the Rangers, who only during this season had acquired this superb ace pitcher from the Phillies, and young Tim Lincecum of the Giants.
The hyped pitching duel never materialized instead it had deteriorated into a rout as the Giants come up big with a 11-7 win.
Not just once but twice during the game hard hit balls from the Rangers bats tagged the Giants pitcher on his leg with both licks pretty good shots yet he stayed and pitched well through six innings.
Giants took this first game is what seemed to be easy pickings.
---
Game two October 28, World Series 2010 Rangers-Giants at AT&T Park San Francisco,California
Game two: San Francisco Giants 9 Texas Rangers 0
The Giants take command and the Rangers come to the plate like sleep walkers instead of blood in their eye hitters.
Matt Cain of the San Francisco Giants shut down the Rangers coming to bat pitching four hit ball for 7 1/2 innings. The Giants scored seven runs in the eight which was the biggest inning in the post season history of the Giants as a follow-up to their 11-7 win in the operner.
Baseball fans would have to feel some empathy for the Rangers as Derek Holland of the Rangers come on in relief with one man on and forced in a run with three straight walks then reliever Mark Lowe forced in yet another run with a walk to Uribe.
Folks here in the World Series 2010 Rangers-Giants count them all, four straight walks, and that hurts.
At the end of game two the Rangers are down in games 2-0
Forty (Just like Alla Babba and his forty thieves) count of the previous 51 teams to take a 2-0 lead have gone on to win the title, including seven straight and 13 of the last 14. The last to overcome a 2-0 deficit was the 1996 New York Yankees against Atlanta.
Could it possibly be so that World Series 2010 Rangers-Giants changes the odds ratio for the standing current underdog Rangers?
---
Game three October 30, World Series 2010 Rangers-Giants at Rangers Park Arlington, Texas
Game three: Texas Rangers 4 San Francisco Giants 2
Who said, "Stick a fork in the Rangers for they are done?"
---
Game four October 31, World Series 2010 Rangers-Giants (Halloween Night) at Rangers Park Arlington, Texas
Game four: Texas Rangers 0 San Francisco Giants 4
Game four of the World Series 2010 Rangers-Giants found a Major League Baseball franchise trying to win a World Series with 8 1/2 men on a team and no Hitting Coach.
Playing a catcher who neither hits nor runs and expect that a team has enough firepower to beat an opposing World Series opponent is absurd.
A hitting coach sitting on a high backed bar stool and watching an opposing pitcher through nine inning throw first pitch strikes is little league not having batters take a whack at those first pitches. Watching such through three inning is legitimate but to continue through the entire nine innings of a game is playground ball playing with no coach.
The fat lady is nervous thinking tomorrow night on a cool night in Texas she may have to do her solo rendition of "Last Giant leaving town Turn out the Lights for Friday night Lights may never come."
---
Game five November 1, World Series 2010 Rangers-Giants at Rangers Park Arlington, Texas
Game five: San Francisco Giants 3 Texas Rangers 1
There it is sports fans Giants take the World Series 2010 Rangers-Giants by 4 games to 1 and the Giants will wear the coveted World Series 2010 Championship Rings.
If in fact they left their Hearts In San Francisco they brought their pitchers to Texas. The well known baseball adage which is often quoted which my friend Carl Domm so aptly brought to my attention, "Good pitching will always beat good hitters and especially for the World Championship."
It has been a few years since the Giants won the whole thing as MLB Champions World Series Winners well back there when I was a senior in high school the year of 1954.
One beautifully sounding crack of the bat and a 34 year old Edgar Renteria with two mates aboard knocked the Monday night lights into a dim glimmer of hope for Texas as he put little baseball out of Rangers Park in Arlington, Texas.
and then the Fat Lady had her song ready to sing.
Batter Up ---- Let's Play Ball....
Go Shopping With Baseballfarming Buy From Our Friendly Merchants.