Beginners
Beginner Players Should Be Taught By
Understanding Dads and Coaches
Beginners Properly Trained
Will Become Sure Winners!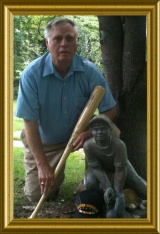 Beginner Baseball should start with the understanding by parents and coaches, that many of our beginner players have been turned away from the game as youngsters, thus they never realized the joy of growing to love the game as a baseball player.
What could possibly be wrong about the following philsophy? A good attitude, work ethics, and a knowledge of how to do things correctly always generates great results. Please apply this to your coaching of our beginner players.
For Great Gifts ...for yourself...Birthdays and Christmas...visit our Online Store
Slow as you go take it easy they are young and need to be treated as such so please allow within each player his own unique appreciation of the game and develop that "want to".
How or why were they turned away from the game lost interest as a youth never having baseball-fun one on one during those young and eager growing years?
A youngster is a little apprehensive just as he was on his first day at school, but he soon overcomes this natural fright.
He soon becomes happy as a lark being at school with his classmates and on the ball diamond with his future teammates.
The same happens with the game of beginner baseball players this new learning and doing becomes a thing of joy.
We must simply know and recognize that within many of your young beginner baseball players there is a real and natural fear of getting hurt with the fast moving hard ball.
There is the emotional timid nature of many youngsters and the real life experience of the intimidation factor of everyone expecting too much too soon.
Not all, however, many and I suspect most of the beginner ball playing youngsters are afraid of that fast moving and hard baseball at an early age.
Take heart, for there is a way for you parents and coaches to understand this and become one of the best...and create in your young players a sense of the need for gradually developing solid baseball fitness as they begin to gain a true desire to play baseball.
Young baseball players need to slowly develop habits and techniques of playing ball, Eliminating this fear factor, and playing baseball without being afraid.
One of the most important lessons which needs to be emphasized at the very beginning of a young players playing of baseball is the true meaning and expression of good sportsmanship.
Sportsmanship. Major league players can't argue balls and strikes. Stress that your players show respect to the umpires as well as coaches and players. Umpires make the decisions and can disqualify a player or coach for good reason. Sportsmanship is one of lifes cherished skills which will outweigh all your baseball drills and skills.
Rules of baseball and baseball playground rules for youth baseball should be explained so the youngster has a full grasp of understanding the game. This underatanding and knowledge of the game will impart a deeper "want to".
Youngsters just like all of us have inner feelings which makes it very, even doubly, important for us as coaches to take the time to feed their learning, while young, with gentle kind and good knowledge and understanding.
Basic baseball rules such as three strikes without hitting the baseball and you are out and all the basics of how to play baseball must be introduced early in the baseball coaching process.
Included here are some helpful and thoughtful tips that may be really good for Dads who were standout ballplayers in their own right.
The difference between beginners and seasoned baseball players are obvious. What is important to remember is beginners want to play for fun; seasoned or more skilled players play to compete. How they are similar is when you begin to make learning fun for beginner athletes. This creates a similar inner drive, desire, and passion for the game that more experienced players possess. If sports is made simple and learning made fun, you will watch your little "beginner" athlete's talents thrive and shine.
Active as well as former baseball players are eager beavers to share baseball tips that count with all other players and fans of the game.
Just maybe your boy or girl doesn't have that burning desire to play baseball which you possessed.
Teaching the Fundamentals
We can coach these young and eager future baseball beginners to become stars, by teaching skill fundamentals with good habits and correct techniques, while eliminating most of this being afraid. Beginner baseball go getters also will need reinforcing and adding to their innate abilities and to instill within them the the burning desire to "play smart to win" and to be baseball-winners.
One great source for all of us to learn more about some of this baseball coaching for our beginners. The teaching of fundamentals youth-baseball-made-easy using the experience of Coach Lou will help us all.
Baseball players having now been introduced to these practiced baseball skill fundamentals however some natural fundamentals of baseball was present from the get go. Through out their everyday life these beginners have been developing some skills so learning the real mechanical fundamentals of the game using Coach Lou's experience is a double plus..
Teach your beginner baseball players how to win while they are young and you will have a winner.
Instructional Tips for Coaches to Remember:
Have patience. Introduce new baseball lessons a few steps at a time when teaching young children. Remember children learn best by doing.
Have fun. Try to teach without using the word "no." Great coaches calmly give instructions as if little elves are perched on his shoulders giving guidance to the players, not loud clanking bulldozers about to run them over.
Use verbal cues. Try to use a hands off approach when coaching. Use easy meaneaningful phrases like "Snooze you lose" children understand, they can remember and they will be empowered by to make simple self-adjustments in their technique. Good verbal cues are qualities of great technique for coaches.
Inspire children through praise. Enable a child's own ability to find value in self-improvement by praising their efforts. Ask more questions they can answer and praise them when they answer correctly.
Focus and Praise on the small wins. The perfect swing does not exist. Young children get better when they have fun.
Later on you will want to come back and utilize the informative and interesting pages our beginners will have and interest such as the topics below: